He wouldn't evacuate, then used Facebook Live to broadcast firestorm in his hometown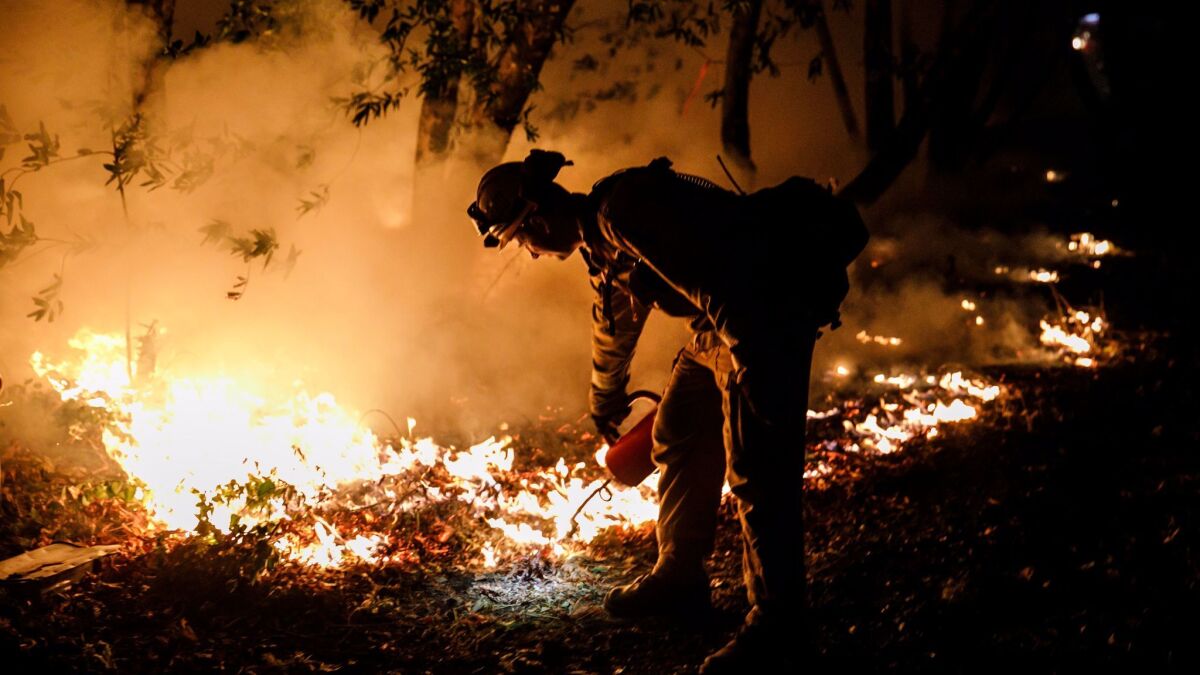 Reporting from SANTA ROSA, Calif. —
With the wine country gripped by the deadliest string of wildfires in California history, residents of the Berryessa Highlands in Napa County have struggled to get real-time information about their small hamlet.
They've come to rely on Evan Kilkus.
While many heeded the evacuation order as the Atlas Peak fire swept through, Kilkus, 34, refused to leave. Instead, he turned into a one-man news team for his neighbors.
Using Facebook Live, he streamed real-time video of the flames from atop a ridgeline accessible from his father's property. For seven days, he narrated and posted videos, providing context and updates to residents on edge about the fate of their homes.
And because he had stayed behind, his responsibilities grew. He began feeding others' pets — dogs, chickens, birds, cats — and keeping an eye on them. He also cleared brush from around his father's property.
But the news is his top priority.
Kilkus and his father, Peter Kilkus, run the Lake Berryessa News, which touts itself as the only news source covering the tiny communities along the lake. "Without the Lake Berryessa News there would be no Lake Berryessa news!" is the news outlet's mantra.
His posts have attracted hundreds of views. That doesn't sound like many, but for the Berryessa Highlands community, which Kilkus says numbers about 700 people, it's a large percentage of the population.
For Kilkus, it's a simple but vital mission.
"At the Lake Berryessa News, this is what we do. We get all the important information and we provide it," he said.
Residents have been making their gratitude known.
"You are the only info we get," one resident commented on a Facebook live stream. "Your liveposts have been a godsend to all of us out here," wrote another.
Cynthia Marshall — who says she's a neighbor of Kilkus and his father despite living a mile away — so appreciated Kilkus' reporting and other assistance that she launched a GoFundMe campaign to help with the costs of producing the news.
"When things are going on like a fire, that's when the neighborhood appreciates Evan," Marshall said.
When the donations started coming in — Kilkus says it's reached about $4,000 — he decided to rededicate the funds to people who lost homes to the fire and to local volunteer firefighting groups.
"Without the Lake Berryessa News, all these other news agencies would have taken hours to get the information out there," Kilkus said. "I've gotten lots of comments from people expressing a tremendous amount of gratitude because they want to know if their home is still going to be here when they get back."
Kilkus was quick to say the real heroes were the firefighters who confronted the blaze and made sure the lakeside community didn't burn to the ground.
"I'm just the media guy and happen to tough it out," he said. "Just like other reporters sometimes have to tough it out in a hurricane."
*****
About 30 miles west, Josh Blakely was among a few dozen holdouts who defied evacuation orders in Calistoga as the Tubbs fire raged for eight days.
Instead of fleeing, the 46-year-old fifth-generation Calistogan helped tend to his neighbors' homes.
He fed and watered their horses and sheep, refilled generators with fuel and motored up and down the hillsides snapping photos of their properties.
Using unguarded back roads for stealth, Blakely hauled cases of beer from the bar he owns to his home. Then, in the middle of the night, he dropped 12-packs on the front doorsteps of others who refused to leave.
When his neighbors would find them, they'd shoot him a text: "I got a visit from the beer ferry!"
Blakely was among the most reliable sources for neighbors agonizing over whether their homes were still standing.
Some of the properties deep in the forest in Sonoma County didn't make it. Blakely was the one to tell them.
On Monday night, a day after residents were allowed to go home, Blakely and his business partner, Frank Kibbish, hosted a welcome home party at their bar.
*****
Earlier Monday, 40 Sonoma County community leaders and policymakers faced each other in a back room of a Farm Bureau office not far from where firefighters were finally turning the corner against an epidemic of fires that, despite cooler weather and reinforcements, continued to threaten homes and vineyards.
They were gathered to assess their wounds after, as Santa Rosa attorney Eric Koenigshofer put it, "a fire-breathing dragon devoured our homes and livelihoods."
"It was a time for hugs and tears," he said, "and to start the process of developing a recovery strategy to erase the fires' scars."
Lawmakers and business leaders agreed on at least one thing as Santa Rosa looks to rebuild: Find ways to cut red tape in processing building permits and meeting certain environmental restrictions to restore the heart of a region whose vineyards, redwood forests and 19th-century California architecture make it as distinctive in its way as Tuscany in Italy and the Rhone Valley in France.
There were also concerns about potentially toxic ash polluting streams and wetlands, and reports of least three incidents of suspected arson over the last week. There were other discordant notes amid the general mood of beleaguered optimism.
"Amid such heartbreaking images of Sonoma County going out around the world right now are lots of hotels, wineries and shops that were not affected at all and need all the support they can get," said Karissa Kruze, president of Sonoma County Winegrowers.
Already, she said, tourists have been canceling trips they'd planned through January.
"One way the world can help us through this crises is go out and buy a bottle of our wine and have a sip for Sonoma."
Times staff writer Alene Tchekmedyian contributed to this report.
ALSO
Firefighters continue to gain ground on deadly Northern California blazes
Death toll rises in wine country as some return to devastated communities
As evacuations are lifted in Calistoga, some remain on edge: 'We're still not not out of the woods'
The stories shaping California
Get up to speed with our Essential California newsletter, sent six days a week.
You may occasionally receive promotional content from the Los Angeles Times.