Death toll rises in wine country as some return to devastated communities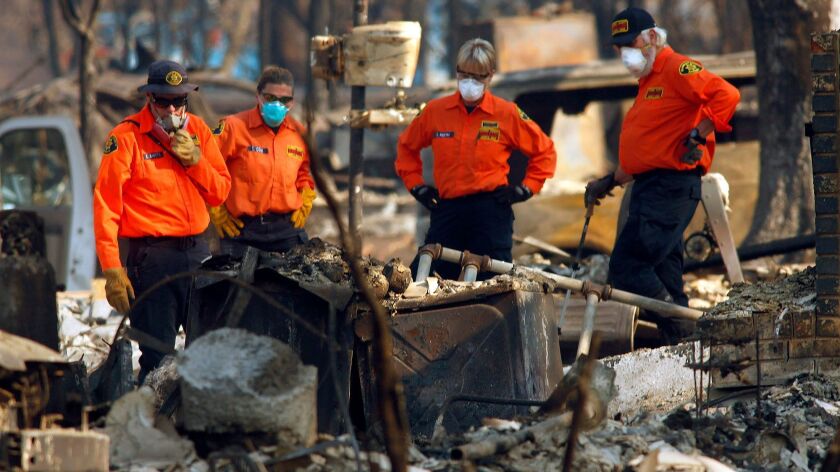 Reporting from CALISTOGA, Calif. —
Five days after the Tubbs fire forced the town of Calistoga to evacuate, Mark Skinner and his son Nick returned Monday to find their winery unharmed and their home intact.
But it was hard to feel relief with plumes of smoke from still-burning wildfires blooming on the horizon and emergency personnel everywhere. His home, which sits a few feet from the charred black perimeter of the Tubbs fire, doesn't quite feel safe. They're staying at their winery because many of Calistoga's roads haven't been reopened yet.
"It's still moving north. We're still not out of the woods where we live," Skinner said.
On Monday, as firefighters seized greater control of the deadly wildfires that have ravaged Northern California's wine country, hundreds of evacuees returned home to see for themselves what the fires had destroyed. Many have been displaced for nearly a week. Skinner is down to his last outfit — jeans and a Golden State Warriors T-shirt.
"There's a point where you're just numb. I don't know what to do," said Nick Skinner.
Calistoga, a small town of 5,000 known for its wineries and hot springs, was unharmed. Skinner and his son plan to open the Von Strasser winery Tuesday to welcome the tourists that usually flock to the city this time of year. But the hotel around the corner from the winery — typically booked solid — is almost completely vacant.
"It's going to take some time for us to recover economically," Nick Skinner said.
The fires burning across Northern California are now considered among the deadliest in state history. They have scorched more than 200,000 acres, destroyed or damaged more than 5,500 homes, displaced 100,000 people and killed at least 41 people.
The Tubbs fire now ranks third on the state's list of deadliest fires, claiming at least 22 lives. The Redwood fire, responsible for eight deaths, ranks 10th on the list.
"This has been the deadliest week that we've experienced here in California … from wildfires," Cal Fire spokesman Daniel Berlant said.
The Nuns fire claimed its first victim Monday morning when a contract driver delivering water to firefighters overturned his vehicle and died, according to Cal Fire and California Highway Patrol officials.
In Sonoma County, authorities located 1,743 of the 1,863 people reported missing during the fires, but at least 88 people reported missing are still unaccounted for. The 17 people reported missing in Mendocino County have all been located, but at least 17 people are still missing in Napa County.
On Monday, cooler, wetter winds blew in from the ocean and helped firefighters take control of the blazes.
The Redwood fire was 50% contained at 35,800 acres as of Monday morning. The Cascade fire in Yuba County and the La Porte fire in Butte County were both 95% contained. The Tubbs fire has spread to 36,390 acres and was 70% contained. The Pocket fire spread to 11,889 acres and was 40% contained. The Nuns fire grew to 48,627 and was 50% contained. The Atlas fire was 51,064 acres and 68% contained.
The Oakmont fire, an 875-acre blaze that broke out last Saturday near the Oakmont neighborhood of Santa Rosa, is 15% contained. The blaze is burning in a sparsely populated area, but if the fire moves west, it could threaten more than 2,000 homes west of Los Alamos Road, said Santa Rosa Fire Chief Tony Gossner.
Firefighters could get even more help from the weather. Forecasters estimate a 65% to 70% chance of rain on Thursday night, said Drew Peterson, a meteorologist with the National Weather Service in Monterey. Peterson predicts that temperatures — which were unseasonably high when the blazes broke out last week — will cool nearly 20 degrees over the course of the week.
Nearly 4,500 firefighters were still battling the Tubbs, Pocket, Nuns and Oakmont fires Monday, Cal Fire spokesman Scott McLean said. About 2,900 firefighters were working on the Atlas fire in Napa County.
About 40,000 people remained under evacuation orders as of Monday morning, but many of those had been lifted by the end of the day. Authorities warned that cleanup efforts in the hardest-hit areas might delay homecomings for other evacuees.
"Today, the theme word is 'patience,'" Sonoma County sheriff Rob Giordano said at a news conference. For residents whose homes were burned, or who live in burned areas, it will be "days or weeks before you can get back in."
And even for evacuees who've been told they can go home, the journey has been complicated by road closures and cleanup efforts.
Dillon Rea, a Calistoga resident, fled the wildfires last week assuming that his home would burn like so many others did.
But on Sunday, his father texted him pictures showing that the fire had only charred parts of their lawn and left their house intact.
On Monday morning, Rea, 25, drove for three hours to get his first glimpse of home in nearly a week — only to be stopped by a California Highway Patrol officer who told him the roads were still closed.
On Monday afternoon, Rea was still trying to make it home. He stood outside the Mountain Volunteer Fire Department, hoping that a firefighter with access to the closed roads would give him a ride home.
joseph.serna@latimes.com
laura.nelson@latimes.com
sonali.kohli@latimes.com
frank.shyong@latimes.com
Serna reported from Calistoga, Nelson from Santa Rosa and Shyong and Kohli from Los Angeles. Times staff writers Soumya Karlamangla and Louis Sahagun in Santa Rosa and Joy Resmovits in Los Angeles contributed to this report.
---
The stories shaping California
Get up to speed with our Essential California newsletter, sent six days a week.
You may occasionally receive promotional content from the Los Angeles Times.