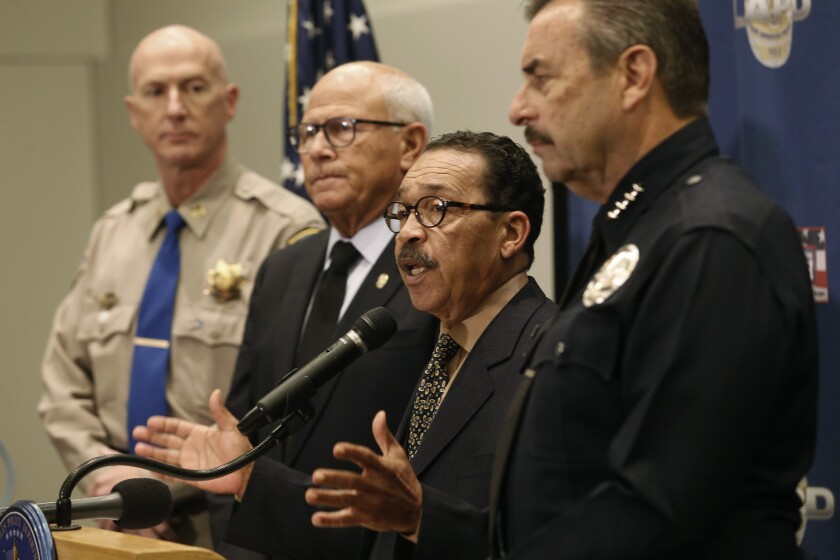 Los Angeles police Chief Charlie Beck praised the city's generally peaceful response to a Missouri grand jury's decision not to indict a police officer in the death of a young black man, saying three arrests had been made but no major incidents or property damage were reported.
Beck grew emotional Tuesday as he discussed the violence in Ferguson, Mo., saying the images were reminiscent of L.A.'s own police-related riots in 1992. The chief said he was "very afraid" for both civilians and officers in Missouri because he feared Ferguson would see the loss of life like L.A. experienced two decades ago.
"When you see folks looting and fires and police cars being vandalized and the extreme degree of tension that we all saw, it does remind me of 1992," he said. "But it also reminds me of how far we've come."
The chief praised local leaders for working with the LAPD in the weeks leading up to the grand jury's decision, saying the relationship between the department and its community was vastly improved from two decades ago. The LAPD, he said, also had changed for the better.
"I'm not claiming to be a perfect leader. I'm not claiming to have a perfect police department," he said. "But I will tell you this: We are in search of those things."
Protests erupted across the country Monday after a Missouri prosecutor announced Officer Darren Wilson would not be indicted in the Aug. 9 shooting of Michael Brown. In Ferguson, looters hit stores, and buildings burned. In Oakland, hundreds of protesters shut down a freeway.
In Los Angeles, more than 200 protesters marched along streets in Beverly Hills, South L.A. and downtown, at one point blocking traffic on the 110 Freeway. California Highway Patrol and Los Angeles police officers eventually dispersed the crowd, with LAPD officers firing foam projectiles toward the ground.
Later in the night, protesters scuffled with officers outside the LAPD's downtown headquarters and chalked messages on the sidewalk.
In all, Beck said, LAPD officers arrested three people: one who allegedly assaulted an officer on a skirmish line, another for allegedly failing to disperse and a third for alleged intoxication.
The chief said his officers would facilitate peaceful, lawful demonstrations on Tuesday. But he warned that he would again bring in extra resources and make additional arrests if illegal activity occurred.
Beck and other officials specifically mentioned the city's freeways, warning protesters they could face arrest for breaching the roadway. CHP Capt. Greg Hammond said protesters threw rocks on the freeway Monday night, and one CHP officer was struck by debris.
"We are 100% supportive of the 1st Amendment, but we do not support entering the freeway," Hammond said. "Once you cross that fence to the freeway, you have broken the law."
Officials stressed that although they were pleased with Monday's events, they were also prepared for the days ahead.
"I was thrilled that it went the way it did," Beck said. "But I know that this isn't over. ... This is a wound of a nation that will not heal immediately."
For breaking news in Los Angeles, follow @katemather @LAcrimes and @VeronicaRochaLA.
---