After Police Commission rules LAPD shooting violated policy, family urges criminal charges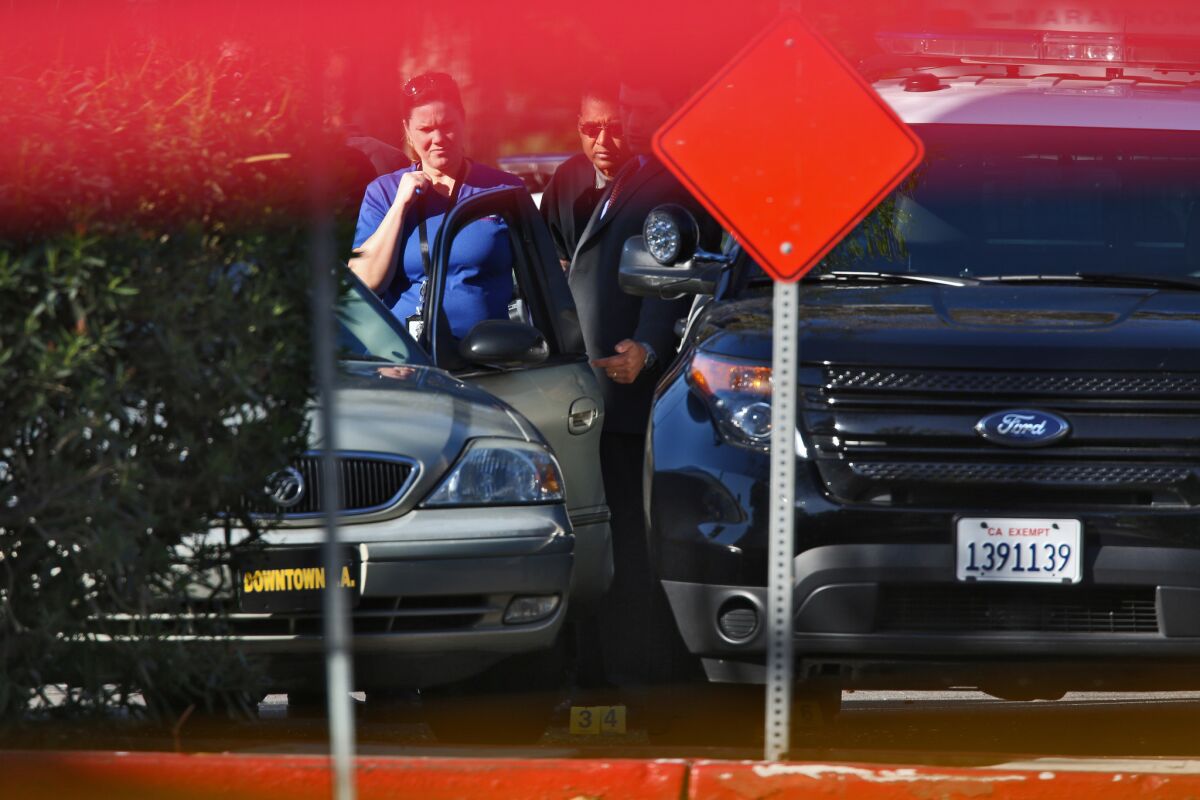 A day after the Los Angeles Police Commission ruled an officer violated LAPD policy in fatally shooting an unarmed man in Burbank, his family and their attorney called on prosecutors to file manslaughter charges against the cop.
Flanked by Sergio Navas' parents and the mother of his children, the lawyer said Officer Brian Van Gorden showed "enormous negligence" when he shot and killed Navas at the end of a car chase last year and should be charged accordingly.
"Not every day do you see the Police Commission admit that a police officer has gone astray, that a police officer has acted incorrectly," attorney Luis Carrillo told reporters. "And for that we are happy. The next step is he should not be a police officer."
The March 5 shooting of Navas quickly raised concerns within the LAPD, but was publicly overshadowed by another LAPD shooting that drew international attention: the killing of Charly "Africa" Keunang on skid row. Keunang, 43, was shot by officers four days before Navas was killed.
Officers tried to stop Navas after they spotted him speeding in a gold Mercury Sable in Toluca Lake, but the 35-year-old took off toward Burbank, according to a report LAPD Chief Charlie Beck submitted to the Police Commission.
Navas came to an abrupt halt on National Avenue, a dead-end street. The officer who was driving the police SUV told investigators he was driving too fast to stop behind the Sable and had to veer alongside the car to avoid hitting it, the report said.
The officer sitting in the passenger seat said Navas then got out of the car, slammed the door and turned to face him, according to the report. At that point, the officer said, he couldn't see Navas' hands and thought he was "trying to trap me in the car" and "ambush me."
"I was like, this guy is going to try to shoot me," the officer told investigators. "I didn't want to wait around to find out."
See more of our top stories on Facebook >>
Navas was shot twice, according to his autopsy, then ran to a nearby alley where he died.
The Police Commission agreed with Beck's conclusion that an officer with similar training and experience would not have considered Navas a threat. The board faulted both officers for their tactics leading up to the shooting.
On Tuesday, Van Gorden's attorney said the officer thought he was in danger when Navas got out of the vehicle.
"The officer was face-to-face with the suspect and believed he was going to shoot him," attorney Gary Fullerton said. "If you wait, there's a good chance you're a dead man."
Christel Emmet, the mother of Navas' three children, said she wasn't expecting the commission to declare the shooting out of policy. When Carrillo called her with the news, she said, she was "overjoyed."
"I just want to see what the next move is," she said. "I want to see what the D.A. is going to do."
Carrillo, who is representing Navas' parents and children in a federal wrongful death lawsuit they filed against the city, also urged LAPD Chief Beck to recommend charges for Van Gorden. Last month, the police chief publicly called for criminal charges against an officer who fatally shot an unarmed homeless man near the Venice boardwalk.
"I would hope that Chief Beck does the same thing he did in connection with the Venice shooting," Carrillo said.
Beck declined to say Tuesday whether he thinks Van Gorden should be charged, saying the investigation was "much less clear than the Venice shooting."
"This is something that the district attorney is going to have to look at," he said.
Lacey's office will ultimately decide whether to charge either officer. On Tuesday, a spokeswoman for the district attorney's office said prosecutors received the LAPD investigation into Navas' death on Friday and were still reviewing the material.
Navas' mother, Rosa, grew emotional as she talked about the deadly encounter. "It's not fair," she said in Spanish, that the officer killed her son.
"All I beg for is justice, because nothing will bring my son back," she said.
As she spoke, Navas' father nodded silently at the end of the table. His eyes brimmed with tears.
Times staff writer Veronica Rocha contributed to this report.
Follow @katemather for more LAPD news.
ALSO
Transient killed elderly La Verne couple for a cellphone, prosecutors say
Fire at Roosevelt High School in Boyle Heights investigated as arson
Robert Durst pleads guilty to gun charge, clears way for L.A. murder case
---
The stories shaping California
Get up to speed with our Essential California newsletter, sent six days a week.
You may occasionally receive promotional content from the Los Angeles Times.