LAPD officer at center of high-profile shooting in Venice also faces domestic violence charges
A Los Angeles police officer who Chief Charlie Beck says should be criminally charged for shooting an unarmed man in Venice is now facing new allegations: that he committed domestic violence against two women in Orange County.
Prosecutors have charged Clifford Proctor with misdemeanor battery in connection with a September incident in Huntington Beach, marking the latest controversy to embroil the nine-year LAPD veteran.
The Los Angeles County district attorney's office is weighing whether to charge Proctor in the 2015 shooting of Brendon Glenn during a scuffle near the Venice boardwalk. The killing was one of the most high-profile shootings by Los Angeles police in recent years and prompted Beck — for the first time as chief — to recommend criminal charges against an officer in an on-duty shooting.
The nearly two-year review by the district attorney's office has frustrated some residents, who have marched and circulated petitions demanding that Dist. Atty. Jackie Lacey prosecute the officer.
Proctor, who has pleaded not guilty to the domestic violence charges in Orange County, appeared in a Westminster courtroom for a brief hearing on April 21. Unlike the clean-cut officer photographed at the shooting scene, he now had long hair and a salt-and-pepper beard.
Outside the courthouse, he declined to comment on the charges, except to say he did not see a correlation with the shooting being reviewed in Los Angeles. When asked about Beck's remarks about the shooting, Proctor kept walking.
"Chief Beck, he has to do what he has to do," he said. "And he has to say what he has to say."
Exactly what led to the domestic violence charges remains unclear. Huntington Beach police and the Orange County district attorney's office have denied repeated requests for more information. The complaint does not fully identify the women; at least one has sought a restraining order against Proctor, but that request was sealed by the court.
It is the second time since the 2015 shooting that Proctor has been the focus of a criminal investigation.
Last year, while he was on leave following the deadly encounter, investigators from the LAPD's internal affairs division presented a case to Los Angeles prosecutors alleging he had been working a side job.
Proctor was allegedly "not at home when he was supposed to be," according to a memo from the district attorney's office. The document gives sparse details about the accusation, but says investigators estimated the city had lost about $1,770 as a result.
The D.A.'s office declined to file charges, citing the "nominal basis for criminal liability" and the fact that the alleged financial loss fell short of the threshold of a felony. District attorney's officials instead referred the case to city prosecutors, who said there was insufficient evidence to warrant a criminal filing.
During his career, Proctor has been the subject of at least one other criminal inquiry, focused on whether he filed a false police report after making an arrest in November 2012, according to another D.A.'s memo. Although Proctor had omitted witness statements from the report — because they conflicted with what the victim had said, he told a detective — prosecutors ultimately decided he hadn't committed a crime.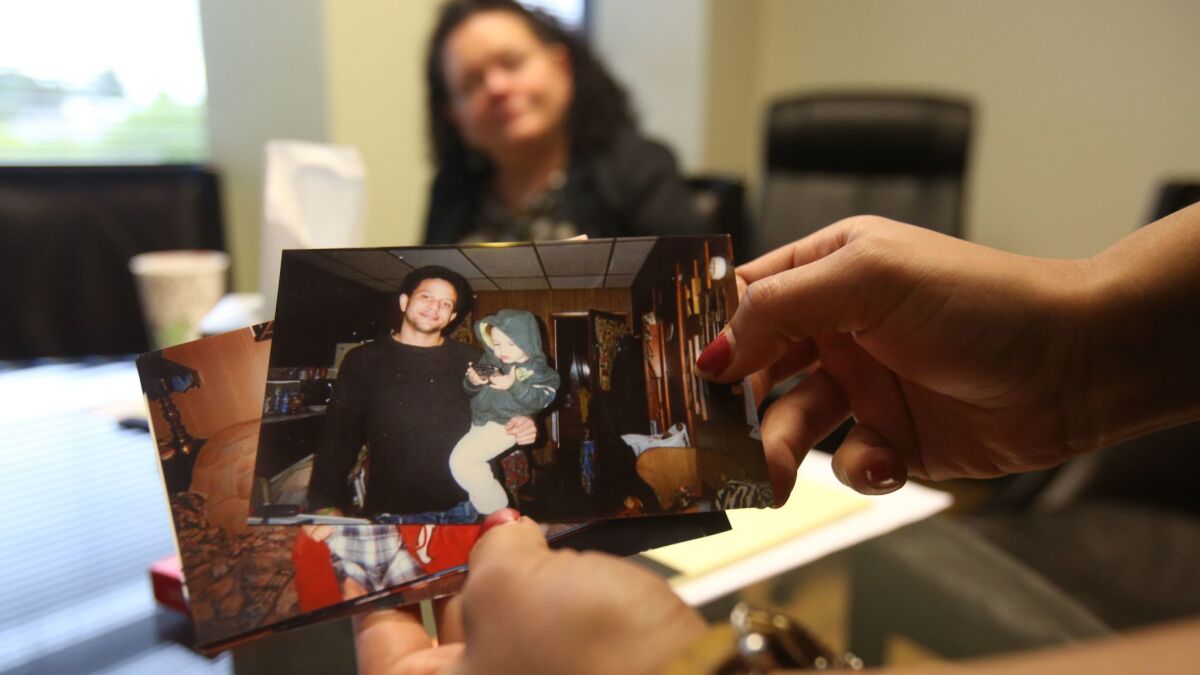 Proctor shot Glenn on May 5, 2015, as he and his partner tried to take the 29-year-old into custody after police say he started yelling at patrons and pushed a bouncer outside a bar on Windward Avenue. Glenn, a New York native, had been staying near the boardwalk during a yearlong trip to find work and adventure in California, his family says.
Proctor told investigators he opened fire because he saw Glenn's hand on his partner's holster and thought he was going for the gun, according to a report from Beck. But video from a security camera at the bar, along with statements from Proctor's partner, contradicted that account, the report said.
The footage didn't show Glenn's hand "on or near any portion" of the holster, the report said. Proctor's partner never made "any statements or actions" suggesting Glenn was trying to take the gun and told investigators he never saw or felt Glenn's hand near the weapon, the report added.
The video has not been made public.
Soon after the shooting, Beck put Proctor on paid leave from the LAPD. At some point, the department stopped paying him. His employment status is unclear; the department did not answer inquiries made last week.
In January 2016, Beck revealed that he had suggested that Lacey pursue criminal charges against Proctor. Three months later, the Police Commission ruled the shooting unjustified. At the end of the year, the city agreed to settle lawsuits filed by Glenn's family — his mother and young son — for $4 million.
Lacey and her office have not said whether they plan to prosecute the officer. A spokeswoman said last week that the case was still being reviewed.
Rick Rhoads is one of the people frustrated by the delay. He attends services at the Unitarian Universalist Community Church of Santa Monica — located about four miles from where Glenn was killed — and leads a church group that has urged Lacey to file charges.
The church group has organized marches and gathered a few hundred signatures on a petition calling for prosecution, Rhoads said. They recently collected about 360 more signatures, he added, and are hoping to meet with the district attorney to deliver them soon.
"When have you ever heard of a police chief saying that the cop should be prosecuted?" Rhoads said. "This could have been settled so easily without anybody getting shot. It's horrible."
Twitter: @katemather
ALSO
Two L.A. sheriff's officials promoted to high ranks despite histories of serious discipline
The amputation rate for diabetics in poor areas is high. This Boyle Heights clinic is trying to change that
Venice Beach Freak Show, a bizarre tourist attraction on the boardwalk, is closing
---
Life is stressful. Our weekly mental wellness newsletter can help.
You may occasionally receive promotional content from the Los Angeles Times.