Former LAPD partners avoid jail time in perjury case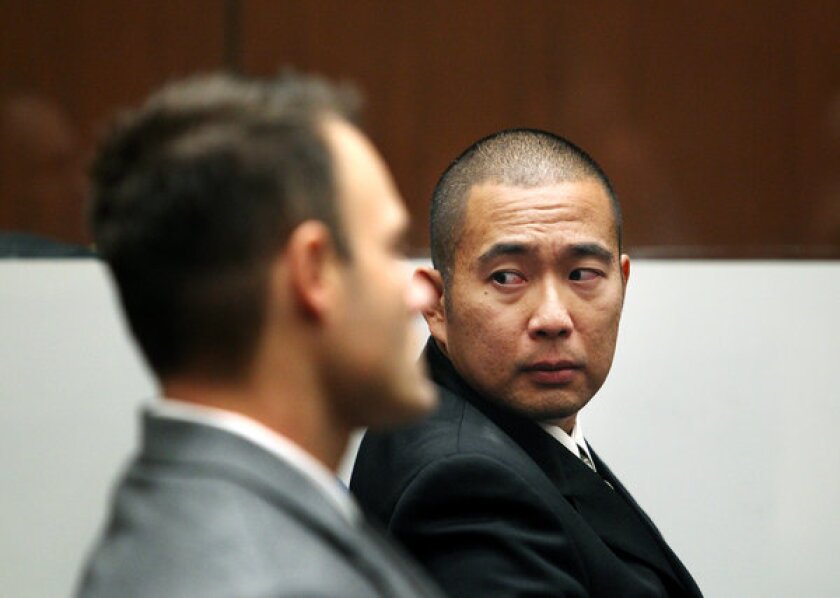 Two former Los Angeles police partners found guilty of perjury and conspiring to obstruct justice avoided jail Tuesday when they were sentenced to community labor and probation, capping the first conviction of LAPD officers accused of falsely testifying during a trial in more than a decade.
Describing his sentencing decision as among the most difficult a judge could face, Los Angeles County Superior Court Judge Michael E. Pastor called the officers' conduct "regrettably shameful" but said he also took into account their careers and the lives they had led.
He ordered that Evan Samuel perform 750 hours of service on graffiti removal or some other labor and that Richard Amio complete 500 hours doing the same type of work. Samuel had faced a maximum sentence of more than seven years behind bars while Amio faced more than six years.
The district attorney's office had sought a minimum sentence of three years for both men, arguing in court papers that "the lies told throughout their reports and testimony ... were deliberate and malicious and constituted a sophisticated attempt to derail the administration of justice."
"There has been no acceptance of responsibility," Deputy Dist. Atty. Geoffrey Rendon said in court on Tuesday.
Pastor sentenced the men after defense attorneys argued that their clients had spent their lives committed to public service and had large numbers of family and friends ready to watch out for them if they were placed on probation. The lawyers noted that many supporters were in the packed downtown courtroom on Tuesday.
Among those who spoke at the hearing was a retired LAPD lieutenant who supervised the officers and described them as "the best of the best" in the department.
Charles Wampler, a 36-year police veteran, said he had seen plenty of officers who slid through their careers, but that Samuel and Amio had excelled in the department's gang unit.
The judge said he disagreed with Wampler's description.
"The conduct in this case is significant," Pastor said. "It causes shame to an institution as ... highly respected as the Los Angeles Police Department. It's not conduct that is the best of the best."
Prosecutors argued that the Hollywood Division gang officers wrote false reports and falsely testified during a drug possession case that they saw a suspected gang member, Guillermo Alarcon Jr., run from them and throw an object that split open to reveal crack and powder cocaine. The officers testified that they immediately recovered the drugs and arrested Alarcon.
Alarcon's 2008 trial abruptly ended when his defense attorney produced a video that shows a group of officers searching for more than 20 minutes in the carport of an apartment complex where Alarcon was arrested before one officer announces that drugs had been found. After viewing the tape, a judge dismissed the charges against Alarcon.
The video was the key evidence for prosecutors who filed charges against Samuel, Amio and Officer Manuel Ortiz, who was accused of falsely claiming in an earlier court hearing that he did not help his two colleagues search for the drugs.
During last year's perjury trial, the prosecutor highlighted some of the dialogue that the apartment complex surveillance camera caught.
"Be creative in your writing," one officer seems to say, in an apparent reference to the arrest report that needed to be written.
"Oh, yeah, don't worry, sin duda [no doubt]," another officer replies.
As officers laugh during the exchange, a different officer says, "Come on, this is a man who put a case on somebody who has no dope. And he's doing time ... two years."
Jurors found Samuel and Amio guilty of one count of conspiracy each and multiple counts of perjury.
Amio, 34, is on administrative leave from the LAPD. His disciplinary case was put on hold while his criminal case was pending.
Samuel, 41, joined the LAPD in 2002 and left for the Chino Police Department in 2008. He was fired while on probation in Chino two weeks after The Times reported on Alarcon's drug case.
The same jury deadlocked on conspiracy charges against Ortiz, voting 11-1 in favor of guilt. The district attorney's office has announced that prosecutors intend to retry Ortiz, who is also on administrative leave.
ALSO:
LAPD scales back ambush manhunt; fourth detainee released
Moby to play at Garcetti inauguration Sunday night at City Hall

Man accused of killing neighbor who complained about fireworks
Twitter: @jackfleonard
---
The stories shaping California
Get up to speed with our Essential California newsletter, sent six days a week.
You may occasionally receive promotional content from the Los Angeles Times.