LAPD cadets stole police cars and may have impersonated officers, chief says
The Los Angeles Police Department has long hailed its cadet program as a successful partnership between police and the city's young residents. The initiative is designed to help cadets develop life-building skills, bond with officers and volunteer at events such as Dodgers games and the L.A. Marathon.
But on Wednesday night, three of those teenagers crossed paths with city police officers in a way that LAPD officials surely hoped would never happen — when they became suspects.

For the record:
2:15 p.m. May 28, 2023A previous version of this article said that the stolen cruisers were spotted about 11:30 p.m. The time was about 9:30 p.m.
Racing through the streets of South L.A. in a pair of stolen police cruisers, three teenage cadets led LAPD officers on car chases that ended in separate crashes, Chief Charlie Beck said Thursday afternoon.
The chases sparked an investigation that revealed some of the cadets may have also stolen a bulletproof vest, two stun guns and two police radios, the chief said.
Instead of learning from officers, Beck said, the cadets "may have been impersonating" police while driving the stolen cruisers in Central and South Los Angeles and Inglewood.
The embarrassing incident has prompted a "top-to-bottom" review of the cadet program as well as the systems the LAPD uses to check out and track its equipment.
"We're going to look at this, we're going to look at how they did it, and we're going to make sure it can't be done again," Beck said.
The teens, who were not identified because they are minors, were arrested in connection with the theft of the cruisers and other LAPD property, Beck said. All three teens are members of the cadet program and from 15 to 17 years old, Beck said. He added that all three teens were involved in the vehicle thefts but that it was not immediately clear which teens were involved in the theft of the other equipment.
LAPD cruisers have to be signed out through an automated system before they are driven out of a department motor pool, but the cadets were "sophisticated enough" to manipulate the system by logging in with the name of a sergeant who they knew was on vacation.
"They gamed that system," Beck said.
One of the cadets was so well-regarded within the program that the teen's picture was used in recruitment materials hoping to entice other youths to join up, according to three law enforcement sources with knowledge of the investigation.
Promotional materials with the teen's picture were quickly taken down, said the sources, who requested anonymity in order to discuss the case candidly.
The department became aware that two LAPD cruisers had gone missing around 5 p.m. on Wednesday, sparking an investigation that Beck said "almost immediately" focused on a 16-year-old female cadet assigned to 77th Street Division after officials found video of the teen fueling the car at a city gas pump. At about 9:30 p.m., two stolen cruisers were spotted near 77th Street Division's headquarters.
A chase began after the drivers ignored officers' commands to pull over, Beck said.
The stolen cars separated at some point, resulting in two chases that both ended in car wrecks. One of the stolen cruisers crashed near San Pedro and 77th streets, while the other collided with an uninvolved motorist near Central Avenue and Adams Boulevard, Beck said.
Los Angeles police officers who were chasing one of the vehicles were also involved in a crash. No officers were injured, Beck said.
One of the cadets was wearing a spare bulletproof vest used for training purposes when the crash happened, the chief said.
A subsequent investigation revealed that a third car had also been taken by the cadets, but it was quickly recovered near the LAPD's 77th Street station, Beck said. Two Tasers, two police radios and a bulletproof vest were also recovered during the investigation, he said.
No firearms went missing, and there were no weapons in the stolen cruisers, according to Beck. Investigators believe they have identified the primary suspects, but interviews are still being conducted to determine if anyone else was involved, Beck said.
One of the cruisers was stolen from the parking garage at Central Division downtown several days ago, according to two law enforcement sources. One of the others was taken from 77th Street Division, one source said.
One of the cars may have been missing since late May, according to Beck, who said investigators are still trying to piece together a timeline of the cadets' alleged actions.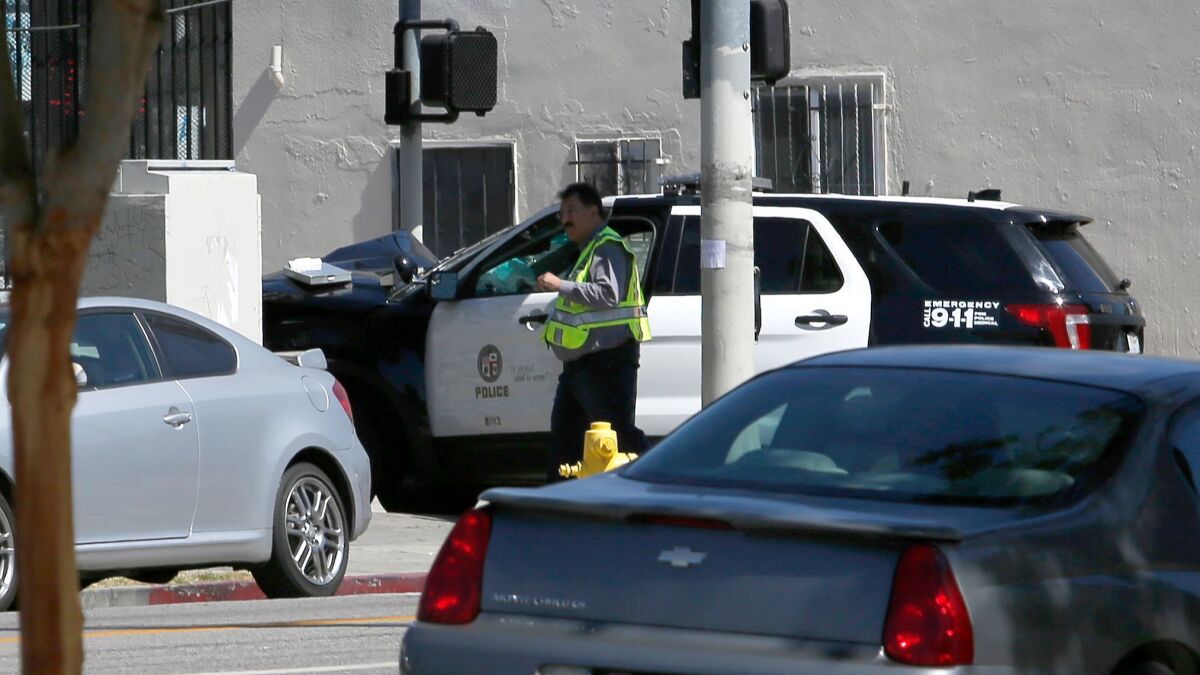 LAPD brass has long pointed to the cadet program as a success story. Thousands of young people between 13 and 20 have participated over the years. The goal is to foster relationships between the city's youth and police while helping participants develop skills that will aid them later in life. Currently, about 2,300 cadets are enrolled.
Cadets participate in an 18-week academy training program, taking various classes while getting an introduction to police work. After completing their training, cadets can be assigned to one of the city's police stations, where they may volunteer for a wide array of tasks, including passing out fliers alerting residents about crimes in their neighborhood.
The program isn't limited to teens who want to become police officers. Those who join must have at least a 2.0 grade-point average and submit a written recommendation, according to the program's website. They cannot have a serious criminal record.
Beck said that he hoped news of the thefts would not taint what is otherwise a productive program.
"We're very proud of our cadet program," he said. "I don't want the actions of these three individuals to reflect negatively on the other 2,300."
Times staff writers Matt Hamilton and Joseph Serna contributed to this report.
For breaking California news, follow @katemather @LAcrimes & @JamesQueallyLAT on Twitter.
ALSO
2 stolen LAPD cruisers crash during chase across L.A.; officer in 3rd cruiser also crashes, police say
Victims of shooting at San Francisco UPS facility are identified as families and co-workers mourn
The report card on California's battle against climate change
---
UPDATES:
4:35 p.m.: This article was updated with additional information from Beck and several law enforcement sources.
2:50 p.m.: This article was updated with comments from LAPD Chief Charlie Beck.
1:25 p.m.: This article was updated with additional details about the stolen vehicles and the investigation of the possible role of cadets
11:50 a.m.: This article has been updated with additional details about the theft of LAPD police cruisers and the department's cadet program.
10:50 a.m.: This article has been updated to say that police are investigating the possible role of police cadets.
10:20 a.m.: This article has been updated to say the suspects were juveniles.
9:45 a.m.: This article was updated with the base cost of a police SUV.
8:45 a.m.: This article was updated to say that three individuals were taken into custody.
This article was originally published at 8:35 a.m.
The stories shaping California
Get up to speed with our Essential California newsletter, sent six days a week.
You may occasionally receive promotional content from the Los Angeles Times.