New plan calls for release of LAPD body camera video and other recordings that are now secret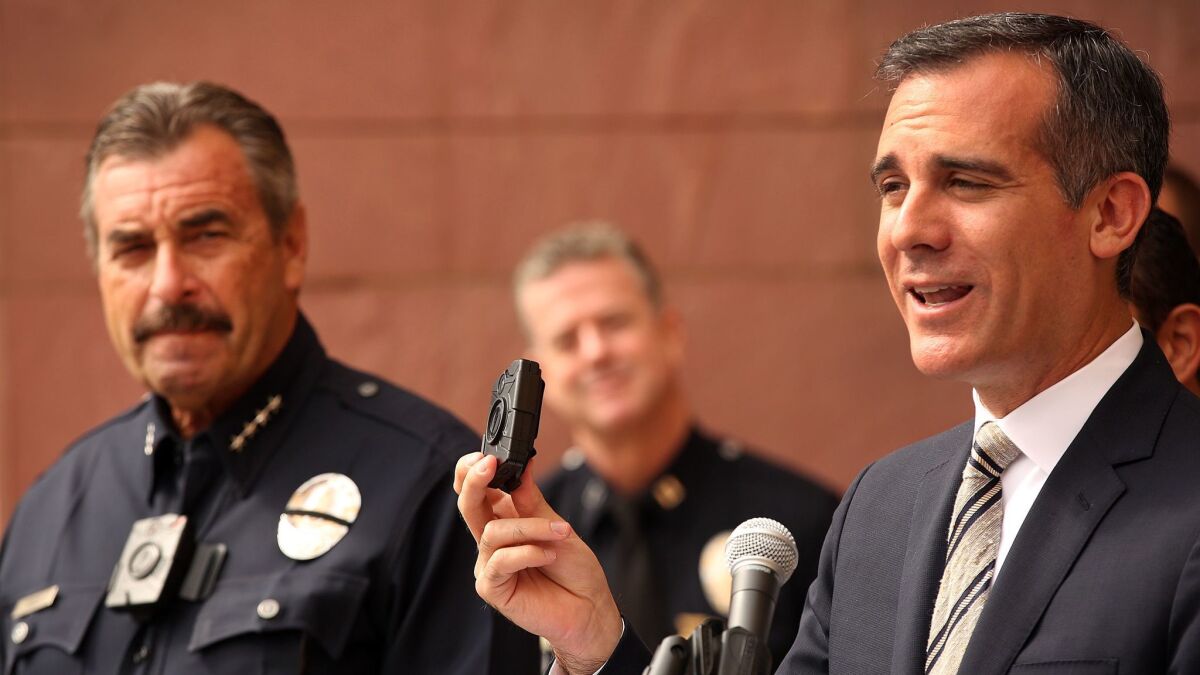 Los Angeles Police Department video from officer body cameras, drones and patrol cars would be released under a new proposal made public Friday — one that, if approved, would be a striking about-face for an agency that currently does not release such recordings.
Under the plan, video from "critical incidents" involving the police — such as shootings by officers, deaths that occur in their custody or other encounters when they use force that kills or seriously injures someone — would automatically become public within 45 days after they occur. The Police Commission or police chief could also opt to release video from other encounters if they decided doing so was "in the public interest."
Read the proposed rules for releasing LAPD video from critical incidents »
The rules would extend beyond video captured by police cameras. Other footage the LAPD has of a critical incident, including recordings from security cameras or bystanders' cellphones, would also be released.
The Police Commission, the five-person civilian panel that oversees the LAPD and sets department policies, has yet to vote on the three-page draft that will be formally introduced at the board's meeting Tuesday. Commissioners could vote on the policy next month, after a two-week window for public input.
Matt Johnson, the commission's vice president who helped draft the proposal, said evaluating the policy has been one of his top priorities since joining the panel in 2015. The more people he talked to, he said, the more strongly he felt that video should be made public.
"My instinct was that we should be releasing footage," he said. "If we're going to have those cameras, especially in these critical incidents, the public has a right to see that video."
Johnson said he believed the plan struck the right balance on a far-ranging spectrum of opinions about how and when footage should be released — if at all. The 45-day window, he said, would give investigators enough time to collect crucial evidence. There is also a caveat that allows the release to be delayed if the police chief and two police commissioners unanimously decide there is a valid, and specific, reason for doing so.
"Footage is going to be released," he said. "This is not a policy that is going to release footage when it's good for the department or bad for the department. It's going to be released either way."
Video can be a crucial piece of evidence in encounters involving police officers, both for those investigating the incidents and for outsiders interested in how they unfolded. For many, the release of those recordings offers residents the chance to see for themselves exactly what happened, rather than rely on sometimes-conflicting accounts from police and witnesses.
But opponents fear that making such footage public could thwart an investigation, inflame tensions between the public and the police or, as LAPD Chief Charlie Beck has said, offer a limited, incomplete snapshot of an incident if other evidence isn't also shared.
The plan calls for other information to be made public when the video is.
Whether to release police video — and if so, when and how — has stirred sharp debate, particularly after more agencies turned to body cameras as a means of building trust with their residents. Some of L.A.'s police commissioners have long signaled their interest in publicly releasing footage from critical encounters, which the LAPD has done only once.
Beck has expressed concerns about releasing those recordings, saying he did not want to jeopardize investigations or violate victims' privacy. He declined to discuss specifics about the proposal Friday, but said he believed it was a "great start."
"What I think, as we have evolved through the process of body-worn and in-car video, is that video is a good piece of evidence when viewed in the context of other pieces of evidence. And this policy supports that," he said. "It's a more open, more timely discussion of something that is of great interest to the public."
After the fatal police shooting of Carnell Snell Jr. in South L.A. in 2016, Beck released surveillance footage showing Snell holding a gun moments before he was shot. Beck said he shared the video out of concerns for public safety after protests over the killing as well as to correct claims that Snell was unarmed.
The public has seen glimpses of body camera footage recently — from a deadly police shooting on skid row and a hit-and-run investigation that prompted allegations of officer misconduct — but only after the recordings became part of a court case and were published by news outlets.
The proposal made public Friday was a year in the making. The Police Commission brought in a group from the New York University School of Law to collect feedback. The results indicated broad support — from both the public and police — for making the footage public.
The LAPD and the union representing rank-and-file officers were also consulted.
A source familiar with the conversations said the union had pushed for the deadline to be extended to 45 days and for notifications of officers involved in the incidents, as well as the union, before the footage is released.
On Friday, the union's directors said their input "will increase officer safety and minimally extend the investigative process prior to release of any video." Still, the directors said, they would prefer that video not be released until investigations into an incident — including a review by the district attorney's office — were complete.
Dist. Atty. Jackie Lacey laid out her position in a memo last year, saying her office would not publicly release video evidence from a police shooting until after deciding whether to file criminal charges. Then, the memo said, it might release footage "if appropriate."
Doing so earlier, Lacey wrote, could bias potential jurors.
But those reviews by prosecutors can take significant time and almost never end with charges against the officers who fired their guns, Johnson noted.
"Unlike many other district attorneys that will issue declination letters in two or three months, it's very common for our district attorney to not issue a declination for literally years — especially when it's a matter of public interest," Johnson said.
He pointed to the killing of Brendon Glenn, 29, who was shot by an LAPD officer near the Venice boardwalk in 2015. More than two years ago, Beck publicly recommended that the officer, Clifford Proctor, be criminally charged. Lacey has still not said whether she will file charges.
In a statement, Lacey stood by her office's handling of video. She also fired back at the criticism over its reviews, saying there was often a misperception about when prosecutors receive cases from the LAPD.
"The Police Commission policy jeopardizes the justice process by exposing witnesses to video evidence before they are interviewed by our independent investigators," she said. "It will make seeking justice in these politically charged cases more difficult."
Peter Bibring, a senior staff attorney for the American Civil Liberties Union of Southern California, said he believed the proposed policy changes could be a significant step toward improving transparency. But, he said, he worried about the potential delays.
Under the proposed rules, the police chief and two commissioners could decide to postpone a video's release to protect the safety of people involved or the quality of an ongoing investigation. If a delay is approved, it would be reevaluated every two weeks.
Bibring said the proposal should be more specific, noting the LAPD has justified withholding video so far over the same concerns.
Shane Murphy Goldsmith, another police commissioner who helped draft the proposal, said the goal to release video "as soon as possible and as soon as practical" stemmed from hopes that doing so would help improve public trust in police.
"Then the conversation isn't the suspicion about why we're not providing information, but the conversation really is about what is happening in these interactions between officers and the public," she said. "That really is the conversation we should be having."
Twitter: @katemather
---
UPDATES:
7:20 p.m.: This story was updated with comments from Lacey, Beck, Murphy Goldsmith and Bibring, as well as additional background about the proposed policy.
4:15 p.m.: This story was updated with comments from Matt Johnson, the vice president of the Police Commission, and the Los Angeles Police Protective League.
This story was originally published at 3:05 p.m.
---
The stories shaping California
Get up to speed with our Essential California newsletter, sent six days a week.
You may occasionally receive promotional content from the Los Angeles Times.