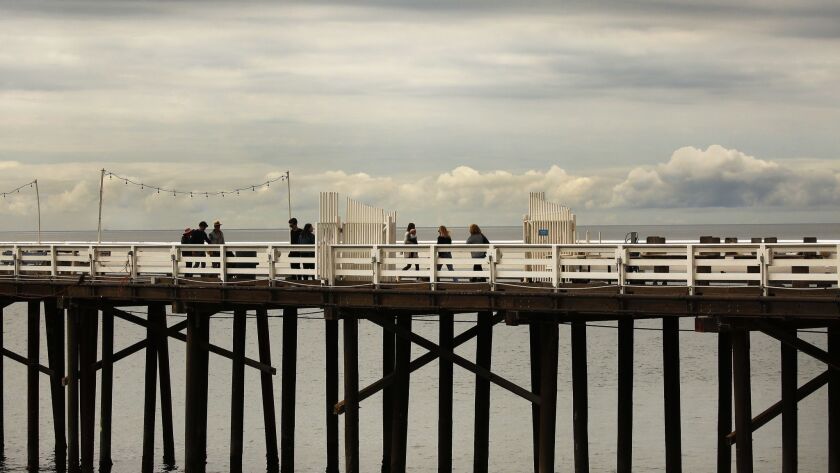 Pack an umbrella and wear a coat.
An unseasonably late storm will bring rain to Southern California overnight Wednesday through Thursday morning. Dry weather will return Friday before another storm could bring a chance of rain Saturday night.
The storm is moving in off the coast of Northern California and is expected to bring a chill and rain over Central and Southern California.
Rain totals are expected to reach between one-quarter and three-quarters of an inch in much of the Southland, though the foothills and mountains are likely to see higher totals, possibly as much as 2½ inches, according to the National Weather Service.
"Most of that rainfall will be overnight into morning hours," said meteorologist Lisa Phillips with the National Weather Service in Oxnard.
The light to moderate rainfall could trigger small mudflows and rock slides in recent burn areas, but the weather service said no large-scale debris flows are expected. The cold front means the region's snow level will fall to about 6,000 feet, but widespread snowfall is not expected, Phillips said.
After the storm clears out Friday there will be gusty winds between 20 and 40 mph, with higher wind speeds likely in the Antelope Valley.
The wintry storm has already brought precipitation to Northern California, with parts of Sonoma County reporting about half an inch of rain, according to the weather service.
And the weather service has issued a winter storm warning — even though it's spring — starting early Thursday for a system that may bring as much as 2 feet of snow to higher elevations of the northern Sierra and Mt. Lassen area and heavy rain in the Sacramento Valley.
Locally, a second storm should bring lower rainfall totals — about one 10th of an inch — to Los Angeles County late Saturday and early Sunday, Phillips said.
---