Whether they vote or not, Latinos are poised to play a pivotal role in key midterm races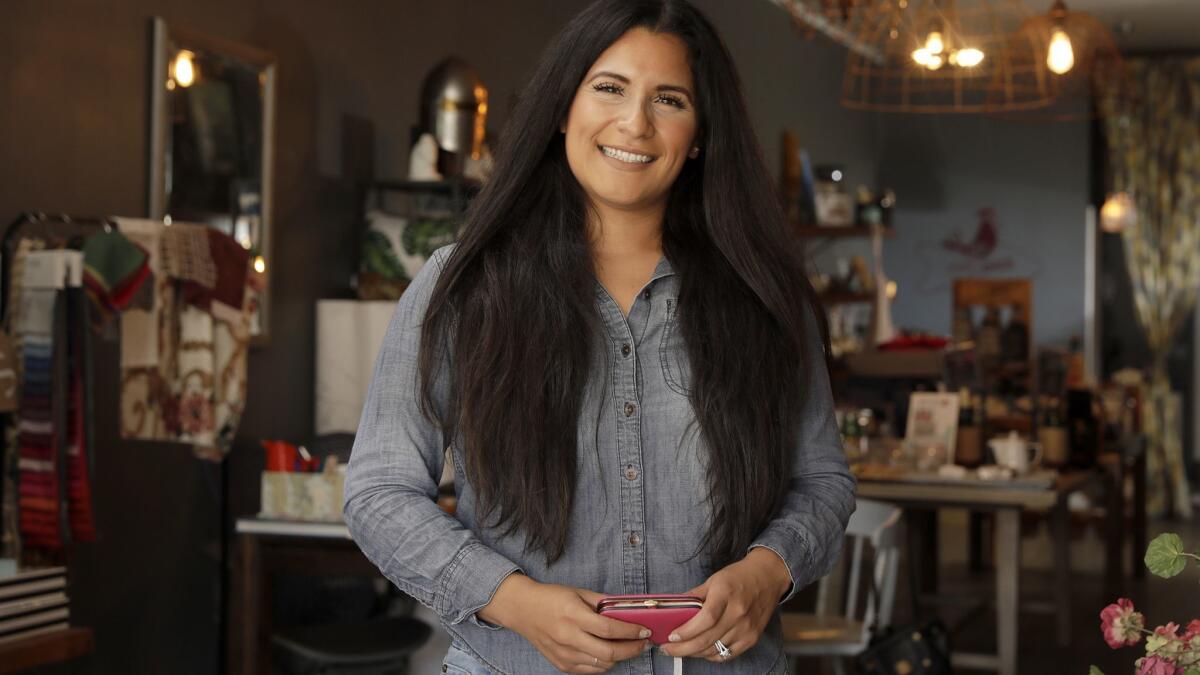 Along Bright Avenue in Whittier, wedged between a hair salon and tutoring business, is the home and interior design store Amanda Alvarado toiled and sweated over many years to afford.
The 32-year-old grew up in Boyle Heights, a working-class barrio where luxuries are few and far between. But even before Alvarado hit adolescence, her mother, a Mexican immigrant, taught her a lesson money could not buy.
Belia Lagunas became an American citizen. Politically active, she traveled to Sacramento to push for sound barriers along Interstate 5 that sat parallel to the Eastside neighborhood. The most enduring political lesson Lagunas passed on to her children might have been the simplest.
"As soon as she became a citizen, she went out and voted," Alvarado recalled. "That was the first thing she wanted to do."
Lagunas, who died at 63 in 2012, carefully studied voter guides and did not miss elections. When she went to the polls, she took her two daughters. When Alvarado turned 18, she cast her first ballot, got her "I Voted" sticker and never looked back.
"After everything she went through to get to where she was," she said of her mother, " I couldn't let that go to waste."
Voters like Alvarado are a valuable political commodity. They make up the relatively small percentage of eligible Latino voters who cast ballots. Those numbers are lower during nonpresidential elections, such as Tuesday's.
But it's hard to think of another midterm in recent history in which the president and Republicans and Democrats alike are talking as if the U.S. is facing a do-or-die situation. In such a scenario, Latinos like Alvarado are poised to play a pivotal role in a number of key races across the country — whether they vote or not.
By most appearances, Latinos who want to strike a political blow against Republicans — and by extension President Trump — have plenty of incentive. The president has put Latinos in a harsh spotlight, from stoking fears about a migrant caravan traveling from Central America to tweeting about crimes committed by immigrants in the country illegally.
The charge that Latinos have been slapped around by Trump was conveyed in a recent campaign video advertisement asking Latinos to vote and put an end to the "Trumpadas," wordplay for the Spanish word trompadas — punches to the face.
Twenty-nine million Latinos are eligible to vote in this year's midterm election, making up 13% of all eligible voters in the U.S. The growth was driven by young U.S. born Latinos who are turning 18. About 44% of Latinos who are eligible to vote are 18 to 35.
But the relative youth of the Latino electorate is also what experts say contributes to low voter turnout rates.
"On the one hand … more Latinos than ever vote and they are gradually shaping the demographics of voters," said Mark Hugo Lopez, director of Hispanic research at the Pew Research Center. "But the numbers of those who do turn out to vote is growing at a slower rate than those who potentially can."
For Alvarado, the routine of voting started in the household. Her husband and his parents also vote.
"I think we need to make sure millennials are aware of it now so when they have their kids they can instill that in their kids," she said.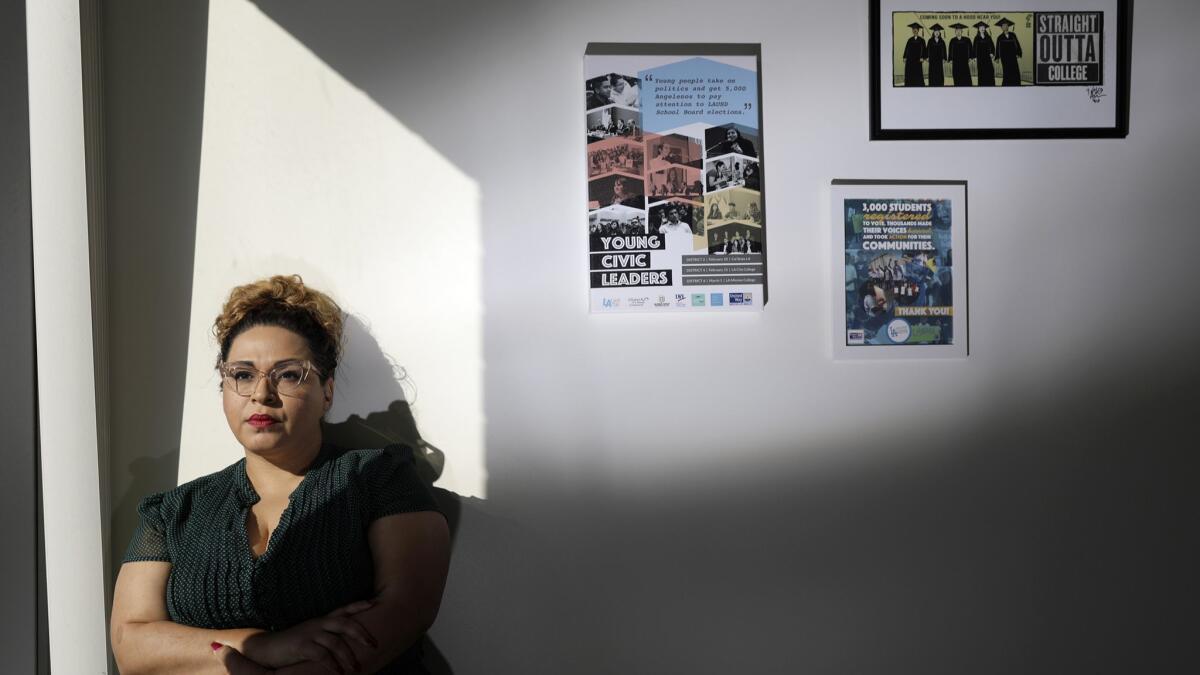 Marilu Guevara, executive director with the League of Women Voters, said engaging young Latinos is of paramount importance.
"We do this work in between elections and during election times, especially with young people, because we feel their parents might not have had the practice of voting and didn't instill it in them," she said. "It might not be a practice in their home, so somebody needs to tell them how important it is to do it 'cause otherwise, apathy continues through generations."
After the 2010 election, lawmakers in some states began to introduce measures including strict voter ID laws to cutting back early voting opportunities.
Blacks and Latinos are more likely to report problems such as having trouble finding their polling place and lacking proper identification, according to a study by the Public Religion Research Institute, a nonprofit and nonpartisan organization.
Most recently, in Dodge City, Kan., the only polling site was moved outside the city limits and about a mile from the nearest bus stop. The city has a large Latino population, and the action drew accusations of voter suppression.
Sonja Diaz, the founding director of UCLA Latino Policy and Politics Initiative, a think tank focusing on Latinos, said while the burden of increasing Latino voter participation falls on civic engagement groups and family members, political candidates and parties also have to invest in engaging those voters.
In Southeast Los Angeles County, a region long plagued by corruption and low voter turnout, the institute found that voter engagement ahead of the June primaries led to greater voter turnout in those precincts.
Over the last two years, political groups, nonprofit organizations, high schools and college campuses have also been increasingly engaging Latinos in an effort to boost voting participation.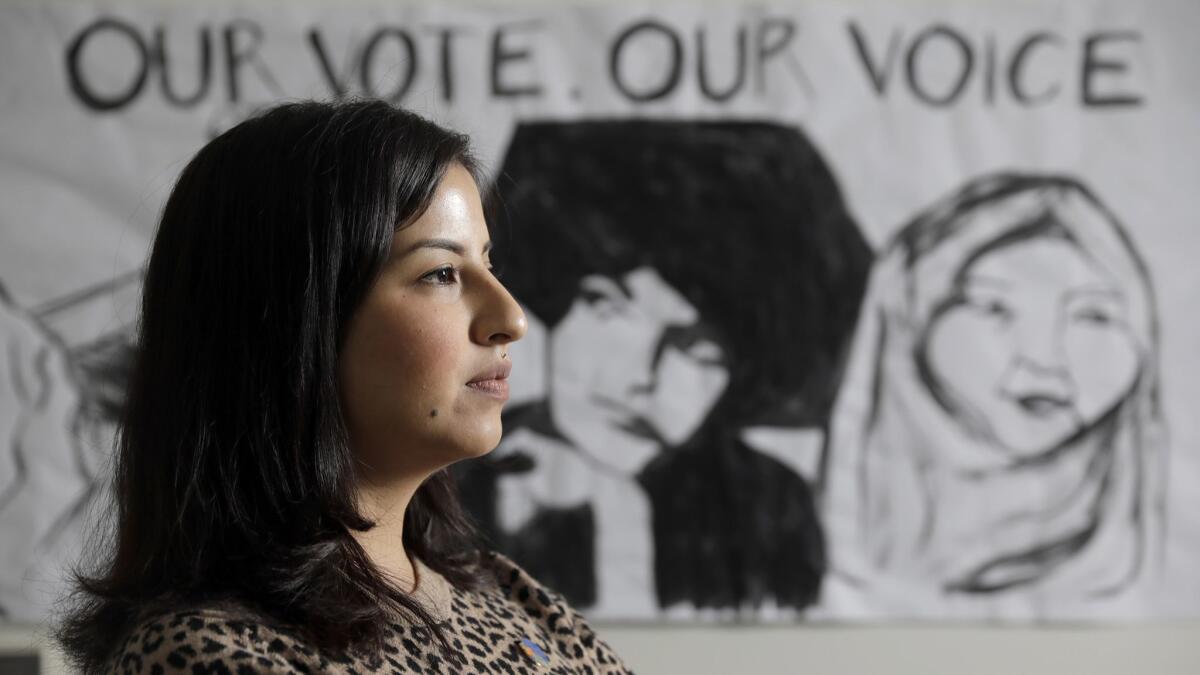 In late October, Elizabeth Valdivia, 27, was at Mount Saint Mary's University for an overview of the propositions on the California ballot by the League of Women Voters. About 50 students, most of them women, listened in the Rose Hills Auditorium.
When she was in high school, Valdivia participated in school walkouts to call for immigration reform. She worried about the wars in Iraq and Afghanistan. When Barack Obama ran for the presidency, she saw it as a sign of deep changes happening in American politics, changes that were more reflective of young civic-minded people like herself.
Growing up, politics had rarely been discussed at home. Valdivia's mother, who had been a green card holder since the late 1980s, applied for her citizenship and registered to vote to help elect Obama.
Valdivia said she'd never asked her mom why she hadn't become a citizen sooner.
"I think it became important for her because it was important to me," Valdivia said.
Only 17 at the time, Valdivia volunteered as poll worker. Two years later, in 2010, she voted for the first time. This year, Valdivia began working with organizations such as the League of Women Voters to bolster the Latino turnout.
On a recent Thursday night, Valdivia cradled a stack of voter registration forms as she made her way inside the cafeteria of Hollywood High School, where English classes for adults were taking place.
Standing in the center of the brightly lit room, surrounded by murals of celebrities and Oscar statutes, she used a bullhorn to introduce herself and laid out her talk about the importance of voting. Most of the students were immigrants who could not vote. Valdivia asked them to hand the forms to a son or daughter, friend or neighbor, who might be a U.S. citizen.
Confused, the students handed back the forms, with the exception of 61-year-old Martha Restrepo, a Colombian immigrant who became a U.S. citizen in 2016.
"May I have three more for my family?" she said, lifting her fingers. "I'm going to vote because those that don't have no right to complain."
For more Southern California news, follow @latvives on Twitter.
Sign up for Essential California for news, features and recommendations from the L.A. Times and beyond in your inbox six days a week.
You may occasionally receive promotional content from the Los Angeles Times.