LAUSD strike dancers get viral boost from Rep. Ocasio-Cortez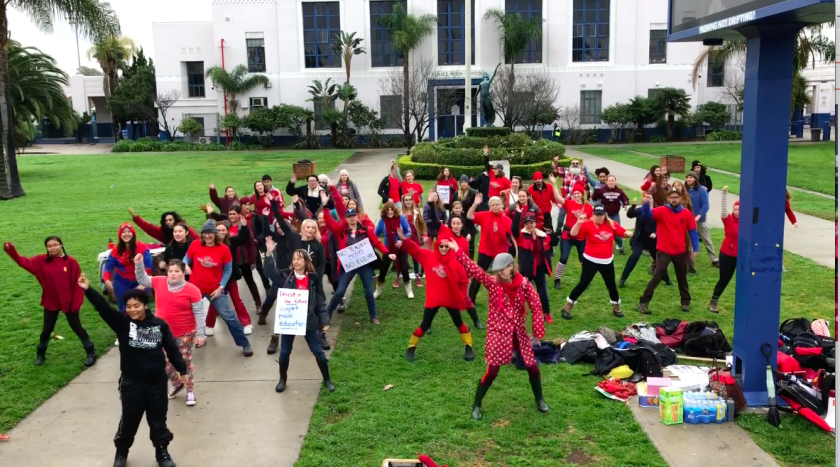 A steady rain was falling on picketers outside Venice High School recently when a teacher in a polka-dot slicker suddenly broke out in dance.
As union chants and car horns blared in the background, roughly a dozen fellow educators and students joined in, grooving to the right and grooving to the left. They raised their arms to the heavens and brushed off their shoulders as an appreciative crowd cheered and whooped.
The dance, which was captured on video, has since gone viral on Twitter and been viewed well over a million times.
On Friday, the clip enjoyed another bump in popularity when it was tweeted again by U.S. Rep. Alexandria Ocasio-Cortez, the young New Yorker whose liberal views and breezy social media manner have made her a hero to a generation of young Democrats.
Ocasio-Cortez gave her blessing to the dance, writing on Twitter that "These LA teachers striking against privatization + demanding smaller classrooms/more support for their students is a whole 2019 mood," followed by three dancer emojis.
The clip is raw and ends abruptly, but something about the image of teachers and students dancing together, in the rain, has struck a chord with union members and their supporters. This is particularly the case as the L.A. teachers strike ends its first full school week, according to the woman who organized the spectacle (and who was wearing the polka-dot jacket).
"I think it stood out because there's a lot of walking the picket line and chanting, which is amazing and beautiful in its own right," said Hazel Kight Witham, who said she learned the routine in a cardio line-dancing class. "But this is something different."
Teachers work in relative isolation, Kight Witham said, mainly with their students. Getting teachers out of the classroom and together on picket lines has been a revelation, she said, saying the energy she's seen this week is like nothing she's experienced in 18 years of teaching.
The dance provided an "extra language for our struggle," Kight Witham said.
Kight Witham, who teaches English, is a "crazy woman," student Mya Edwards said warmly, noting that the dance was being performed at elementary schools and other schools around the city, and being posted and shared on social media.
Husband Drake Witham, who teaches special education at Venice High, said his wife has a "relentless spirit," adding that she rallied teachers and students to dance in the driving rain. "She just loves teaching," Witham said.
But the greatest compliment Kight Witham received for her choreography was on Monday night, when the video hit 1 million views and Roxane Gay, an author she admires, tweeted at her.
"The woman in the polka dot coat who is on beat," Gay wrote, "Good evening to her."
---
The stories shaping California
Get up to speed with our Essential California newsletter, sent six days a week.
You may occasionally receive promotional content from the Los Angeles Times.