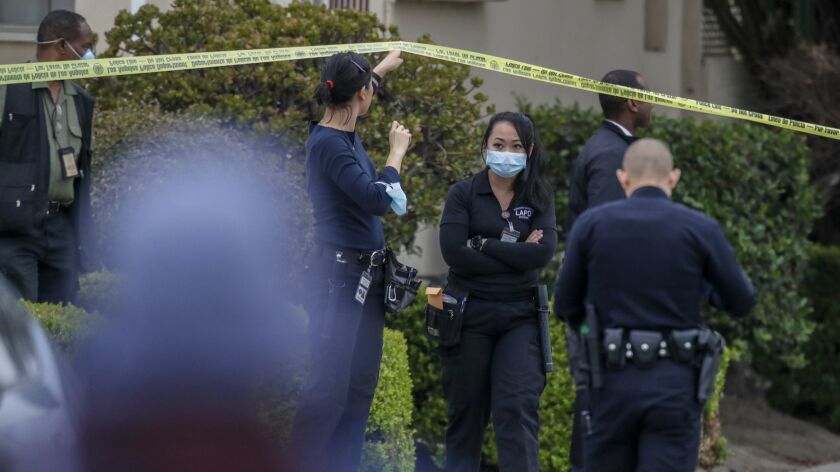 A woman has been arrested in connection with the deaths of a couple and their adult son whose bodies were found stacked on top of one another in a house in Leimert Park.
Nancy Jackson, 55, was arrested by LAPD South Bureau homicide detectives on Wednesday, hours after she was named a "material witness" in the deaths, according to Los Angeles County Sheriff's Department inmate records.

Jackson was booked Thursday morning on suspicion of murder, said LAPD Officer Bill Bustos. She was being held without bail.
Authorities on Wednesday hesitated to call Jackson a suspect or person of interest and said they were concerned for her safety.
"You just never know; these things are not always the way they seem," said Los Angeles Police Capt. Peter Whittingham.
There was no evidence to point to a home invasion or robbery, he said. Car keys were found inside the home. Wallets and valuables were in open view.
The bodies of Phillip White, 65; his mother, Orsie Carter, 82; and his stepfather, William Carter, 83, were found Tuesday night in the bathroom of White's beige, Spanish-style home in the 3900 block of South Bronson Avenue, where White had lived for four decades.
All of the bodies showed signs of blunt-force trauma, authorities said. At least two had sustained gunshot wounds.
Family members said White had multiple sclerosis and that the Carters, who lived in nearby Baldwin Hills, would often stop by to check on him.
Friends and family said Jackson was White's longtime friend who re-emerged in his life six weeks ago. White, known by many as quiet and kindhearted, allowed Jackson to move in temporarily, childhood friend Ralph Tilley said. She had said she planned to move to Las Vegas, but she then refused to leave.
White's mother called Tilley on Saturday to ask about the woman. Two days later, White told Tilley that he had the situation handled and that Jackson had agreed to move out.
Twitter: @haileybranson
---
UPDATES:
11:05 a.m.: This article was updated with ages for the victims as provided by the Los Angeles County coroner's office.
10:05 a.m.: This article was updated with Jackson being booked on suspicion of murder.
This article was originally published at 6:35 a.m.
---