Two elementary school children in Riverside County could have Hansen's disease, also known as leprosy, according to health officials.
Nursing staff at Indian Hills Elementary School in Jurupa Valley notified county officials Friday of the suspected infections, which will take several weeks to officially confirm, said Barbara Cole, director for disease control for the Riverside County Department of Public Health.
"We have to keep stressing it's not confirmed," Cole said. "We're just at the beginning of the investigation."
Jurupa Unified School District officials sent a letter home to parents Friday to inform them about the unconfirmed cases and provide resources to learn more about the rare disease, said district Supt. Elliott Duchon.
Duchon said a parent notified the school's nursing staff of a preliminary diagnosis of Hansen's disease for a student at the school. He would not say whether the two suspected cases were in the same family.
Cole said the children were not hospitalized and lived in the western part of Riverside County, which is where the school is located.
As of Tuesday afternoon, Cole hadn't yet followed up with the children's parents to find out if they'd recently traveled to another country or had contact with someone with leprosy.
See the most-read stories this hour »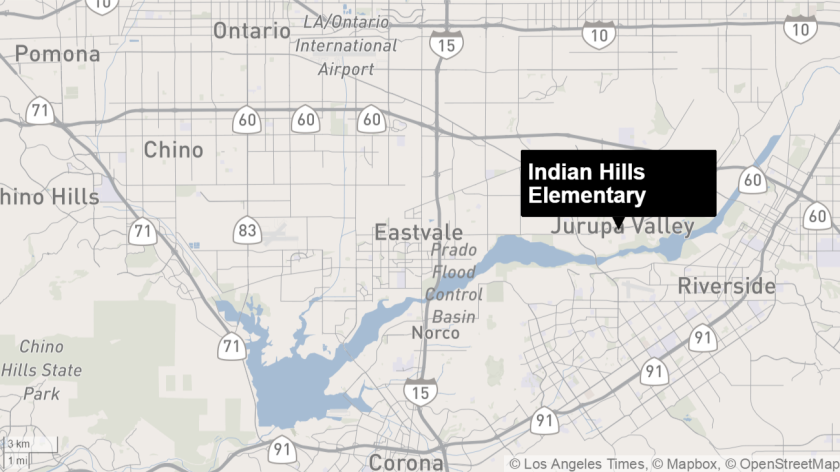 Hansen's disease is transmitted through prolonged contact, often between people living the same household. If someone is taking antibiotics for the disease, however, the bacteria cannot be transmitted to other people, according to the U.S. Centers for Disease Control and Prevention.
Duchon said the school had disinfected a few classrooms, but that they were taking no further precautions. He said the district would follow the health department's guidance.
Cole said that national health guidelines don't consider schools or workplaces the types of environments where leprosy is likely to be transmitted.
"Even if the cases were confirmed … leprosy is not easily transmitted to others, and we don't feel like there's a risk in the school setting," she said. "It's not a highly contagious disease."
soumya.karlamangla@latimes.com
Twitter: @skarlamangla
ALSO
Gov. Brown signs bill that could help immigrants get access to health insurance
Amid meningitis outbreak, officials urge vaccination — but not for everyone
This terminally ill man says California's aid-in-dying law means he can end his life 'fully, thankfully and joyfully'
---