Los Angeles County beaches closed again because of lightning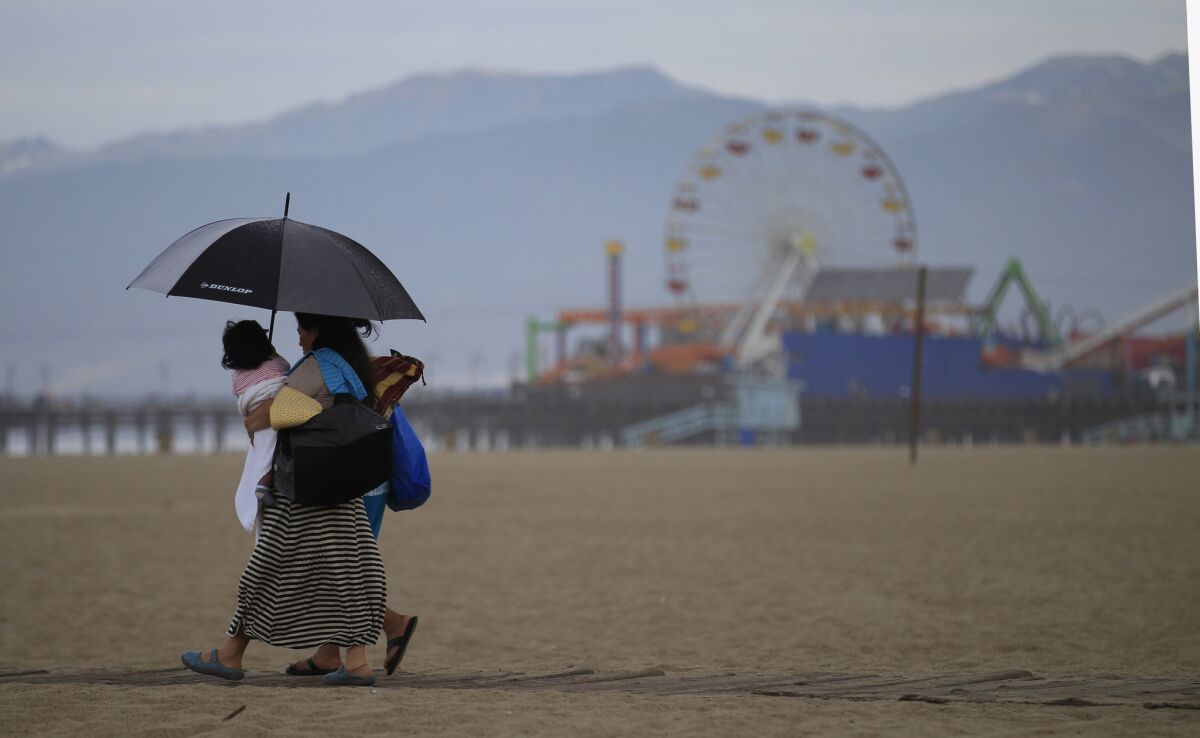 All Los Angeles County beaches were closed for a second time Saturday after officials spotted lightning strikes within a few miles of the shore, officials said.
Beaches along the county's coastline will remain closed until at least 4:30 p.m.
"That's the minimum closure time; it could be longer," said A.J. Lester, an ocean lifeguard specialist with the L.A. County Fire Department's lifeguard division. Lester urged beachgoers to heed the warnings of lifeguards patrolling the sandy shoreline in red Toyota lifeguard trucks.
"Whether they're at a beach or a park, seek shelter or go indoors immediately," Lester said. Beachgoers can check for updates on Twitter at @LACoLifeguards.
This is the second time the beaches were closed Saturday.
Area beaches were closed at about 8 a.m. Saturday as thunderstorms hit the region.
Beaches from Cabrillo to Nicholas Canyon were closed when flashes of lightning were seen throughout the area, causing surfers to clear out of the water.
"The water is the most unsafe place on the beach because of the conductivity of the salt water," Lester said.
The rains falling over parts of Southern California were caused by clouds moving north as Tropical Storm Dolores continued to move over Mexico, according to meteorologist Scott Sukup at the National Weather Service.
"It's still almost a thousand miles away, but we're starting to see moisture ahead of it," he said.
Lightning doesn't just strike straight downward; it can move sideways as well, he added, and travel as far as 10 miles from its origin.
When a rare lightning strike hit the waters off Venice beach in July 2014, killing one man and injuring several others, "the skies were sunny above Venice at the time," Lester said.
Get your free daily Essential California newsletter>>
That's why beachgoers should seek substantial shelter if they can hear thunder, which can announce an approaching storm.
"It's not under a lifeguard tower or under a tree. Four walls with a roof — that's the best way to seek shelter," he said. "That whole 'thunder roars, go indoors' — that's our big safety mantra."
If they can't find a building in which to seek refuge, beachgoers should hole up in their cars, he said.
ALSO
Flames sweep over freeway; motorists run for their lives
Nuns assail Archbishop Gomez in sale of convent to Katy Perry
Voter in L.A. school board race wins $25,000 for casting a ballot
---
Life is stressful. Our weekly mental wellness newsletter can help.
You may occasionally receive promotional content from the Los Angeles Times.