Are suburbs pushing homeless people into L.A.? Debate rages as numbers spike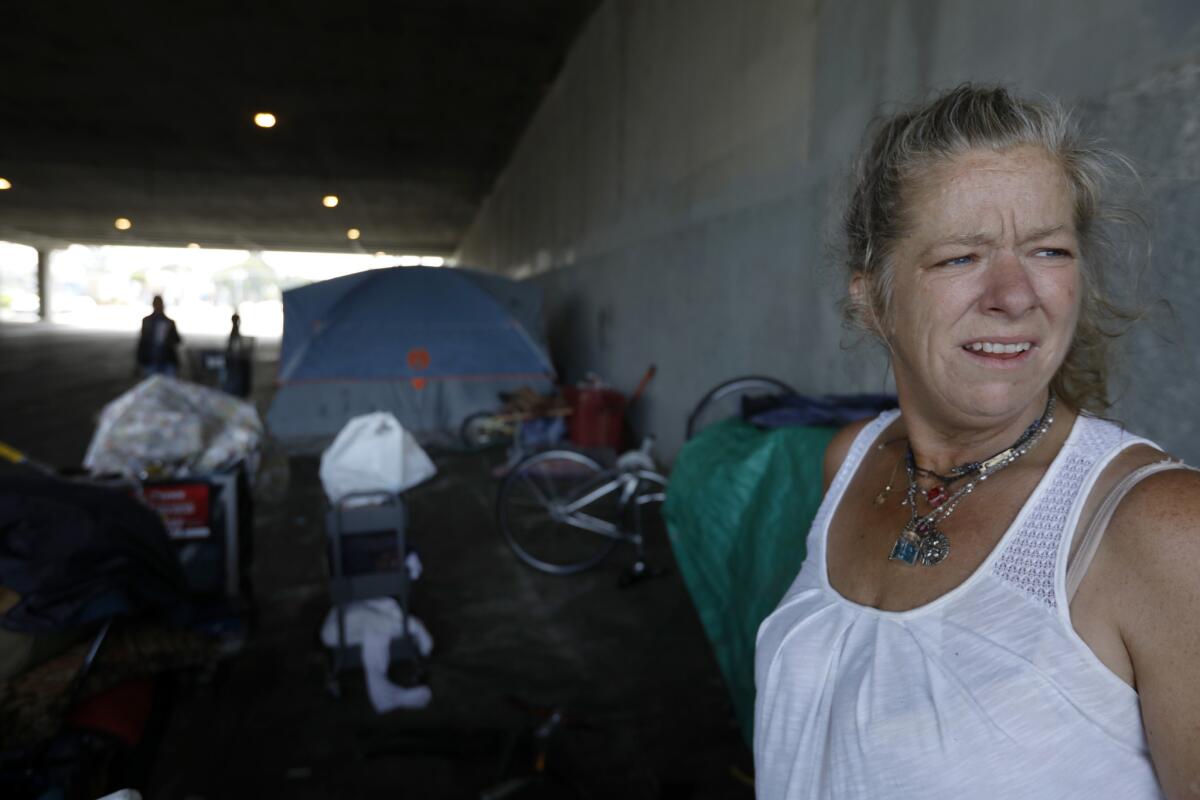 Pierre Robinson has tried more than once to set up camp in Culver City, a jaggedly shaped community of nearly 40,000 bordered by Los Angeles on multiple sides.
Robinson, who is homeless, said police repeatedly have made it clear he is not welcome.
"Every time I tried to set up a tent, they'd tell me to go to the other side of La Cienega if we didn't want trouble," said the 38-year-old, who is now living in L.A. — just outside the Culver City line.
L.A. officials have gone public with the assertion that neighboring cities are pushing homeless people into Los Angeles. Many of those communities, say Councilmen Joe Buscaino and Mike Bonin, are not complying with last year's ruling from the U.S. 9th Circuit Court of Appeals that said cities cannot stop people from sleeping on sidewalks if they lack enough housing or shelter beds.
Some homeless people, including Robinson, have echoed those allegations in interviews with The Times. They say police in some suburban cities have encouraged them to move across the border into L.A.
Bonin and Buscaino, whose districts are along the outer edge of L.A., want their lawyers to come up with strategies to force neighboring cities to either allow sidewalk encampments or expand homeless services.
But officials in several suburban L.A. County cities have begun pushing back, telling The Times they are already in compliance with the 9th Circuit decision. Some said they have encampments within their city boundaries, while others said their anti-camping laws have been tailored to withstand a legal challenge.
The debate comes a week after officials reported a 16% increase in homelessness within the city, despite spending hundreds of millions of dollars to build thousands of subsidized apartments and add shelters.
To bolster his claim, Bonin pointed to a section of Venice Boulevard, which has had a cluster of tents on the L.A. side of the street and few — if any — on the Culver City side. A homeless woman at that location told The Times that she too had been instructed by Culver City police to relocate to Los Angeles.
Culver City Mayor Meghan Sahli-Wells called those reports "really dismaying and disturbing," saying such activities are against city policy. She said her city, which had 118 residents in last year's homeless count, does not prohibit people from sleeping or camping on sidewalks and instead is focused on building low-cost housing and adding shelter beds.
"If officers are acting outside of the policy, then this is something we need to be aware of and cure," Sahli-Wells said.
In Redondo Beach, officials already are contending with their own clusters of tents on public property, said City Councilwoman Laura Emdee. Police have been responding by showing up with a team of people, including mental health experts, to determine "what's stopping these people from getting the services they need," she said.
Emdee questioned whether L.A. has been equally diligent in helping needy individuals obtain driver's licenses, Social Security cards and, if applicable, veterans benefits.
"Maybe they need to look at their own process for how they're handling the homeless," said Emdee, whose city had 154 people tabulated in last year's homeless count — and an ordinance prohibiting camping in parks, sidewalks and other public places.
Three things you think you 'know' about homelessness in L.A. that aren't true »
Over the last month, L.A.'s debate with its suburbs also has broken out on social media, with Buscaino berating Torrance City Councilman Aurelio Mattucci over that city's efforts to address homelessness. Mattucci fired back by saying L.A. had allowed its downtown to become "disgusting."
"With all due respect Joe," he wrote, "L.A. has completely failed at the Homeless Crises."
The 9th Circuit ruling, issued in September, focused on the question of whether an anti-camping law in the city of Boise, Idaho, improperly penalized people for sleeping outdoors when there was no space available in any shelter. The court concluded that such laws constitute cruel and unusual punishment, and therefore violate the 8th Amendment of the U.S. Constitution.
Ada County, where Boise is located, had 867 homeless people in 2016 — 125 of them unsheltered. Boise's three shelters offered 354 beds, but many of them were not available to the general population because of religious restrictions and other rules, according to the court.
After the ruling was issued, the City Council in Manhattan Beach approved an ordinance banning people from keeping personal property, including camping equipment such as a tent, in any public space unless approved by the police chief or city manager. The law describes such activities as a potential health and safety hazard — the kind that can interfere with the rights of others to "use and enjoy" sidewalks.
Manhattan Beach City Manager Bruce Moe said the ordinance does not criminalize sleeping in public spaces when there is a lack of adequate shelter and is in compliance with the 9th Circuit ruling. One expert on homelessness questioned that stance, though, pointing out that the law would prevent people from putting tents, tarps and sleeping bags on public property, even in rainy weather.
"That is, in the real world, the functional equivalent to a ban on sleeping," said Gary Blasi, professor emeritus at UCLA School of Law.
L.A. County's homeless population is growing — but not as fast as they're dying »
Blasi said the 9th Circuit ruling has left many suburbs in Southern California vulnerable to a legal challenge, either because they have anti-camping laws or because of the way they treat homeless people. To stay within the parameters of the decision, Blasi said, a city cannot enforce its anti-camping law until it has shown that the number of shelter beds exceeds the homeless population or that some other housing alternative exists.
For years, advocacy groups have been waging a multi-front legal battle against local rules barring people from sleeping on sidewalks.
In 2016, the city of Pomona reached a settlement that kept it from clearing encampments from city sidewalks unless it had provided enough shelter beds, campgrounds or other housing to accommodate its unsheltered homeless population. Although Pomona has provided 208 beds since then — enough to comply with the settlement — it no longer removes sidewalk encampments unless there is a health and safety issue or a person has more than 60 gallons of belongings, said Police Lt. Anthony Catanese.
Los Angeles, in a legal settlement reached more than a decade ago, agreed to allow homeless people to camp on sidewalks between 9 p.m. and 6 a.m. Bonin contends that, even in the wake of last year's 9th Circuit ruling, many other cities do not permit such activities, prompting homeless people to cross into L.A. at night.
"That puts more of a burden on Los Angeles neighborhoods to do the public health response, the sanitation cleanups," said Bonin, who represents L.A.'s coastal neighborhoods.
At the border of Bonin's district and the city of Santa Monica, two homeless men told The Times they were more likely to be harassed by police in Santa Monica than in L.A.
Sitting beneath a tarp on Venice Boulevard, Donald Wige Jr. said he has seen Santa Monica officers ticket and harass people digging in garbage cans for recyclables. Pablo Silva, 24, said he used to get grief from police when he attempted to set up a tent on the beach.
"They'd tell me to go to Venice. That I could only set up my tent in Venice," he said.
Santa Monica City Manager Rick Cole said his city does not have a policy to push homeless people into L.A. He was also skeptical of the stories told by the two homeless men.
"I'm certain that in conversations with individual officers, there are times when individual officers in the LAPD or the Santa Monica Police Department suggest that homeless people move along," Cole said. "It's an unfortunate reality that comes from thousands of interactions with people experiencing homelessness."
Cole said he is convinced Santa Monica officers handle homelessness in a "humane and constitutional way."
Santa Monica, which reported 905 homeless residents in last year's point-in-time count, prohibits people from obstructing sidewalks in ways that leave pedestrians with less than four feet of contiguous passage. Pasadena, which sits next to L.A.'s Eagle Rock neighborhood, bars homeless people from placing their personal property on sidewalks in ways that prevent people from "freely passing by."
And in Gardena, a city that borders L.A.'s Harbor Gateway neighborhood, police say they have the power to enforce a law barring people from sleeping or setting up tents on sidewalks. When police receive a call about someone lying down on sidewalks, they will respond and instruct them to go elsewhere, said Lt. Chris Cuff.
"Very rarely in those circumstances do we have individuals who don't move on," said Cuff, whose city had 47 people in last year's homeless count. A mental health evaluation team also frequently responds to such calls, he said.
Still, Gardena's approach troubles Eric Tars, legal director of the National Law Center on Homelessness & Poverty, one of the groups that represented plaintiffs in the 9th Circuit case.
Sleeping, he said, is an "unavoidable human activity," and cities need to provide a place to do that safely and legally. Unless Gardena has sufficient shelter space or low-cost housing for its homeless population, enforcement of its sidewalk law is unconstitutional, Tars said.
"Whether you're giving them a criminal citation or just harassing them and moving them along, if you are preventing them from doing that necessary life activity under threats of enforcement … that practice is also unconstitutional," he said.
Times staff writer Alexa Díaz contributed to this report.
Twitter: @DavidZahniser
Sign up for Essential California for news, features and recommendations from the L.A. Times and beyond in your inbox six days a week.
You may occasionally receive promotional content from the Los Angeles Times.