Neighboring cities are pushing homeless into L.A., councilmen alleged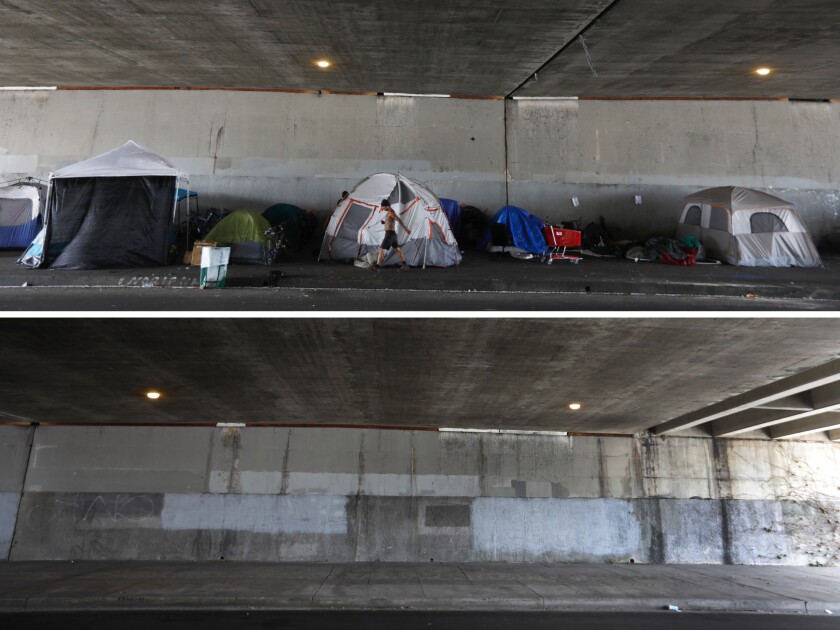 One day after Los Angeles received confirmation of a major increase in its homeless population, two City Council members said they want to look into legal strategies to force nearby cities to provide shelter beds or allow people to sleep on their sidewalks.
Councilmen Mike Bonin and Joe Buscaino called Wednesday for City Atty. Mike Feuer to explore "legal steps" that L.A. could use to compel those cities to comply with a federal court decision on homelessness and sidewalk camping in Boise, Idaho. The proposal, they said, would stop nearby cities from pushing homeless people into L.A. city boundaries.

For the record:
9:10 p.m. June 5, 2019A previous version of this article referred to Tevis Barnes as a man. Barnes is a woman.
The U.S. 9th Circuit Court of Appeals ruled last year that homeless individuals may not be held criminally responsible for sleeping on government property when no alternative shelter is available.
Bonin, whose council district touches Santa Monica, Culver City and El Segundo, said he believes many cities in the region are not complying with that decision.
"Instead of allowing people to sleep on their sidewalks, they are encouraging people, or compelling people, to move to the city of Los Angeles to do that," he said.
The proposal, which will be taken up by the council's Homelessness and Poverty Committee, comes after officials reported that L.A. had a 16% increase in its homeless population compared with last year — a blow to city leaders who have been working to add affordable housing and supportive services.
The plan unveiled Wednesday acknowledged the existence of a phenomenon noticed by many Angelenos: When residents drive out of L.A. and into other cities, they see considerably fewer, if any, tents and encampments on public sidewalks.
L.A.'s political leaders reached a settlement in 2006 with anti-poverty advocates that allowed homeless individuals to sleep on city sidewalks between 9 p.m. and 6 a.m. if there were not enough shelter beds.
Buscaino and Bonin said that for years, their constituents believed that, with sidewalk encampments allowed in their city and not in other communities nearby, homeless individuals would gravitate to their neighborhoods.
Such a disparity can be seen on Venice Boulevard at the 405 Freeway, Bonin said, with homeless people on the L.A. side of the street but not on the Culver City side.
"People are understandably asking why the hell that is," Bonin said. "And it's because the city of Los Angeles is obeying the court dictates, and the city across the street isn't."
Tevis Barnes, housing administrator for Culver City, said her office has "never received a single complaint of harassment by a person experiencing homelessness against the police department" during her 18 years on the job. Barnes also said that her city is in compliance with the 9th Circuit ruling.
"Culver City respects the needs of homeless people and the great challenges they face in our society," she wrote in an email.
One homeless woman living on Venice Boulevard offered a different perspective, saying police in Culver City regularly instruct homeless people to move their belongings to the L.A. side of the street at the 405 Freeway overpass.
"They don't even want me to walk in Culver City or even recycle," said Linda Miranda, who has been living under the overpass for months. "They're ruthless."
Santa Monica City Manager Rick Cole said he agrees that homelessness is a regional issue, one that requires the cooperation of every city. But he said it would be "premature" to weigh in on the significance of the Bonin-Buscaino proposal.
Cole also said Santa Monica officials believe they are in full compliance with the 9th Circuit decision by providing shelter and other services.
The Boise ruling applies to municipalities in California and eight other states, said Maria Foscarinis, executive director of the National Law Center on Homelessness and Poverty, one of the groups that represented the plaintiffs in the case.
Cities that seek to prohibit sleeping on the sidewalk can comply with the decision, she said, if they provide residents with an alternative — shelter beds, affordable housing or rental buildings with supportive services, such as mental health or addiction counseling.
"If L.A. city wants to take it upon itself to get its city attorney to force these other communities to comply with the ruling, more power to them," she said.
Buscaino, who represents the harbor area, said he knows of multiple instances in which neighboring communities — either through law enforcement or specific ordinances — have pushed homeless residents into his district.
The councilman pointed to a video that circulated in January showing sheriff's deputies dropping a homeless man off in the San Pedro part of his district after being picked up in the city of Rancho Palos Verdes.
Buscaino described the incident as homeless dumping, but sheriff's officials disagreed, saying the agency had acted compassionately and complied with the man's request to go to a bus stop.
Buscaino and Bonin are asking for the city's lawyers to present their recommendations during a closed-door council meeting, which is permitted under state law for discussions of potential legal action.
Bonin said he wants the city to look at encouraging the nonprofit groups that have sued L.A. over homelessness to put pressure on other cities. Buscaino for his part, said the state officials should freeze transportation funding for cities that aren't "doing their part" to address the homeless crisis.
While Bonin and Buscaino focused their attention on neighboring cities, other council members called Wednesday for more resources to address illegal dumping and the accumulation of garbage downtown.
Councilman Jose Huizar and several colleagues called for increased enforcement, fines and rewards, along with the expansion of a program that allows homeless and formerly homeless individuals to work on cleanup crews.
"I have long said that downtown Los Angeles needs an emergency, triage-like response when it comes to addressing homelessness," Huizar said in a statement. "But that is also true for the amount of trash that is illegally dumped on our streets."
Twitter: @DavidZahniser
---
The stories shaping California
Get up to speed with our Essential California newsletter, sent six days a week.
You may occasionally receive promotional content from the Los Angeles Times.