In a first, L.A. sues unlicensed cannabis dispensary, seeking millions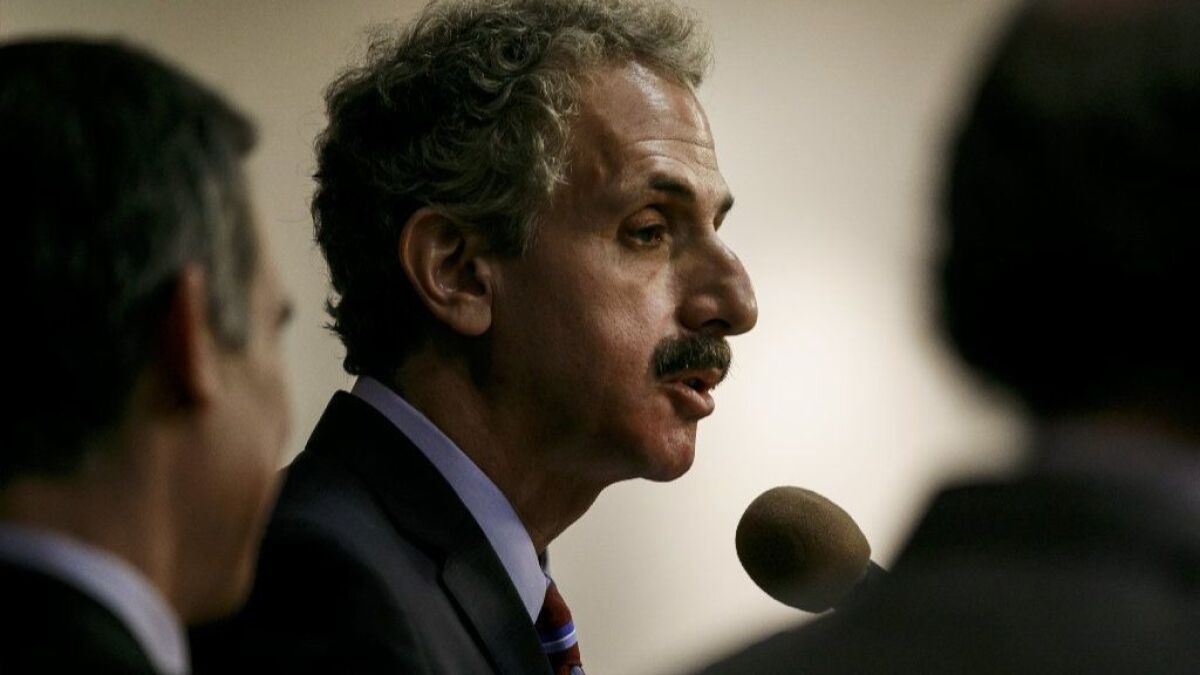 The city of Los Angeles is seeking millions in civil penalties from an unlicensed South L.A. cannabis dispensary accused of selling marijuana contaminated with pesticides, a move officials said Wednesday is intended to crack down on widespread illegal pot sales.
The dispensary, Kush Club 20, was selling cannabis tainted with paclobutrazol, a fungicide frequently used to make golf turf more dense and verdant, which is classified as a Type II toxic chemical by the U.S. Environmental Protection Agency and is not approved for use on cannabis in California, a lawsuit filed Monday by the Los Angeles city attorney's office said.

For the record:
9:50 a.m. April 18, 2019A previous version of this article misspelled the name of Los Angeles City Councilman Marqueece Harris-Dawson.
"Customers patronize illegal shops at their peril, and undermine businesses who play by the rules — and whose product is tested to protect buyers' health," City Atty. Mike Feuer said in a statement.
Only 181 dispensaries have temporary city approval to sell marijuana in Los Angeles, according to the Department of Cannabis Regulation. But hundreds of illegal dispensaries have popped up across the city as an attractive option for those looking to buy marijuana while skirting the state's 15% tax on legal marijuana sales. Regulators, however, have warned that those shops might traffic in unsafe wares or counterfeit versions of popular marijuana brands and cultivators.
"We apparently as a community care a lot about whether our romaine lettuce is contaminated, and we should. We care a lot about whether we can safely eat at Chipotle," Feuer said at a downtown news conference. "Marijuana buyers should at least exercise that same degree of caution."
In addition to shutting down the Kush Club 20 dispensary, the lawsuit seeks a civil penalty of $20,000 for each day that illegal activity occurred at the property in the 5500 block of Central Avenue in South L.A. Feuer said the business had been operating for about a year, meaning the city could seek up to $7.5 million. The daily civil penalty has yet to be "tested in court," Feuer said. The city has used criminal statutes to punish illegal dispensaries in the past because they often result in quicker resolutions.
But some city leaders hope the overwhelming financial burden the suit could bring will deter bad actors from setting up shop without a license.
"We are sharpening our tools and we're laying the basis to deliver what the voters expect from us ... a legal regulated market with appropriate built-in controls," City Councilman Marqueece Harris-Dawson said.
Defendants named in the lawsuit include High Spirits Enterprises, LLC; its "organizer," James Smith; Kush Club 20; Amy Sahadi Diaz; and Michael Lerner, who is described as the CEO of the limited liability corporation tied to the property. None of those named could immediately be reached for comment Wednesday. The suit also marks the first targeting of real-estate brokers and property owners linked to illegal cannabis sales who are alleged to have known that the land was being used for an illegal purpose.
"We've alleged the brokers and the business operators and the property owners knowingly omitted the true use of the property from the lease," Feuer said. "In this case, the lease says that the use is for a church."
In the last year, the city attorney's office said it has filed 217 criminal cases involving illegal marijuana dispensaries or delivery services, naming more than 800 defendants. At least 113 illegal storefronts have been closed, officials said.
The decision to seek the civil penalties from Kush Club 20 marks the first attempt to reach into an illegal vendor's pocket. During a contentious discussion at last week's City Council meeting, several council members expressed frustration with what they saw as inadequate enforcement of the city's cannabis regulations.
Asst. City. Atty. David Michaelson said seeking monetary penalties against those charged with operating an illegal dispensary is often "time intensive." Winning a judgment and the target's ability to pay the fine is also uncertain, he said. Michaelson said last week that the city had not sought to recoup civil penalties against any of the more than 800 defendants it had brought illegal marijuana cases against in the last year.
Los Angeles Police Department officials said they had also cracked down on illegal dispensaries recently. After the City Council passed an ordinance last month that allows the Department of Water and Power to shut off utilities at unlicensed dispensaries, detectives moved to shut down more than 20 locations in the San Fernando Valley, said LAPD Det. Vito Ceccia of the Gang and Narcotics Enforcement Bureau.
Similar actions are expected in South L.A. later this month, he said at the council meeting.
High Spirits Enterprises was incorporated on April 4, just four days before the city attorney alleges Kush Club 20 began its illegal operation, according to filings with the California Secretary of State. State records show that another limited liability corporation linked to the address, 5527 S. Central, LLC., was formed in December 2016.
The United Cannabis Business Association, which advocates on behalf of legal marijuana business operators and has been vocal in pushing the city attorney's office to step up enforcement against unlicensed dispensaries, issued a statement Wednesday praising the lawsuit.
"The UCBA and the City Council have been urging the City Attorney about the potential dangers of pesticides in untested products (including Paclobutrazol) and the reckless behavior of landlords who indulge in fraudulent leasing schemes," executive director Ruben Honig said in a statement.
Honig said that he expects the "lawsuits will deter other illegal enterprises that endanger the public and poison the community."
Times staff writer Emily Alpert Reyes contributed to this report.
Twitter: @JamesQueallyLAT
The stories shaping California
Get up to speed with our Essential California newsletter, sent six days a week.
You may occasionally receive promotional content from the Los Angeles Times.