L.A. Unified highlights magnet school performance compared with charters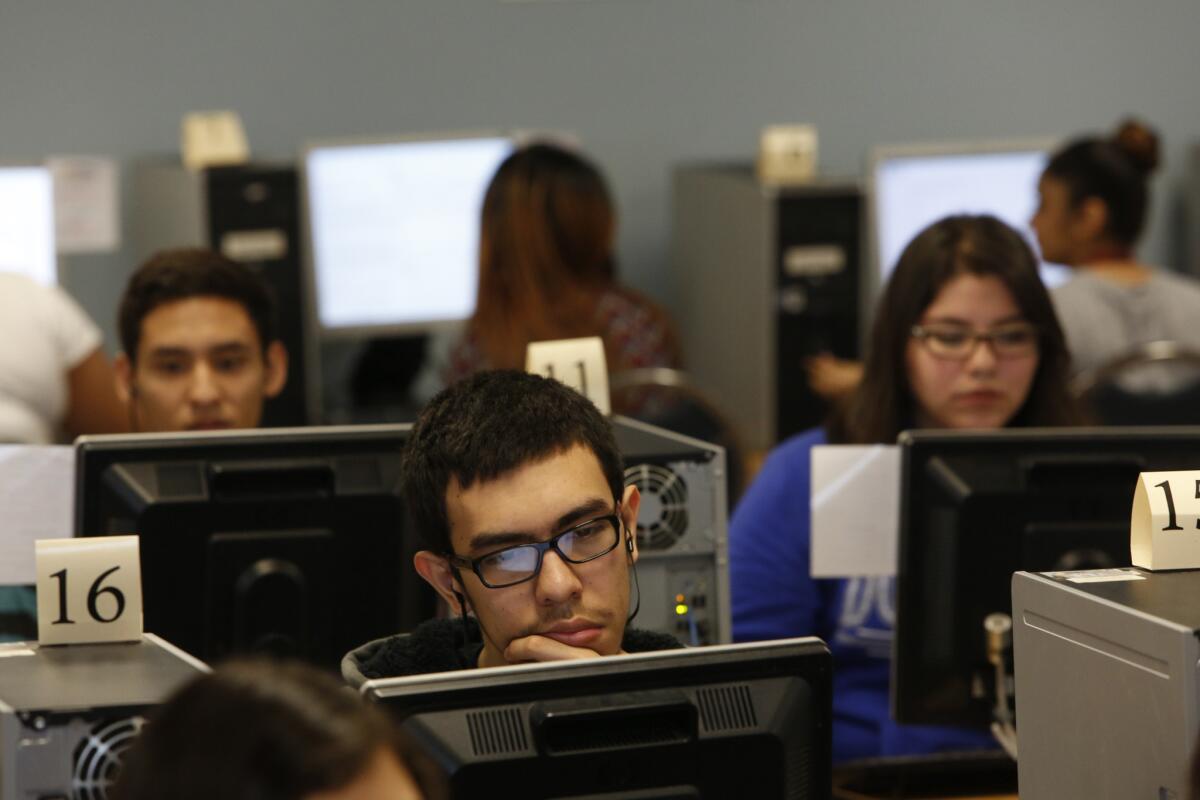 The Los Angeles Unified School District this week released an analysis of test scores showing that its magnet schools are outperforming charter schools. This comes as private foundations are proposing a huge expansion of charters in the city.
"While overall results indicate that independent charter schools scored higher on these tests than traditional LAUSD schools, it also highlights the stellar performance of our magnet schools, which outperformed charter schools at all grade levels," said L.A. schools Supt. Ramon C. Cortines in a statement.
On the English language arts portion of the test, 55% of LAUSD magnet students met or exceeded the state's new learning standards, compared with 39% of students in local charters, the district report showed. In math, 44% of magnet students met those targets, compared with 28% of students in charters.
See the most-read stories this hour >>
Overall, district students scored lower than those enrolled in charters, with 33% of L.A. Unified students meeting or surpassing learning goals in English; 25% in math.
The state charter association immediately pointed out these differences when test results became public.
Magnet schools, which offer specialized programs for students throughout the system, are voluntary and designed to promote integration.
The release of the district data has become the latest answer by the school system's defenders to supporters of independently operated charters.
The Eli and Edythe Broad Foundation has circulated a plan to enroll half of L.A. Unified students in charters over the next eight years. Details of the $490-million project were laid out this week in a memo obtained by the Los Angeles Times.
According to the memo, increasing the number of charters would benefit Los Angeles students because those schools offer a better education.
Charters are publicly funded, but not subject to some rules that govern traditional schools. Most are non-union.
Twitter: @howardblume
The Times' new education initiative to inform parents, educators and students across California >>
MORE FROM EDUCATION
USC student president says frat member shouted racial epithet, threw drink at her
Readers React: Is L.A.'s charter school expansion plan alarming, or a godsend?
Editorial: A charter school expansion could be great for L.A.
Sign up for Essential California for news, features and recommendations from the L.A. Times and beyond in your inbox six days a week.
You may occasionally receive promotional content from the Los Angeles Times.