$490-million plan would put half of LAUSD students in charter schools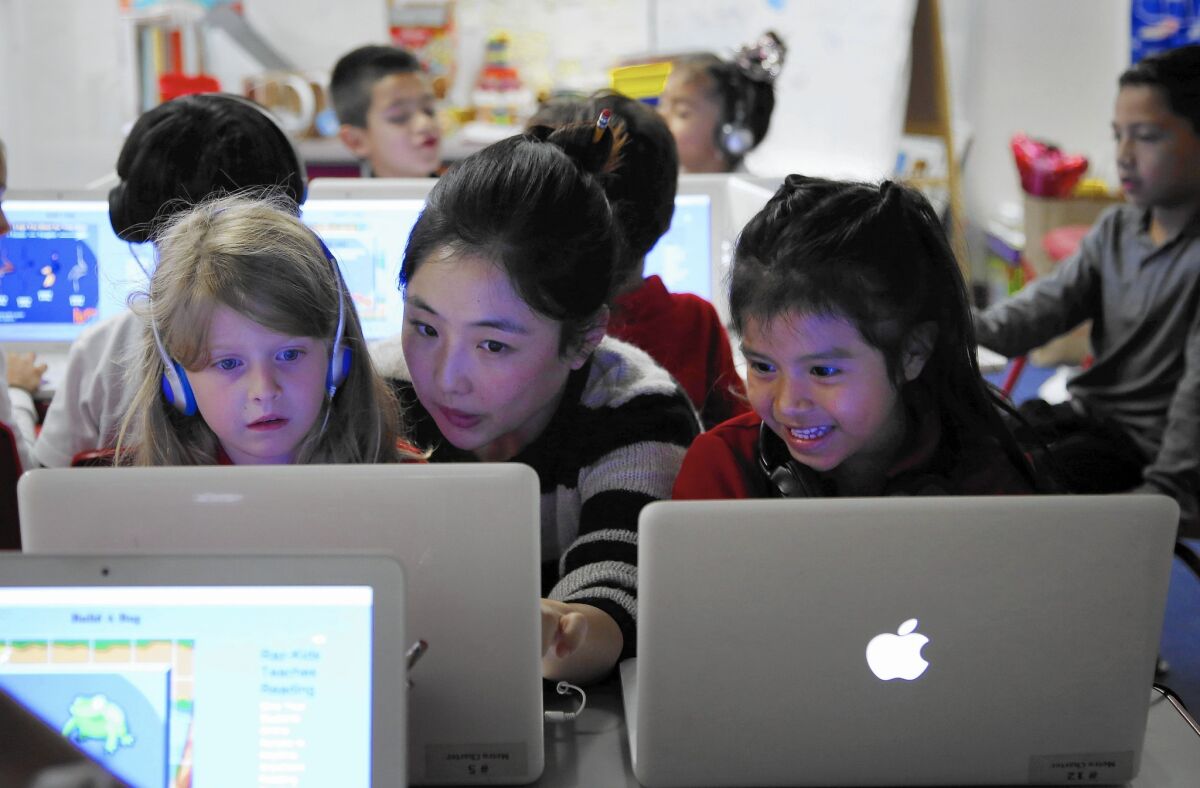 Critics of Los Angeles public schools have outlined an ambitious $490-million plan to place half of the city's students into charter schools over the next eight years, a controversial gambit that backers hope will serve as a catalyst for the rest of the nation.
According to a 44-page memo obtained by The Times, the locally based Eli and Edythe Broad Foundation and other charter advocates want to create 260 new charter schools, enrolling at least 130,000 students.
Organizers of the effort have declined to publicly release details of the plan. But the memo lays out a strategy for moving forward, including how to raise money, recruit and train teachers, provide outreach to parents and navigate the political battle that will probably ensue.
The document cites numerous foundations and individuals who could be tapped for funding. In addition to the Broad Foundation, the list includes the Gates, Bloomberg, Annenberg and Hewlett foundations. Among the billionaires cited as potential donors are Stewart and Lynda Resnick, major producers of mandarin oranges, pistachios and pomegranates; Irvine Co. head Donald Bren; entertainment mogul David Geffen; and Tesla Motors' Elon Musk.
L.A. Unified already has more charters than any school system in the country, representing about 16% of total enrollment. Charters are independently run, publicly financed schools that are exempt from some rules that govern traditional campuses; most are nonunion.
But the proposed expansion would mean more than doubling the number of charter schools in Los Angeles, a feat that even backers say might prove demanding.
Interested in the stories shaping California? Sign up for the free Essential California newsletter >>
The push is already generating resistance from the school district as well as from powerful L.A. Unified employee unions.
Critics say charter schools create greater inequities because they frequently draw more-motivated and higher-achieving students and leave traditional schools worse off.
The situation, they say, leaves district schools with less money to serve a larger percentage of students with behavior problems and disabilities and those who need to learn English. And in some areas with active charter programs, traditional schools don't have enough students.
"While I continue to support and be proud of the successful charter schools we have in Los Angeles, this plan is not one for transforming our public schools, but an outline for a hostile takeover," said school board President Steve Zimmer.
Others, however, argue that parents deserve more options for their children, especially those who have to deal with struggling schools.
"We must reflect the urgency that exists in our district to do everything we can do to support more learning and achievement for our youth," board member Monica Garcia said. "The thing I want to extinguish is illiteracy and poverty."
Charters have proved popular with parents. The expansion campaign is shaping up to be something of a referendum on L.A. Unified's performance. The memo repeatedly criticizes the district for failing to prepare students for college and careers, robbing Los Angeles of a better-trained, smarter workforce.
"The opportunity is ripe for a significant expansion of high-quality charter schools in Los Angeles," the memo states. "Thanks to the strength of its charter leaders and teachers, as well as its widespread civic and philanthropic support, Los Angeles is uniquely positioned to create the largest, highest-performing charter sector in the nation. Such an exemplar would serve as a model for all large cities to follow."
The Broad Foundation, a nonprofit whose mission is "transforming K-12 urban public education," did not respond to requests for comment. (The Broad Foundation has granted funds to the California Community Foundation and the United Way of Greater Los Angeles to support Education Matters, a new Times digital initiative devoted to more in-depth reporting on schools.)
Last month, when The Times first revealed that a charter expansion effort was underway, the Broad Foundation called it an early, exploratory phase, subject to change. At the time, the plan outlined in the memo was circulating among supporters. The draft obtained by The Times dates from June.
The memo paints a bleak picture of L.A. Unified, saying that it is unable to "improve academic performance, resolve its financial deficit, and provide stable leadership.... The problem is particularly acute in certain neighborhoods where parents have zero quality options at some grade levels."
The document cites research and data showing that charters have achieved higher student test scores. Charters also have created competition that has led to some improvement within L.A. Unified, the memo states.
Dealing with political hurdles is a key element of the expansion plan, for which backers want to set aside $21.4 million. The money would pay for outreach to parents living in neighborhoods with low-performing schools or with charters that have waiting lists. There also would be a legislative strategy to "undo regulatory interference" from government that could hinder charter growth. And there are plans, too, for a "telling the story" effort to engage the media and counter opposition.
An important ally for the charter push, according to the memo, could be the United Way of Greater Los Angeles and other community groups it can rally.
NEWSLETTER: Get the day's top headlines from Times Editor Davan Maharaj >>
L.A. schools Supt. Ramon C. Cortines defended the work of district employees.
"I believe we should be celebrating our successes in both regular schools and charter schools and learning from each other, not tearing one or the other down," he said.
A few hundred teachers protested Sunday at the new downtown Broad museum against rapid charter expansion.
The timing of the charter plan is troubling, said Randi Weingarten, president of the American Federation of Teachers.
She said the district has made recent strides, "but instead of building on this success ... Mr. Broad and his allies are trying to advance a plan that would destabilize the second-largest school district in America."
Adding so many new charter schools so quickly will take huge sums of money. But even if that money can be raised, charter backers must find enough strong educators to make it work.
"The challenge will be to find great operators who can grow that quickly and maintain quality," said Peter Cunningham, executive director of Education Post, a Chicago-based nonprofit. "They'll have to import a lot of talent. They'll have to develop a lot of talent."
Twitter: @howardblume
Times staff writer Zahira Torres contributed to this report.
ALSO
Are higher taxes here to stay? Activists push for Prop. 30 extensions
One in four female undergraduates reports sexual misconduct, survey finds
Teachers union holds protest outside Broad museum on opening day
---
The stories shaping California
Get up to speed with our Essential California newsletter, sent six days a week.
You may occasionally receive promotional content from the Los Angeles Times.