Malibu app celebrates beach access -- right next to David Geffen's house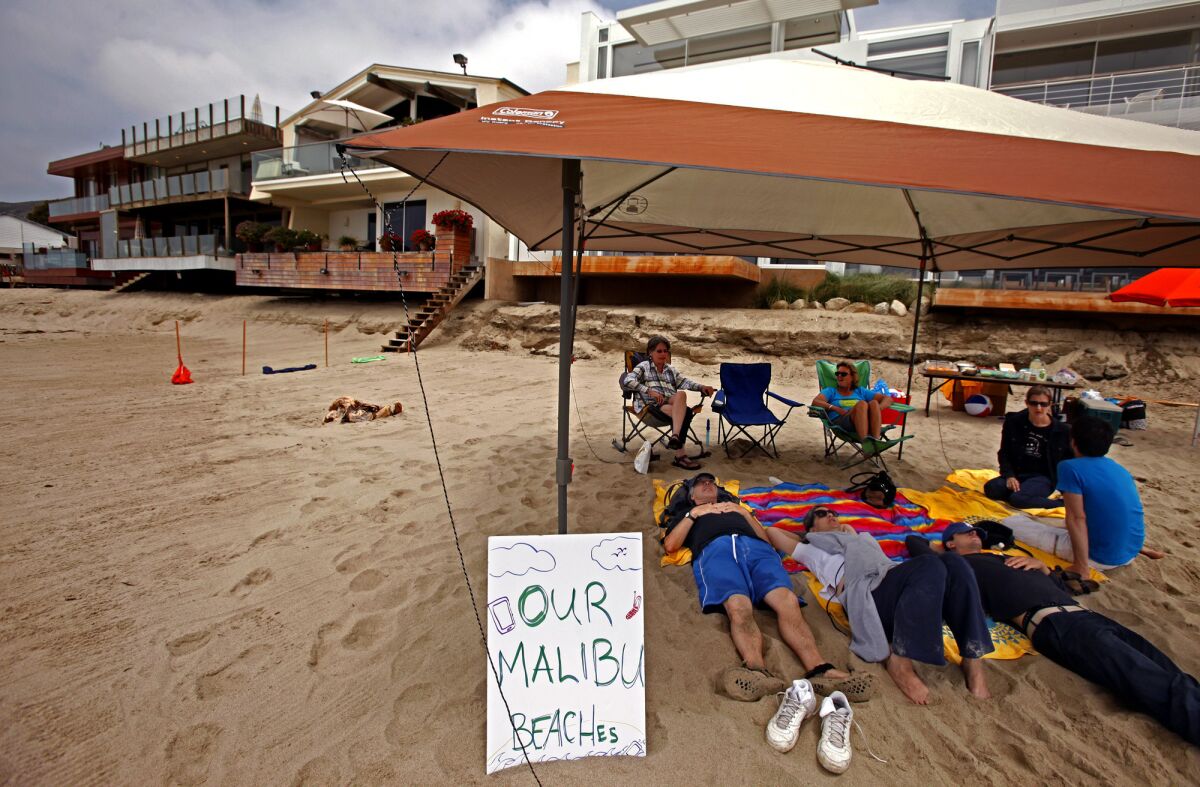 Environmental activist Jenny Price and Escape Apps made waves a year ago by releasing an iPhone app that helped Malibu beachgoers find stretches of sand where they could sunbathe and toss Frisbees without fearing a visit from a sheriff's deputy.
Among the disenchanted were wealthy beach dwellers who had long attempted to keep the coast their private domain.
------------
FOR THE RECORD
The headline on an earlier version of this post incorrectly said the anniversary celebration was in front of David Geffen's house. It was in front of a house next to Geffen's property.
------------
Since then, more than 30,000 users have downloaded the free app, called Our Malibu Beaches, also recently made available for Android devices.
Price, now the visiting humanities professor at the Princeton Environmental Institute, and Ben Adair, the Los Angeles-based co-founder and editor in chief of Escape Apps, were among a small band of coast evangelists who turned out Saturday on Carbon Beach to celebrate the app's first year and the imminent release of a Spanish-language version for Android and iPhone.
They picked a spot near music mogul David Geffen's gray-shingled compound on Pacific Coast Highway. Geffen battled for years in court to block public access along a path next to his house but eventually relented.
Price later dubbed it the Hooray for Hollywood Moguls path.
The app leads users along Carbon, Lechuza, Escondido and other beaches to help them locate the patchwork of coast that is open to the public. Under California law, beach visitors may walk within the mean high tide line, with the rule of thumb being that wet sand equals public beach.
Our Malibu Beaches also points out easements that property owners have granted on dry sand running parallel to the water.
It was at one such site Saturday where Price and Adair pitched a canopy, laid out towels and answered questions from passersby about the app.
Price had long posted online beach guides and helped lead Malibu beach tours when Adair suggested that she adapt her work for smartphones. They started with iPhones and iPads. In May 2013 they launched a Kickstarter campaign with the aim of raising at least $30,000 to develop a version for Android and offer the app free of charge. They brought in $32,000.
"The original idea was to make it free for the summer," Adair said, "but we're going to make it free forever."
Since moving to Los Angeles in November, Mary Love, a childhood friend of Adair, said she has tried to explore area beaches but has found them "too cold, too crowded or too expensive."
"This is my first really enjoyable experience at the beach, and it's because of the app," she said at the party Saturday.
Representing the California Coastal Commission at the gathering was Linda Locklin, coastal access program manager. She applauded Price and Escape Apps for their innovative use of information contained in the coastal panel's printed guidebook, "Experience the California Coast."
"By translating the state's paper information for hand-held device owners, they provide an easy way to find your way to the Malibu public beaches," she said. "Their ground-breaking decision to also provide these apps in Spanish is an inspiration to the state to follow their lead in our future endeavors to broadcast public access points along the 1,100-mile California coast."
---
The stories shaping California
Get up to speed with our Essential California newsletter, sent six days a week.
You may occasionally receive promotional content from the Los Angeles Times.