Investigators probe cause of Malibu brush fire that triggered pre-dawn evacuations
A mandatory evacuation order was lifted after firefighters gained control of a brush fire that broke out in Malibu early Monday. (Al Seib / Los Angeles Times)
Fire investigators are probing the cause of a blaze that prompted temporary evacuations in Malibu early Monday.
The Los Angeles County Fire Department said the fire on a hillside was reported around 3:15 a.m. in the 23500 block of Civic Center Way. The fire was initially reported as covering six acres, but officials later put the number at 2.6 acres.
The fire in the vicinity of the Malibu Library led officials to order mandatory evacuations in the Harbor Vista Drive, Colony View Circle and Malibu Crest Drive areas.
By 5 a.m., officials said the fire was 95% contained and that there were no reports of homes damaged. Three helicopters were making water drops and approximately 200 firefighters were on the ground battling the blaze, said Jeremy Stafford, supervising fire dispatcher.
"All forward progress has stopped," Stafford said.
The evacuation order was lifted shortly after 6 a.m.
As of late morning on Monday, dozens of firefighters were spread out along a charred Malibu hillside, spraying water and mopping up hot spots. Others were clearing brush near a house that stood atop the hill.
At one point the flames reached the backyard of a home, but a team of firefighters put out the flames and prevented any damage to the properties, said Inspector Gustavo Medina with the Los Angeles County Fire Department.
A team of investigators was on sight to try to determine the cause of the fire, Medina said.
"We heard rumors that the fire was started because of a homeless encampment, but we still do not know. It's a growing concern people in Los Angeles County have," he said. "We aren't sure when we will find out the cause of the fire."
Brian Rapf said he woke up at 3 a.m. Monday to a call from a family friend warning him about the brush fire that was encroaching on his house, which sits on a hillside on Harbor Vista Drive. As the winds howled outside and flames came closer to his home, he called his neighbor who lives a street away to warn him and then walked to his father's house a couple doors down to check on him.
"The fire was right in his backyard. We saw at least three helicopters drop water and there were a few fire engines that came on our block," he said. "If it wasn't for them, the houses on our street would have burned."
The fire broke out amid a heat wave that brought record high temperatures for the day across Southern California on Sunday. The heat came with powerful winds that prompted red-flag fire danger warnings.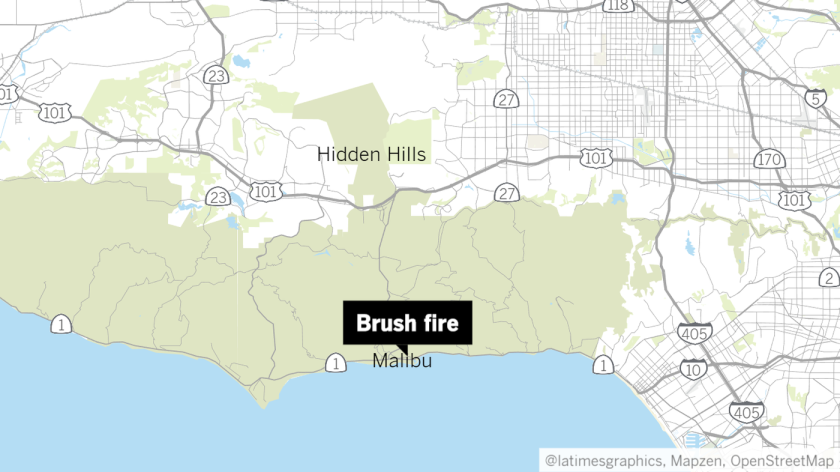 In Malibu, the Santa Ana winds were pushing down the canyon, blowing toward the ocean and keeping the fire from running up the hillside, said Randall Wright, a firefighter specialist with the L.A. County Fire Department.
"Usually in the mornings in Malibu, we're going to have these onshore winds. These onshore winds could have and should have pushed this fire uphill," Wright said. "However, the Santa Anas are a dominant wind force right now and that actually aided our firefighters."
Twiiter: @sportsCourt
---
UPDATES:
11 a.m.: This article was updated with comments from a resident.
10:15 a.m.: This article was updated with details from the scene.
6:40 a.m.: This article was updated with comments from a firefighter specialist.
5:20 a.m.: This article was updated with comments from a supervising fire dispatcher.
This article was originally published at 4:55 a.m.
---
The stories shaping California
Get up to speed with our Essential California newsletter, sent six days a week.
You may occasionally receive promotional content from the Los Angeles Times.