A man carrying a heavily modified, military-style weapon and wearing body armor was shot and wounded by police Sunday night after he confronted two Vallejo officers on break inside a Starbucks, authorities said.
Adam Powell, 41, of Suisun City pointed the weapon at the officers, but fled the coffee shop when the rifle apparently malfunctioned and failed fire, said Lt. Jeff Bassett, a Vallejo Police Department spokesman. The officers fired on Powell, striking him three times.
Powell was taken to an area hospital, where he was being treated for life-threatening injuries. The officers, who discovered that Powell was also carrying a loaded handgun, were not injured.
"The attempted assassination of two Vallejo police officers while on a coffee break underscores the extreme danger that police officers face on a daily basis," the lieutenant said in a statement.
Powell was linked to another shooting that occurred about five hours before the Starbucks incident, police said.
He was identified as the father of a 2-year-old boy who was found shot and critically injured about 3:28 p.m. inside a home in Suisun City, roughly 18 miles north of Vallejo, police said. Powell left the home before police arrived to talk to him. The shooting appeared to be accidental, but police said "all possibilities are being explored."
Hours later, surveillance video showed Powell driving by the Starbucks.
The two officers were on their break inside the coffee shop in the 100 block of Lincoln Road West, when Powell entered, Bassett said.
The officers saw that Powell was wearing body armor and carrying a rifle with a high-capacity drum-magazine. Powell then pointed the weapon in the officers' direction, but when the rifle appeared to malfunction the officers drew their weapons, Bassett said.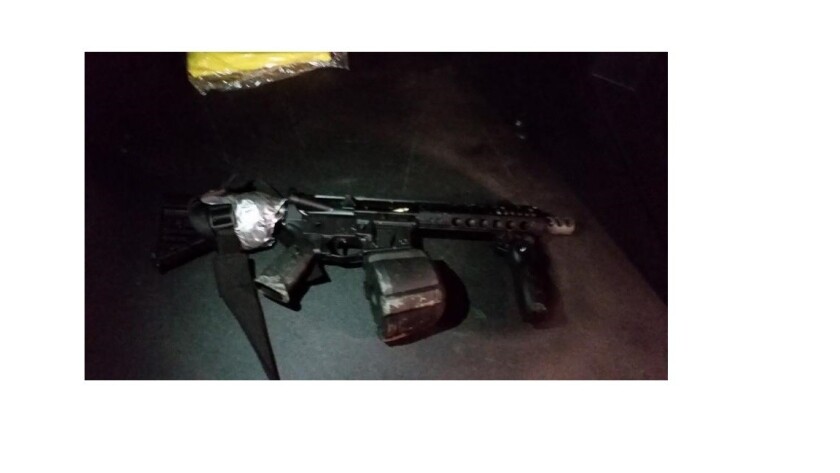 Powell ran out of the coffee shop and through a parking lot as the officers chased him. The officers shot at Powell at the intersection of Magazine and Sheridan streets as Powell appeared to manipulate the weapon with his hands.
Surveillance video footage taken from a nearby convenience store shows a man running outside of Starbucks. Later, the video shows a man running away as two officers chase him.
"I think that we would all agree that somebody going into our community equipped with an assault weapon, a secondary weapon and wearing body armor is an extreme danger to everybody, so I am so very grateful that our officers took the actions that they did, put themselves in harm's way on behalf of our community," Vallejo Police Chief Andrew Bidou said at a news conference Monday.
The officers, the chief said, were "ambushed by somebody who has superior fire power." Patrol officers, he said, are equipped with small handguns.
Powell was also carrying a second weapon and "had an extreme advantage over officers, especially taken by surprise," Bidou said.
"I want to underscore the bravery of our officers that took pursuit of this person," he said. "We will never know what could have happened."
For breaking news in California, follow @VeronicaRochaLA on Twitter.
---