Manson follower Leslie Van Houten faces fight from victim's family to gain freedom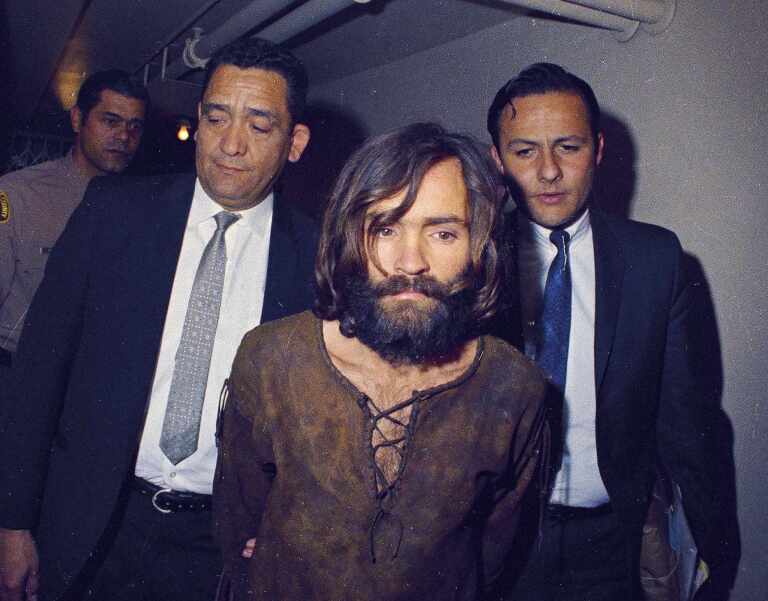 Charles Manson at a Los Angeles court on Dec. 11, 1969, for his arraignment.
(Associated Press)
Booking mug of Charles Manson from Ventura County Sheriff's Department in 1968.
Susan Atkins, left, Patricia Krenwinkel, center, and Leslie Van Houten headed into morning court session.
( Los Angeles Times)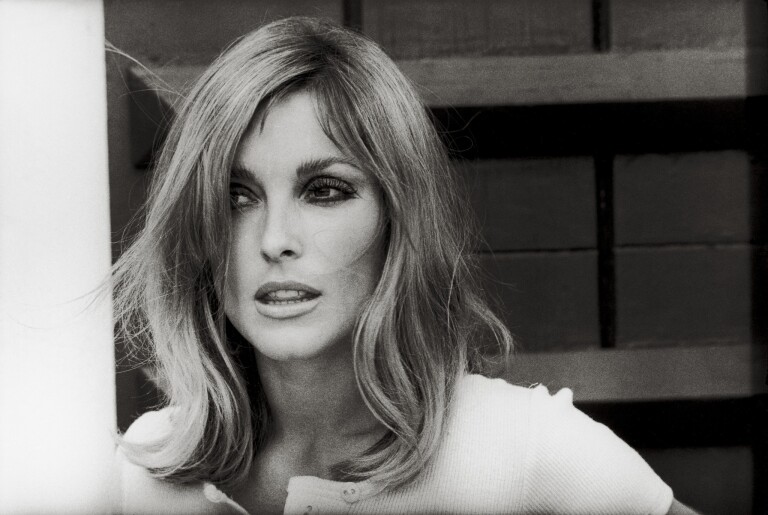 Sharon Tate in the movie "Valley of the Dolls" in 1967.
(20th Century Fox)
Roman Polanski and Sharon Tate at their marriage in London, Jan. 1968.
(UPI )
The body of actress Sharon Tate is taken from her Benedict Canyon estate where she was murdered the night of Aug. 9, 1969 in Los Angeles.
(Associated Press)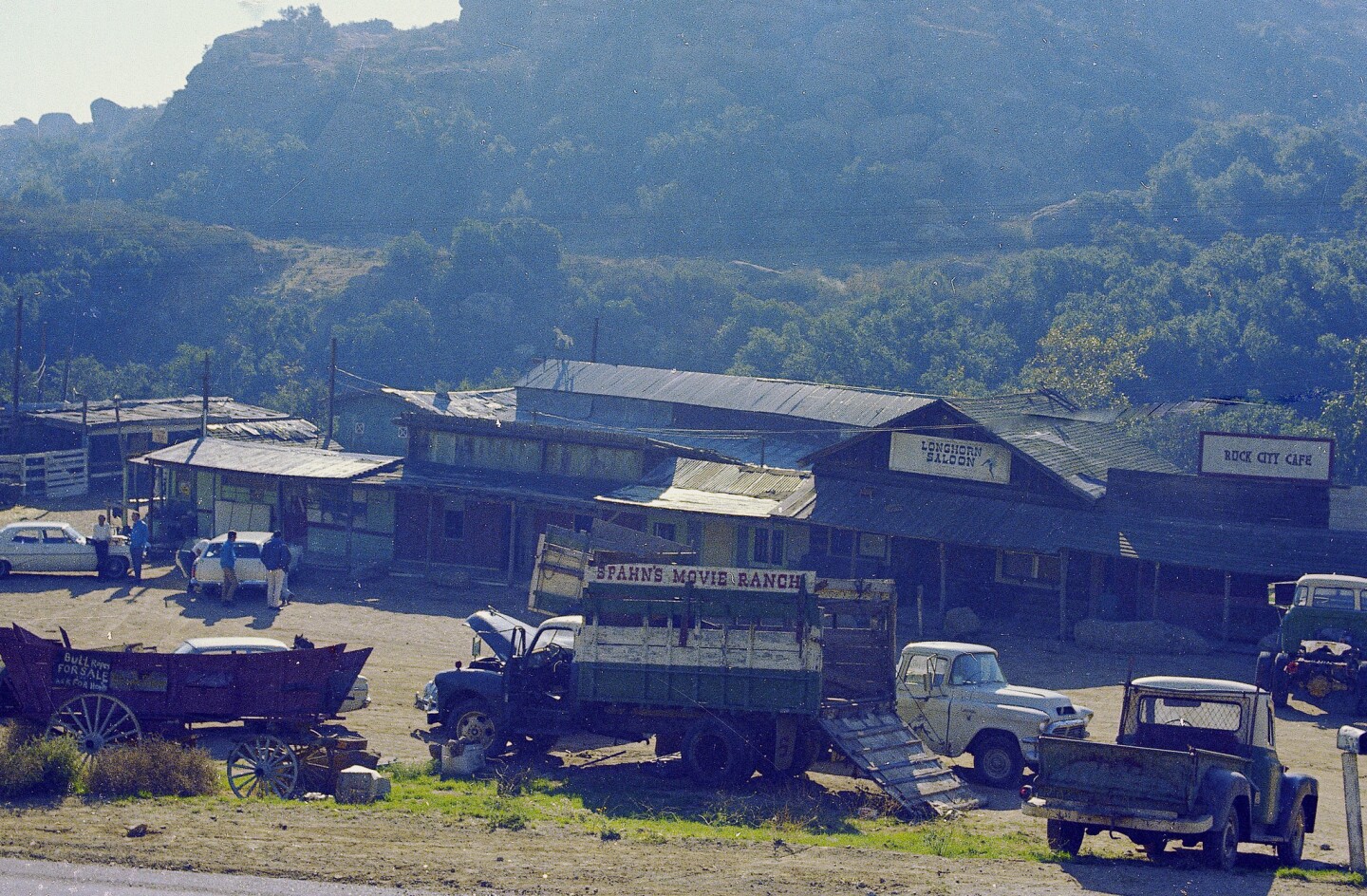 The 500-acre Spahn Movie Ranch in the Santa Susana Mountains is where Charles Manson and his "family" lived at the time of the Tate-LaBianca murders in 1969.
(Anonymous / ASSOCIATED PRESS)
The five victims slain the night of Aug. 9, 1969 at the Benedict Canyon Estate of Roman Polanski. From left, Voityck Frykowski, Sharon Tate, Stephen Parent, Jay Sebring, and Abigail Folger. The next night, it happened again. Rosemary and Leno LaBianca, a wealthy couple who lived across town, were stabbed to death in their home.
(Associated Press)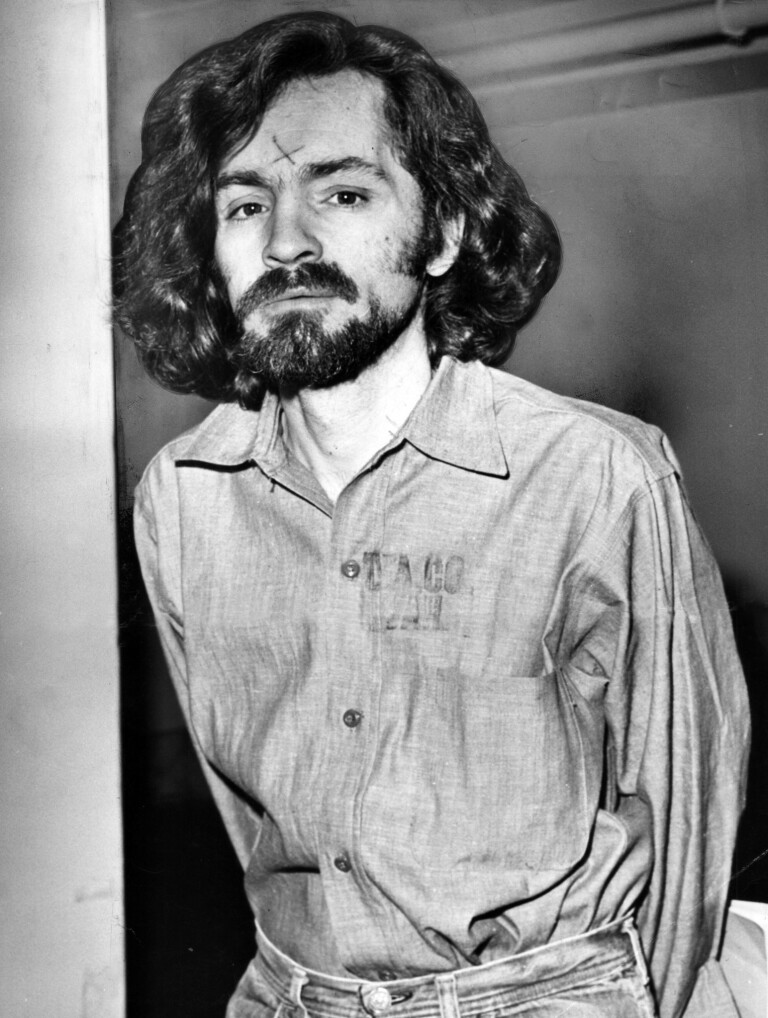 Charles Manson on way to court for morning session, Aug. 12, 1970.
(John Malmin)
Manson is escorted by officers while enroute to court in Independence, Calif., in this Dec. 3, 1970
(Associated Press)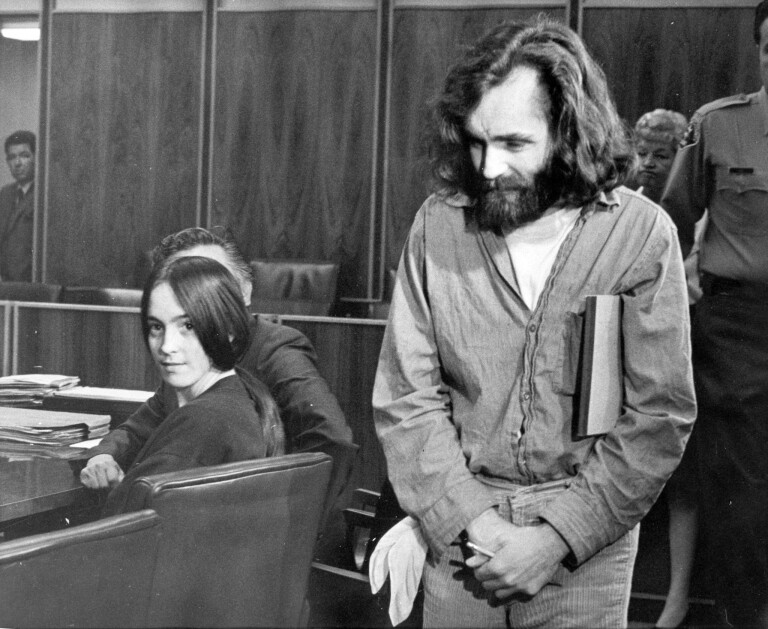 Susan Atkins, left, and Charles Manson in court in 1970.
(AP)
Patricia Krenwinkel, left, Susan Atkins, center, and Leslie Van Houten enter court during penalty phase of their trial in 1971.
(Associated Press )
Charles Manson is led back to his cell after court appearance in 1970.
(Bill Murphy / Los Angeles Times)
Spectators waiting in Hall of Justice lobby in hopes of getting seats in the Manson murder trial in July, 1970.
( Los Angeles Times)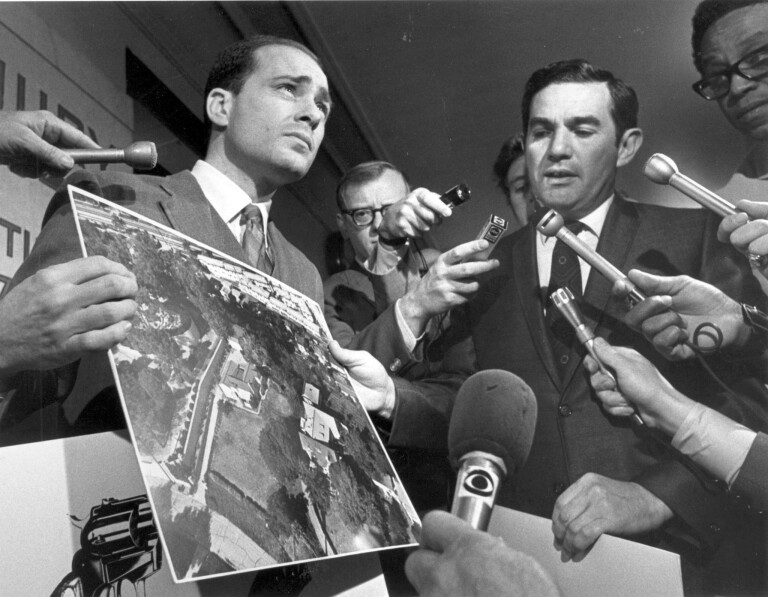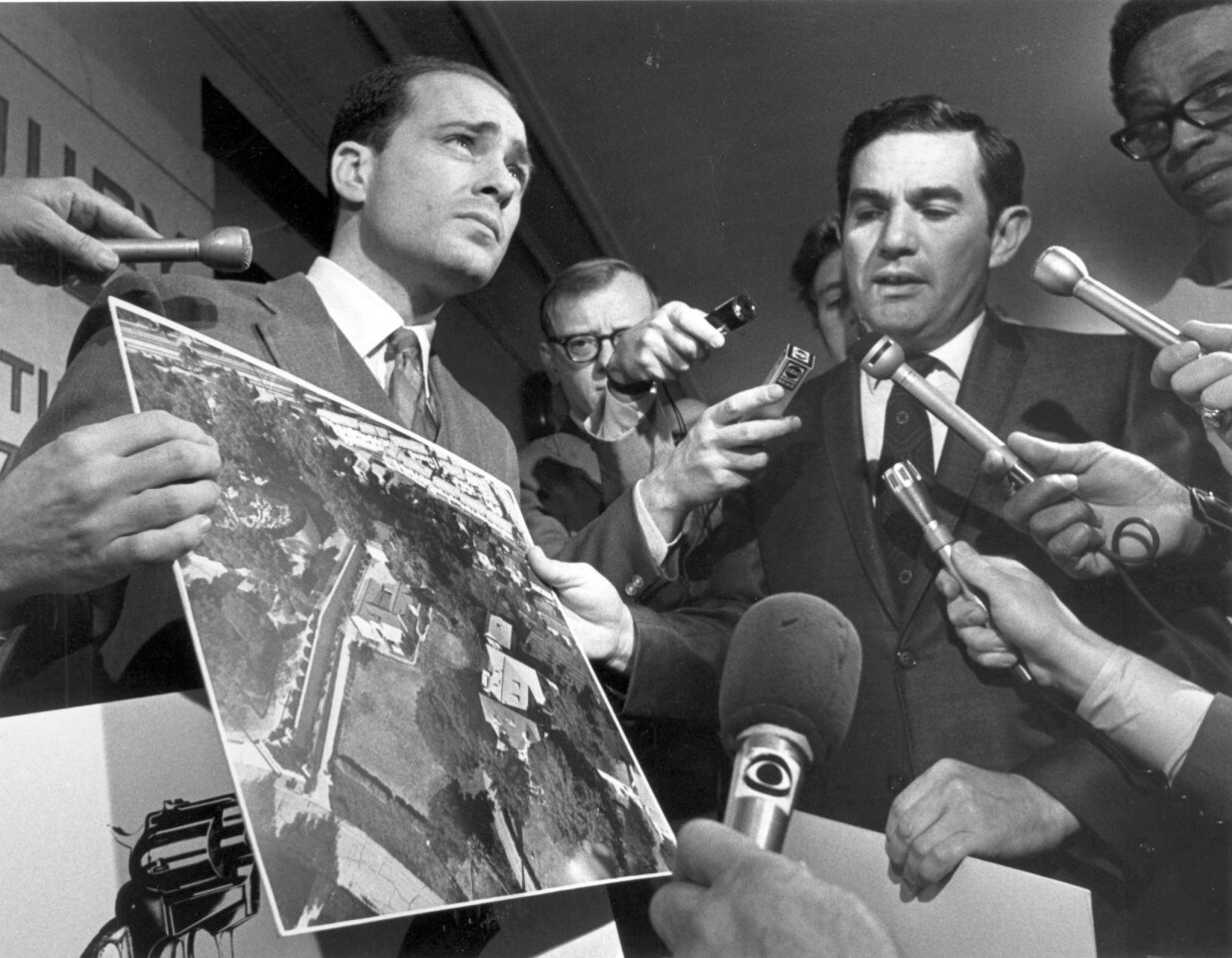 Deputy District Attorneys Aaron Stovitz, left, and Vincent Bugliosi, display an aerial photo of the home of Leno and Rosmary La Biana, victims of murder in Devember, 1969.
(UPI)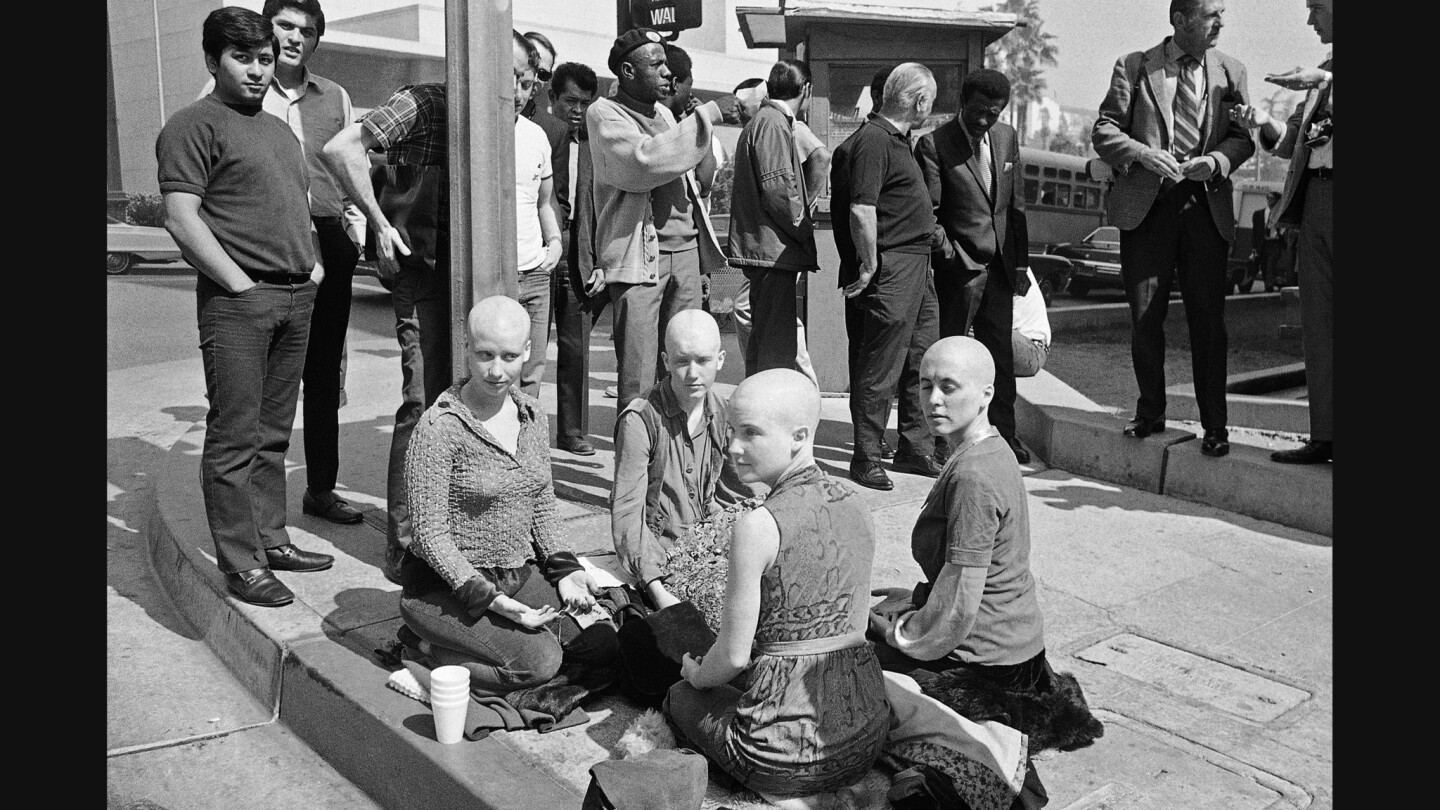 Four young female members of the Charles Manson "family" kneel outside the Los Angeles Hall of Justice on March 29, 1971, with their heads shaved. The women kept a vigil at the building throughout the long trial in which Manson and three others were convicted of murdering actress Sharon Tate and six others.
(Wally Fong / Associated Press)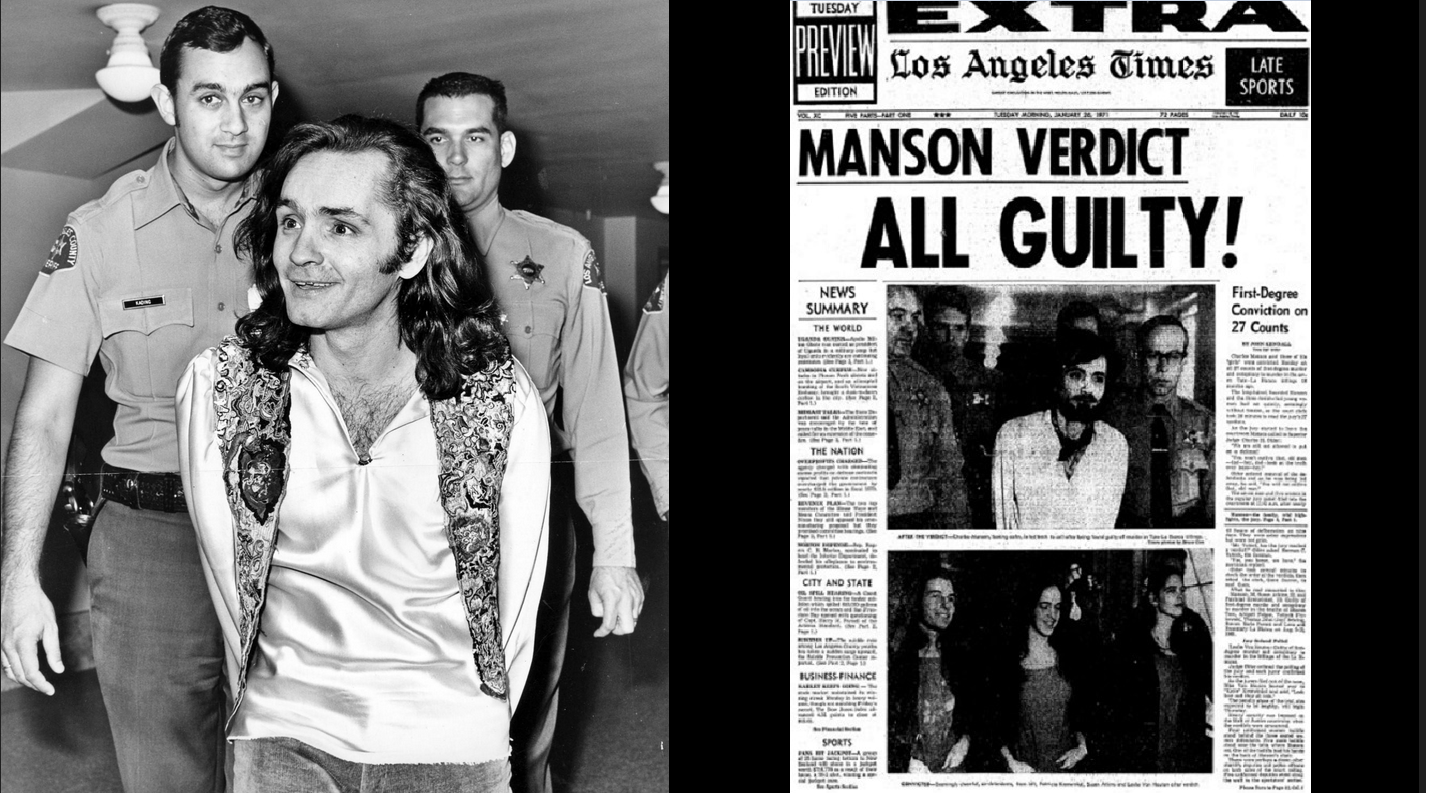 Charles Manson is escorted by police during his murder trial.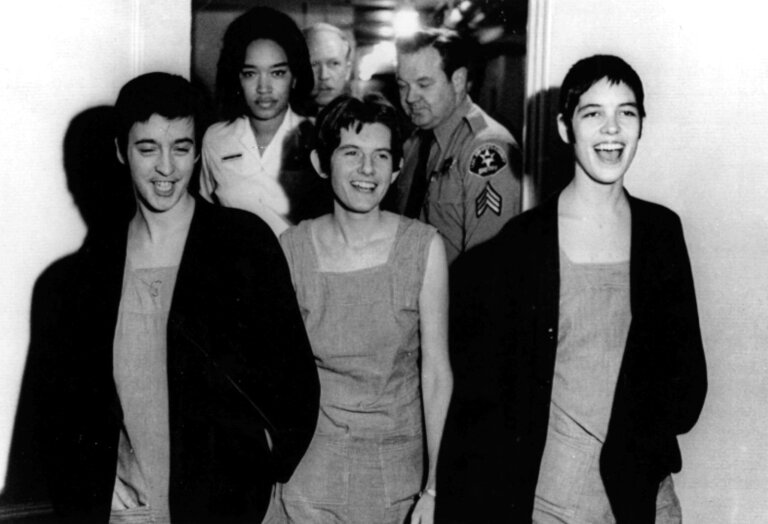 Susan Atkins, left, Patricia Krenwinkel, and Leslie Van Houten are taken to court for sentencing.
(UPI )
Charles Manson is escorted to court for preliminary hearing in 1969.
(Bill Murphy / Los Angeles Times)
Charles Manson receives the news that he was denied parole in 1997, for the ninth time in March, 1997.
(Eric Risberg / Associated Press)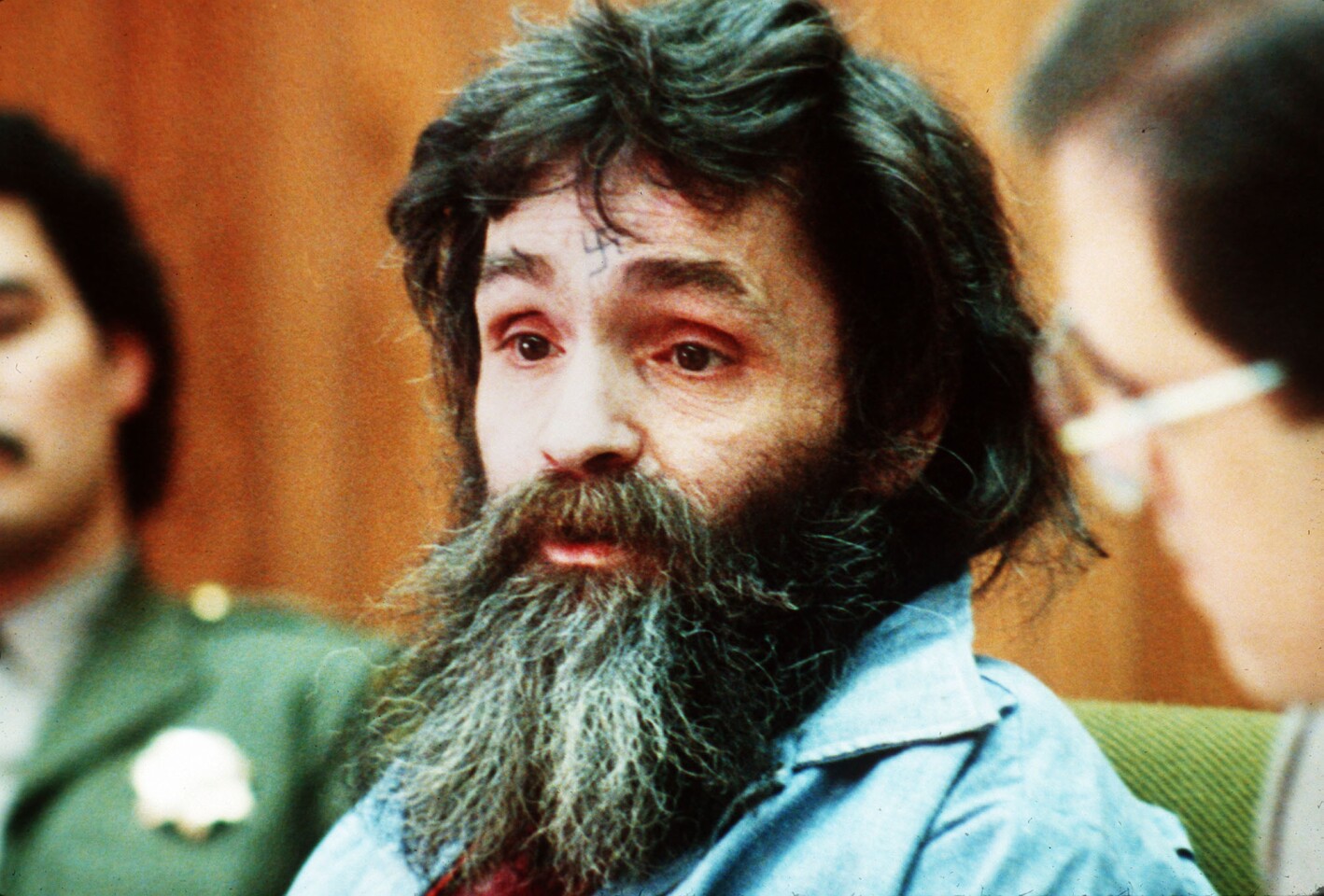 Charles Manson was denied parole for the 11th time May 23, 2007
(AP)
Charles Mansion in the high security area of the Corcoran State Prison in 1998.
(Kirk McKoy / Los Angeles Times)
Charles Manson, California Department of Corrections and Rehabilitation photo from 2014.
(California Department of Corrections and Rehabilitation)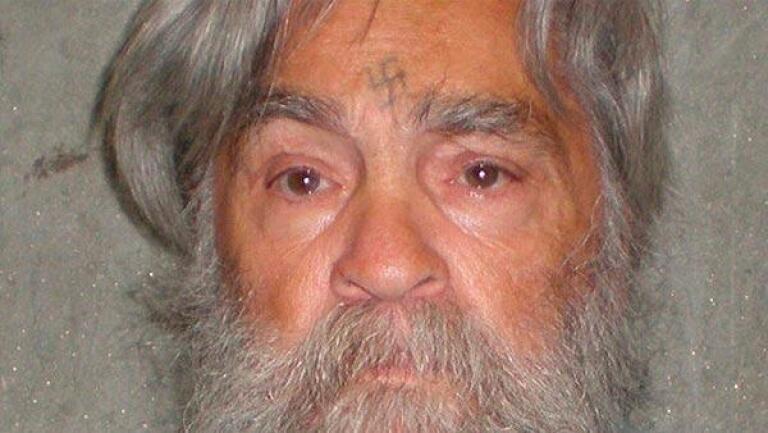 Charles Mans, in June of 2011.
(California Department of Corrections and Rehabilitation)
Charles Manson in 2009.
(California Department of Correct)
Opposition is forming for the release of Charles Manson follower Leslie Van Houten, whom a state board last week recommended for parole.
Los Angeles County Dist. Atty. Jackie Lacey has vowed to fight against the release of Van Houten, and several family members of her victim, Rosemary LaBianca, have also spoken out.
Van Houten has repeatedly sought release from prison, arguing she was a model prisoner and expressing remorse for the 1969 killing.
In recommending release, one parole board member said: "Your behavior in prison speaks for itself. Forty-six years and not a single serious rule violation."
The ruling will be reviewed by the parole board's legal team. If upheld, it will be forwarded to Gov. Jerry Brown, who could decide to block Van Houten's release.
Last summer, a review board recommended parole for Manson associate Bruce Davis, who was convicted in the 1969 slayings of Gary Hinman and Donald "Shorty" Shea. He was not involved in the Tate-LaBianca murders.
In January, Brown rejected parole for the 73-year-old, stating that "Davis' own actions demonstrate that he had fully bought into the depraved Manson family beliefs."
LaBianca's family members hope Brown will make the same decision in Van Houten's case. Rosemary LaBianca was killed alongside her husband, Leno LaBianca, in their Los Feliz home.
"Maybe Leslie Van Houten has been a model prisoner," said Cory LaBianca, Rosemary LaBianca's stepdaughter. "But you know what? We still suffer our loss. My father will never be paroled. My stepmother will never get her life back. There's no way I can agree with the ruling today."
"What type of decision has the parole board actually made? They're making a decision to allow a murderer to come back into your neighborhood, my neighborhood. Last time they were in my neighborhood, they killed my family," the LaBiancas' grandson, Tony LaMontagne, told CBS News.
Louis Smaldino, another family member, echoed that view.
"The Manson family are terrorists, albeit homegrown," he told the Associated Press. "They're long before their time. What we're seeing today, these people were back in the '60s."
In 1971, Van Houten spoke in chilling detail about the killings during her trial. She was not involved in the first of the two Manson murder rampages, in which Sharon Tate and her friends were killed in Bel Air. But the then 19-year-old was one of the Manson family members who invaded the Leno and Rosemary LaBianca's home.
Van Houten testified that she held down Rosemary LaBianca as Charles "Tex" Watson stabbed her husband. After Watson stabbed Rosemary LaBianca in her bedroom, he handed Van Houten a knife. She testified to stabbing the woman at least 14 more times.
"And I took one of the knives, and Patricia had one knife, and we started stabbing and cutting up the lady," Van Houten testified in 1971. (Patricia Krenwinkle was a co-defendant and a Manson family member).
Van Houten described the killing of Rosemary LaBianca, who offered anything to have her life spared.
She said she got into a fight with LaBianca, prompting Krenwinkle to go the kitchen and return to the bedroom with "a whole bunch of kitchen utensils," including knives.
She said LaBianca kept promising not to call the police and pleaded for her life.
"And it seemed like the more she said 'police,' the more panicked I got," Van Houten testified.
Supporters describe Van Houten as a misguided teen under the influence of LSD on the night of the killings. They also say she was a victim of Manson's "mind control."
At a 2002 parole board hearing, Van Houten said she was "deeply ashamed" of what she had done, adding: "I take very seriously not just the murders, but what made me make myself available to someone like Manson."
Join the conversation on Facebook >>
Van Houten's attorney, Rich Pfeiffer, has said his client was long overdue for release, listing her accomplishments behind bars: earning bachelor's and master's degrees, running self-help groups and facilitating victim-offender reconciliation sessions.
ALSO
Charles Manson marriage license to expire: He's still single
Susan Atkins dies at 61; imprisoned Charles Manson follower
There was much more to Vincent Bugliosi than the Charles Manson case
For the third time, Brown rejects parole of Manson follower Bruce Davis, 73
'Helter Skelter' by Vincent Bugliosi: Read the 1974 L.A. Times book review
---
The stories shaping California
Get up to speed with our Essential California newsletter, sent six days a week.
You may occasionally receive promotional content from the Los Angeles Times.