Marilyn Monroe sculpture thief previously took a pickax to Trump's star, police say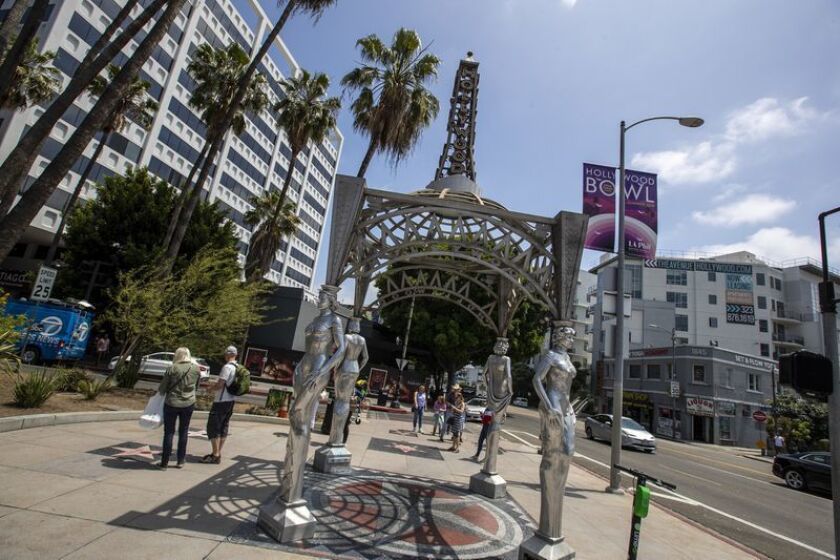 A Glendale man who smashed President Trump's Walk of Fame star with a pickax last year was charged Monday with stealing a glittery sculpture of Marilyn Monroe from atop a public art installation on Hollywood Boulevard.
Austin Mikel Clay, 25, faces a felony count of grand theft of property valued at more than $950 and a count of felony vandalism for allegedly causing more than $400 in damage. If convicted, he faces a maximum sentence of three years in county jail, according to Los Angeles County prosecutors.
The sculpture of the famed Hollywood actress has perched high above the "Four Ladies of Hollywood" gazebo — a statuesque gateway to the Walk of Fame — for the last 25 years. The work, which depicts Monroe in an iconic pose from the 1955 film "The Seven Year Itch," went missing June 16.
The stainless steel statue was erected at the corner of Hollywood Boulevard and La Brea Avenue in 1994. At the top, the likeness of Monroe stood on a spire that spelled out "Hollywood." Below, the statue is grounded by Grecian-posed sculptures of Dolores del Rio, Dorothy Dandridge, Mae West and Anna May Wong — four women who broke barriers in the entertainment world.
The artwork's aesthetic has received mixed reaction over the years. In 1994, the Los Angeles Times referred to it as "a depressingly awful work of public art," in reference to the lack of variation among the statues of the four women below and, up top, the perceived sexualization of Monroe.
"I am calling this the great Marilyn caper of 2019," Councilman Mitch O'Farrell said this month after the sculpture was stolen. "We have a witness who saw someone climb this structure and saw off the statue at the top."
Prosecutors allege that person was Clay.
Forensics experts hoisted a ladder to the top of the installation and found prints, but it was not clear whether that was how they linked Clay to the crime. He was arrested Friday at his home and was being held without bail at Men's Central Jail.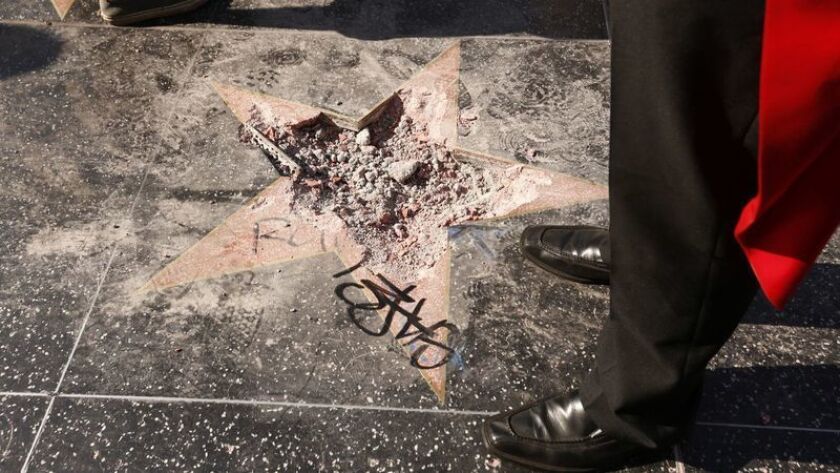 This isn't Clay's first run-in with authorities following allegations of nefarious activities on the Hollywood Walk of Fame, according to court records.
He pleaded no contest to a felony vandalism charge as part of a plea deal with prosecutors late last year for smashing Trump's star over the summer.
After bashing through the plaque, Clay called the Los Angeles Police Department and told officers he had defaced the president's star on Hollywood Boulevard near Highland Avenue.
By the time officers arrived at the scene, he was gone. About an hour later, authorities said, Clay walked into Beverly Hills police headquarters and said he wanted to turn himself in. LAPD officers picked him up soon afterward.
He was sentenced to three years' probation, community service and ordered to pay nearly $9,500 in damages to the Hollywood Chamber of Commerce in that case.
Times staff writer Colleen Shalby contributed to this report
Twitter: @Hannahnfry
---
The perils of parenting through a pandemic
What's going on with school? What do kids need? Get 8 to 3, a newsletter dedicated to the questions that keep California families up at night.
You may occasionally receive promotional content from the Los Angeles Times.