Search warrants served at Maywood City Hall and mayor's home and business
The small city in southeast Los Angeles County has long struggled with financial issues and political controversy.
Authorities served search warrants at Maywood City Hall and at properties belonging to the city's mayor and others Thursday morning in what one official described as an investigation into accusations of corruption.
"Search warrants were served today at various locations, including Maywood City Hall," said Greg Risling, spokesman for the Los Angeles County district attorney's office. "We cannot comment further because of an ongoing investigation."
At an automotive shop owned by Mayor Ramon Medina, investigators removed a computer and boxes of files, one of which was labeled "2017 City Council minutes and agendas." Animal control officers also removed 40 roosters from the property.
When reporters asked Medina the reason for the searches, the mayor responded, "I have no idea," and said he had done nothing illegal.
At least seven locations were searched, according to witnesses and officials. They included City Hall; Medina's home and business; the home and business of Vice Mayor Ricardo Villarreal; the business of a city contractor, V&M Ironworks; and the home of a former city councilman, Sergio Calderon.
In a text message response to The Times, Calderon declined to comment other than to say, "I'm very thankful to the officers involved for the courtesy they extended to my elderly mother."
A neighbor of the mayor's said she saw Medina and members of his family talking to police on their front lawn at 7:30 a.m.
"I don't know why they were there," said the neighbor, Elvira Soto.
The small city in southeast Los Angeles County has long struggled with financial issues and political controversy.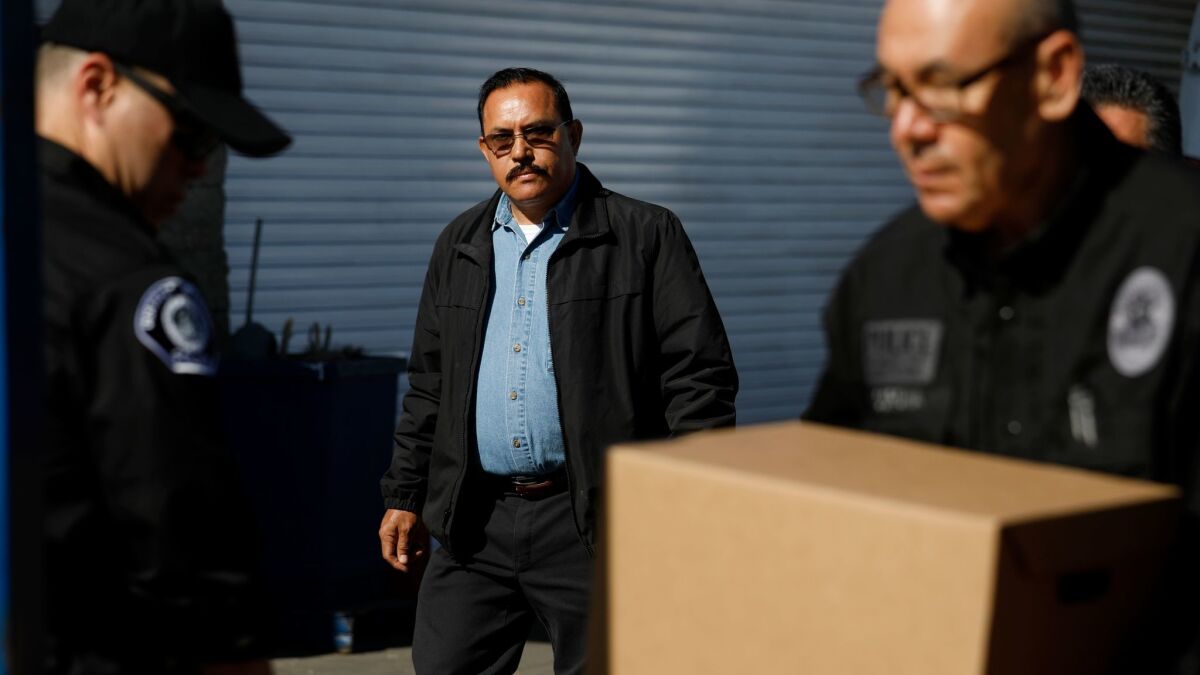 In October 2016, a scathing state audit said Maywood's "weak governance" made it unable to wrestle with a more than $15-million debt that was twice the small city's operating costs.
The 51-page report listed a series of problems that stood between the 1.2-square-mile community and financial health, including political infighting, wasteful spending, questionable hiring decisions, repeated violations of the state's open meeting laws and poor administrative controls.
"Maywood's city council has failed to oversee the city's operations adequately and violated its fiduciary duty — its responsibility to act with the utmost good faith for the benefit of the city," the report read.
Auditors say the City Council did not adequately monitor the performance of a former city manager during her five-year tenure, which "allowed many significant financial and operation problems to remain uncorrected."
Maywood City Councilman Eduardo De La Riva said that for the last two years he has been passing information to authorities about what he described as suspicious activity. He said he had his own concerns about council members not following protocol when selecting contracts for landscaping, media consulting and street fairs.
His last conversation with the district attorney was last week, he said. He would not disclose what he discussed with investigators but said they did not give a hint of what was to come next.
De La Riva arrived at City Hall at 8 a.m. to find half a dozen police officers in the parking lot and inside the building. Several city employees were outside. Residents sent him a grainy video of the mayor and his family standing outside their home with police officers.
"We've been waiting for this day for two years," De La Riva said. "We knew it was only a matter of time before the D.A. or somebody comes and looks into the city. We've suspected wrongdoing for a long time."
Outside City Hall, investigators photographed a black Mercedes parked in a disabled parking space that De La Riva said belonged to City Atty. Michael Montgomery.
At R&M Auto Service, owned by the mayor, roosters were crowing as law enforcement officers entered the shop's office Thursday morning. Deputies stood by the driveway of the shop. A 2015 election banner with a photo of the mayor and another candidate hung nearby.
Standing outside, Jose Sanchez, 58, wore a gray R&M mechanic's shirt stained with oil. He said he had been at the shop early in the morning, around 7 a.m., and was coming out of the office when he saw more than a dozen officers standing outside the business. "They saw me and called me over," he said.
Sanchez opened the front gate and, he said, the officers asked him some simple questions — his name and how long he had worked at the shop — before asking him to leave. "I don't know what's going on," he said.
At Neat Auto Details and Supply, a car wash business owned by the vice mayor, a handful of police officers stood around. Two white vehicles — a cruiser and a sedan — were parked near the entrance to the car wash. No employees were visible.
In a brief phone call with a Los Angeles Times reporter, Villarreal said he couldn't comment on the search warrant. "I really can't speak right now because I'm not there in the city and don't know what's happening," he said.
Investigators also swept through Calderon's home. The former councilman resigned his seat late last year to settle a lawsuit filed by Los Angeles County prosecutors alleging that he violated state law by holding two public offices at the same time.
"I don't know what this is all about," neighbor Jose Martinez said as he watched police officers outside Calderon's house. The 54-year-old said that if the search warrants are related to corruption, he'll be deeply disappointed.
"I'm fed up with corruption," Martinez said. "For years, there's been problems at City Hall. It has to stop."
---
UPDATES:
5:25 p.m.: This article was updated with a statement from Sergio Calderon.
2:25 p.m.: This article was updated with comments from the mayor, vice mayor and city residents.
12:35 p.m.: This article was updated with details on items removed from the mayor's business.
12:15 p.m.: This article was updated with comments from Jose Sanchez, an employee at a business owned by Maywood Mayor Ramon Medina.
11:15 a.m.: This article was updated with comments from Maywood City Councilman Eduardo De La Riva.
10:25 a.m.: This article was updated with comments from district attorney's spokesman Greg Risling and Maywood resident Elvira Soto.
This article was originally published at 10:15 a.m.
---
The stories shaping California
Get up to speed with our Essential California newsletter, sent six days a week.
You may occasionally receive promotional content from the Los Angeles Times.