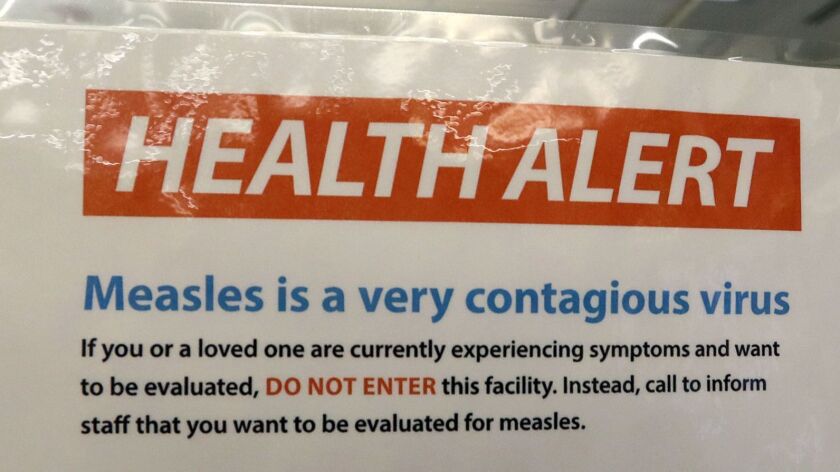 A case of measles has been confirmed in Berkeley, and officials are warning that the patient may have been infectious in public more than a week ago when visiting one of the city's most popular supermarkets, Berkeley Bowl.
The supermarket at 2020 Oregon St., known for its wide selection of organic produce, is less than a mile away from the edge of the UC Berkeley campus.
Measles is one of the world's most contagious diseases, and can infect 90% of unimmunized people who inhale the airborne virus.
Officials said anyone who went to Berkeley Bowl on May 7 between 3 and 5 p.m. should be watching for signs of measles — runny nose, red eyes, cough and fever, which are followed by a rash that appears on the face and spreads downward. Symptoms can show up seven to 21 days after exposure.
Unvaccinated people are particularly at risk, as are those with severely weakened immune systems, such as those undergoing cancer treatments.
People who suspect that they have measles should call their doctor first. Special arrangements need to be made to see suspected measles patients to protect others from being potentially infected at a physician's office.
As of Wednesday, there have been 45 confirmed measles cases in California this year, including 30 associated with outbreaks.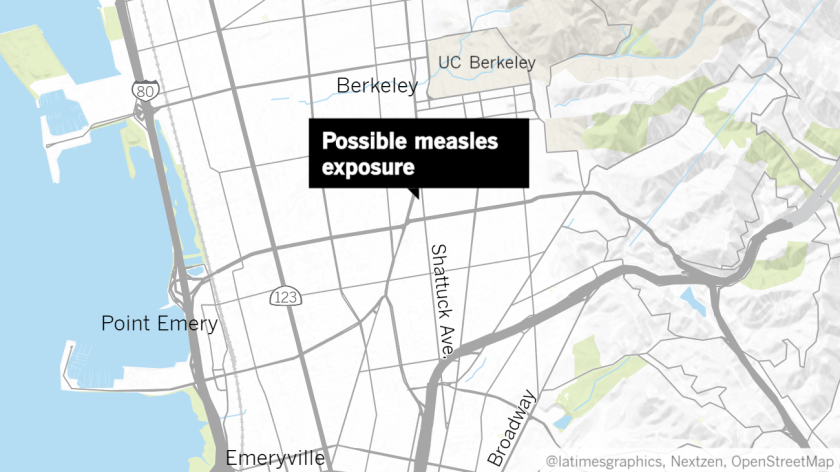 Q&A: Do I need a measles booster shot? How to protect yourself, and more »
Overall, California has been spared from the worst of the ongoing U.S. measles outbreak, in part because of its high vaccination rates. More than 600 people have been diagnosed with measles in New York this year amid what health officials say is the worst measles outbreak in decades in the United States.
California underwent its last large outbreak of measles four years ago, after measles spread at Disneyland. At least 131 California residents were infected between December 2014 and April 2015; the virus also was contracted by residents of six other states, Mexico and Canada.
The state Legislature is considering new legislation that would strengthen requirements to vaccinate schoolchildren.
State officials say California counties have spent more than $400,000 trying to stop measles from spreading across the state this year.
---