Can my baby get the measles vaccine early? How to protect your family and more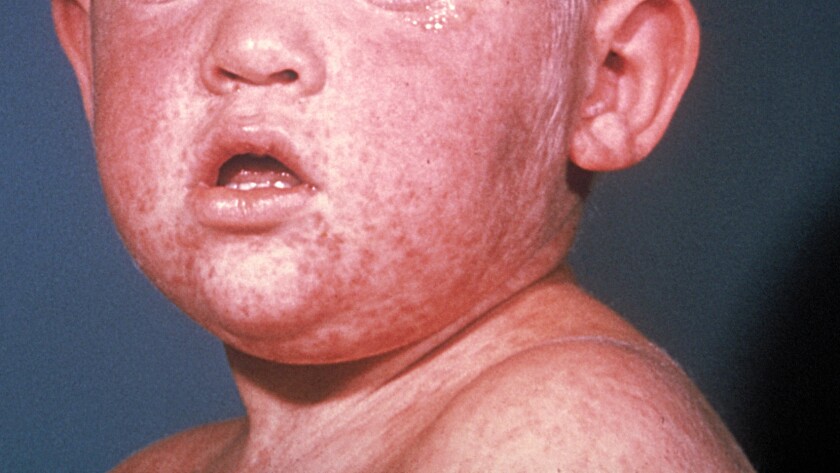 Federal health officials announced Monday that 940 people have come down with measles this year, the highest number of cases in more than two decades.
The resurgence of measles has inflamed debates about mandatory vaccinations and who is allowed to opt out of them. The outbreak, which now spans 26 states including California, has also prompted people to check their childhood vaccination records or call their doctors to get an extra dose of the measles shot.
Many people say they're particularly worried about their young children, since babies typically don't get the measles vaccine until their first birthday. Parents say they are considering cancelling trips to parts of the world with measles cases, unsure of how else to protect their infants.
As the number of measles cases continues to climb, here are answers to questions about measles, including how to keep you and your family safe.
My baby is too young to get the measles shot. What can I do?
Typically babies can't get the measles vaccine until they are 1. But officials are recommending that babies traveling internationally or who are spending time in areas with outbreaks get one dose of the vaccine between 6 months and 11 months for earlier protection.
"There's good literature that shows that it's safe and effective and it'll give your baby a temporary immune boost," said Dr. Roy Benaroch, a pediatrician and assistant adjunct professor at Emory University.
Babies have some immunity from their mother that begins to wane around 6 months, which is why six months is the earliest point the vaccine should be given, experts say.
Parents who do opt for the early dose of the vaccine, however, will need to give their baby another shot around 12 months, when it would have otherwise been administered, experts say.
Devindra Hardawar, who lives in Brooklyn, recently opted to get his 7-month-old daughter Sophia vaccinated against measles due to the outbreak in New York.
"While giving Sophia her measles shot early wasn't our initial plan, we decided it was better than her being completely vulnerable to measles," Hardawar, 35, said in an email.
My kid has had one measles shot. Is it time for a second?
Health officials recommend two doses of the measles vaccine. The first offers 93% protection and the additional dose brings immunity up to 97%.
The second dose is typically administered between ages 4 and 6, but parents worried about measles can ask to get the next dose as early as 4 weeks after the first. The typical vaccine schedule is set to coincide with children entering school, not for any scientific reasons, said Beronoch.
"There is really no reason not to get it earlier … especially to someone traveling to an area with transmission," he said. "There's absolutely no downsides to giving it early."
Children who get the second dose early do not need to get it again, experts say.
A few weeks ago, Christine Groff's family was headed to Orange County from the Bay Area when news of measles cases broke.
Groff's 18-month-old daughter already had her first measles shot. Groff, who lives in Alameda, rushed her child to the doctor for her second dose, pushing her immunity up close to 100%.
I got the vaccine when I was a child. Could I get measles?
Probably not. The measles vaccine is one of the most effective immunizations, protecting 97% of people who come into contact with measles from getting sick. Almost everyone in the U.S. who caught measles this year had not been vaccinated.
The measles vaccine's half-life — the time it takes for your immunity to fall by half — is 200 years, so people are protected for a lifetime, said University of Maryland public health professor Donald Milton.
"The vaccine is really, really critical," Milton said.
Is there a booster shot?
Most people don't need a booster, but there are some exceptions. It depends when you were born.
1989 or after: You most likely got the current version of the vaccine, which is two separate shots and highly effective. You don't need a booster.
between 1957 and 1988: It's possible that you got an older single-dose version of the measles vaccine that is less effective. However, officials are not recommending revaccination for this group unless people are traveling internationally or work in healthcare. (There is a smaller group of people who received an alternative version of the vaccine between 1963 and 1967 that was not effective. Officials are recommending re-vaccination for those people.)
before 1957: If you were born before 1957, you are believed to have gotten measles and therefore have natural immunity. Officials are not recommending vaccination for this group unless people are traveling internationally or work in healthcare.
So basically, most people don't need to be revaccinated unless they work in healthcare or are planning to travel internationally. If you do either of those things, then you should talk to your doctor about measles. A physician can do a blood test to check if you're already immune.
"Most adults are protected against measles — that's what the science says," said Dr. Nancy Messoinner, director of the Center for Disease Control and Prevention's National Center for Immunization and Respiratory Diseases, in a call with reporters. "That includes people who were born before measles vaccine was recommended and even people who only got a single dose of measles."
That said, there isn't a downside to getting vaccinated or revaccinated if you're worried about measles, experts say. So ask your doctor about it.
What is measles?
A highly contagious virus, measles typically makes people sick for a few weeks. Before the vaccine was created, every child in America is believed to have gotten measles by age 15.
Measles is spread through coughing and sneezing. It is widely considered one of the most contagious illnesses in the world. Even after a sick person leaves a room, the virus can exist for up to two hours, able to infect an unsuspecting victim.
What happens if I get measles?
Most people who come down with measles feel sick and get a rash, but then they're fine. Some people, though, are less lucky.
Roughly one in 500 people with measles will die from it, and one in 1,000 will experience brain swelling known as encephalitis. Other serious complications include pneumonia and ear infections that can lead to permanent hearing loss.
In general, children younger than 5 and adults older than 20 are more likely to suffer from serious complications.
"Contrary to what some people think, measles is not a benign childhood disease," said California health department director Karen Smith in a call with reporters in April.
Why are these outbreaks happening?
American travelers pick up measles from other countries where the disease is spreading widely and then bring it back to the U.S. Californians caught measles this year during trips to the Philippines, India, Ukraine and Thailand, according to the state health department.
The Los Angeles outbreak has been linked to travel to Vietnam and Thailand.
Once measles is introduced into a community, it starts to spread if people there aren't immune.
A measles outbreak this year in New York City, where more than 535 cases have been confirmed, began when an unvaccinated child returned from a trip to Israel, where there is a major measles outbreak. The illness then began spreading among unvaccinated members of the Orthodox Jewish community.
Measles outbreaks have been increasing in the U.S. and abroad as vaccine coverage falls. For the first time, the World Health Organization in 2019 named vaccine hesitancy one of the world's greatest health threats.
Is my neighborhood at risk?
People living in areas where measles is already spreading are most at risk. The CDC has a list of places in the U.S. with outbreaks.
In general, California has high vaccination rates, so it's less likely there will be a giant outbreak in the state. So far, there have been 46 cases, with the state's biggest outbreak in Butte County in Northern California.
Communities with low vaccination rates are most susceptible to the spread of measles. Schools keep track of vaccination rates and can be a good indicator of how many people in your neighborhood are vaccinated.
You can look up how many kindergartners had their shots at your kid's schools here and how many seventh-graders had theirs here.
The California counties with the lowest vaccination rates among kindergartners in the 2017-18 school year were largely concentrated in the northern half of the state and include Mendocino, Sutter and Humboldt. The counties in the southern half of California with the lowest vaccination rates are Kern, San Luis Obispo and Imperial.
What happens if I get measles?
The signs of measles are a lot like cold symptoms, including fever and cough. They usually start about two weeks after exposure. But measles patients also get a characteristic red rash that typically begins on the face and spreads downward toward the feet.
If you have a rash, don't run to the emergency room or urgent care. Call your doctor's office first so they can make special arrangements for your visit to avoid infecting others.
soumya.karlamangla@latimes.com
Twitter: @skarlamangla
---
The stories shaping California
Get up to speed with our Essential California newsletter, sent six days a week.
You may occasionally receive promotional content from the Los Angeles Times.