'Mega-development' foes offer Garcetti a deal to halt ballot campaign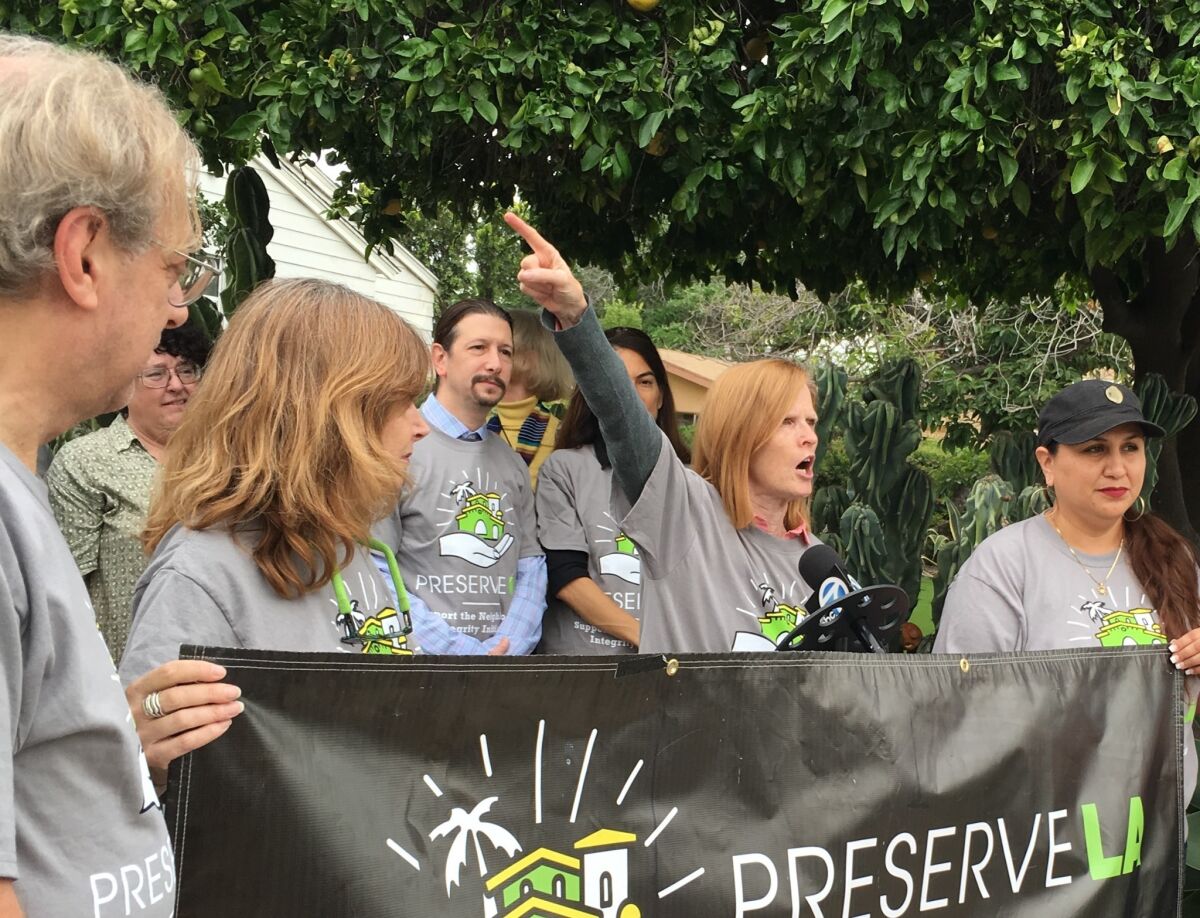 Backers of a proposed Los Angeles ballot measure that aims to crack down on "mega-developments" say they will halt their campaign if Mayor Eric Garcetti quickly agrees to ban real estate developers from meeting privately with city officials and make other changes to city planning rules.
At a news conference Wednesday outside City Hall, supporters of the Neighborhood Integrity Initiative argued that their measure would stop rampant, out-of-scale development that displaces residents and disrupts neighborhoods.
However, they said they would stop pursuing the ballot measure if Garcetti makes key concessions in the next week. Earlier this year, the mayor had joined with City Council members to announce that he was seeking reforms to the development process in Los Angeles.
"You said that you want to fix the broken system in City Hall, yet you have done nothing of note to achieve that goal, and time is running out," initiative backers wrote in a letter to Garcetti.
The group said it wants Garcetti to agree to prohibit private meetings between developers and city decision makers and set urgent deadlines for updating a citywide document that guides development. The initiative backers also want the mayor to bar developers from choosing the consultants who assess the environmental and neighborhood effects of their planned projects, and prevent "spot zoning" -- a practice they described as altering zoning rules site by site.
Garcetti met with members of the group Wednesday after their news conference. Afterward, his spokeswoman Connie Llanos said he was reviewing their requests.
"Mayor Garcetti is already leading one of the city's most ambitious efforts to reform the development process in L.A.," including an "aggressive schedule to update community plans and the general plan, and new efforts to increase transparency" in the process of writing environmental impact reports, Llanos said in a statement.
"We will continue to advance this reform agenda and look forward to working with all stakeholders," Llanos added.
The ballot measure is being promoted by the Coalition to Preserve L.A., which is sponsored by AIDS Healthcare Foundation. Activists from the coalition told reporters Wednesday that they have already gathered enough signatures to put their proposal on the ballot next March.
The proposed measure has triggered sharp debate over how L.A. should regulate its development boom and protect affordable housing. It includes a two-year moratorium on real estate developments that seek zoning changes or other alterations in city rules.
Critics of the measure, including business and labor groups, contend it would destroy jobs and increase rents by crimping the supply of new housing. Unions have pushed a different measure for the November ballot -- dubbed Build Better L.A. -- that would impose affordable housing and labor requirements on some projects.
Follow me on Twitter at @LATimesEmily
---
The stories shaping California
Get up to speed with our Essential California newsletter, sent six days a week.
You may occasionally receive promotional content from the Los Angeles Times.