Mendocino County sheriff raids Native American pot farm that tribe says is legal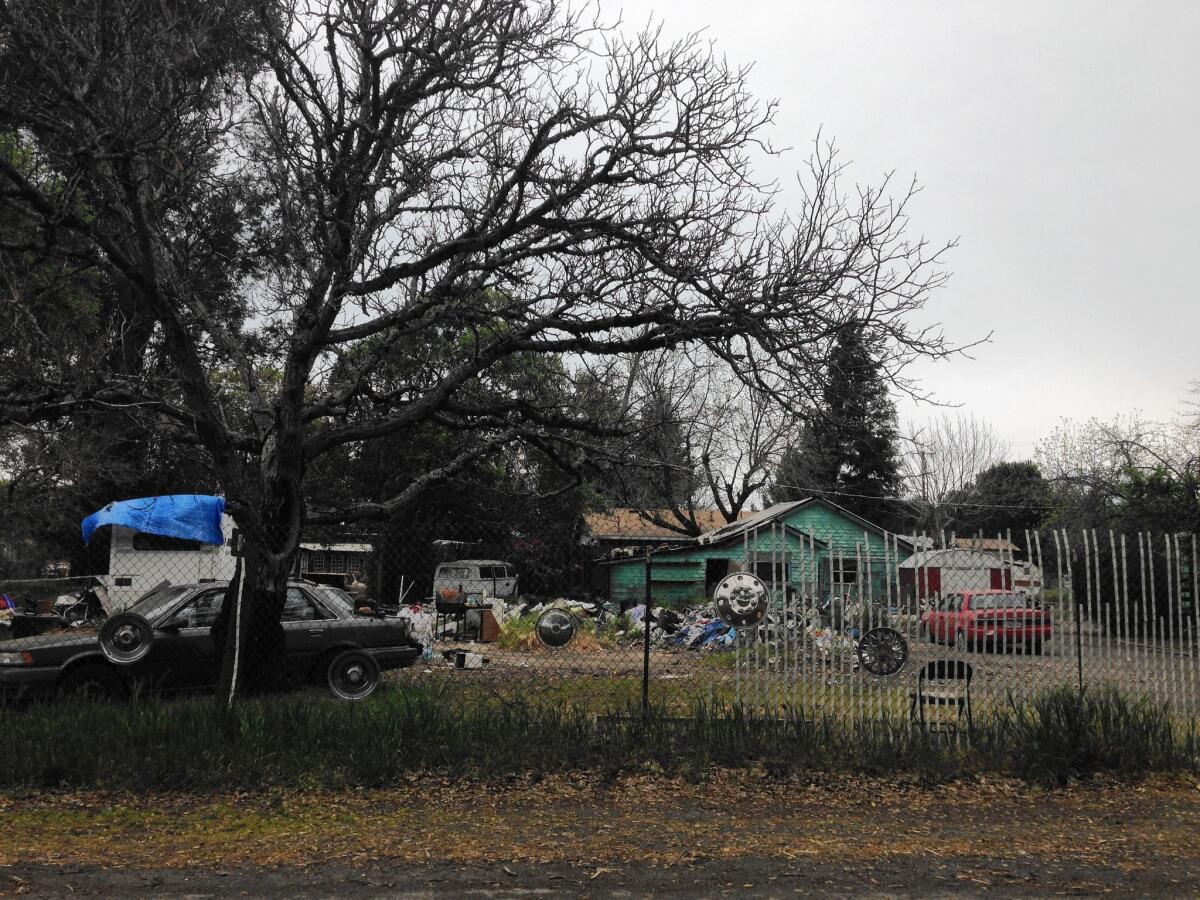 An Indian tribe's plans to harvest and distribute medical marijuana in Ukiah was nipped in the bud this week when Mendocino County sheriff's deputies seized hundreds of plants at two properties, officials said Wednesday.
Days after deputies investigating an activated burglar alarm found a group of people loading marijuana from the Pinoleville Pomo Nation tribal lands into a building about a mile away, investigators executed two search warrants and seized hundreds of plants.
Authorities say when they searched a building Tuesday on North State Street, about a mile from the tribe's rancheria, they found the makings of a honey oil chemical-extraction lab, which could produce a highly concentrated form of cannabis. They also found more than 100 pounds of trimmed and processed marijuana, the sheriff's office said.
Meanwhile, authorities serving a warrant at the 99-acre rancheria down the road found 382 marijuana plants and more that had been harvested. No one was on either property at the time so there were no arrests, authorities said.
Interested in the stories shaping California? Sign up for the free Essential California newsletter >>
The plants came as no surprise to deputies, who had been investigating the Pinoleville Pomo Nation's lands for months.
"It's just an overzealous sheriff," said Mike Canales, president of the tribe's business board, which oversees its economic development. "Everything is perfectly legal what we were doing."
According to a statement from the sheriff's office, authorities learned the tribe was going to grow marijuana, discussed the tribe's plans with its representatives, then began conducting aerial surveillance. Over two months, authorities determined about 400 plants were being grown on the land, the sheriff's office said.
Tuesday's crackdown was based on state marijuana cultivation and possession laws and a narcotics lab violation, officials said.
In March, the Times interviewed the chief executive of a Kansas-based company that claimed to help Native American tribes develop for-profit ventures.
FoxBarry chief Barry Brautman said that the tribe was "exercising its sovereign right" to grow marijuana and that it planned to set aside 2.5 acres of land to grow hundreds of plants and house them in a 90,000-square-foot greenhouse.
Mendocino County's legal limit is 25 plants per lot.
But last month, the Pinoleville Pomo Nation suspended its activities with FoxBarry, Canales said. A visit to the FoxBarry company's website turns up an "under construction" page, and a call to a number listed for the company on a cached version of its website directs callers to a different company.
A woman who answered the phone at that number said FoxBarry was having financial troubles and no longer was a part of that office. Brautman did not immediately return a call for comment Wednesday.
For breaking California news, follow @JosephSerna.
ALSO:
Obama administration approves nearly $1-billion settlement with Native Americans
Costco shopper punched in fight over samples: 'He hit me, and the blood started'
Sign up for Essential California for news, features and recommendations from the L.A. Times and beyond in your inbox six days a week.
You may occasionally receive promotional content from the Los Angeles Times.