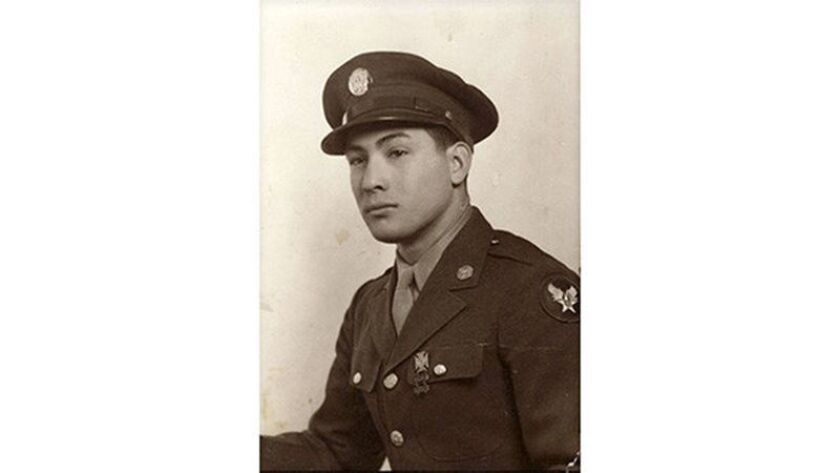 Retired judge Frederick Aguirre has dedicated the last several years of his life to researching and documenting the pivotal — and largely unknown — role Mexican Americans from Orange County played in U.S. military history.
In an effort to refute prejudiced myths and stereotypes, he's produced books, a documentary and a website with his wife, Linda, and research partner Rogelio Rodriguez. Aguirre, who served on the Orange County bench for 15 years, traveled to Normandy, France, this week for the 75th anniversary of D-day to commemorate Mexican American soldiers and sailors who were killed during World War II. Dignitaries from several countries, including President Trump, attended the ceremony on Thursday.
"We started this because we saw that our Mexican American men and women were not being recognized for what they did for our country," Aguirre said. "There were negative stereotypes being bandied about that Mexicans were coming into this country to take from this country. Our own president now says Mexicans are rapists and that Mexico is exporting the worst of its kind. These are sentiments that are not characteristic of the people who come over, people who come over and do good things, especially in times of war."
The Aguirre family has a century of local history. Frederick's grandparents arrived in 1919 in Placentia, where his father, Alfred, was born in 1920.
"We are probably one of the oldest Mexican American families in Orange County," said Aguirre, 72, of Villa Park.
Alfred Aguirre attended segregated schools before enlisting in the U.S. Army for World War II. While he was away, his wife, Julia, supported the war effort working at Douglas Aircraft in Long Beach.
When he returned home from the war, Alfred heard about the Mendez vs. Westminster legal case, which desegregated schools in the Westminster, Garden Grove, Santa Ana and El Modena school districts. He didn't want his children attending the still-segregated campuses in Placentia.
"My dad was determined to have his children go to an integrated school," Frederick Aguirre said. "My dad said, 'This isn't right after serving my country.'"
Two of Alfred's brothers, three of his brothers-in-law and 23 of his cousins served in the war.
Alfred organized the Veterans and Citizens of Placentia group to lobby the school district, which desegregated in 1949.
He was elected to the Placentia City Council in 1958, becoming one of the county's first Mexican American city council members.
Partly because of his father's efforts, Frederick Aguirre attended desegregated schools. He received a law degree from UCLA in 1971, practiced law and eventually became a judge in 2002.
While the law remained his profession, Aguirre decided he wanted to make an impact like his father. Along with his wife, who taught in the Anaheim Union High School District for three decades and whose father and several other family members served in WWII, he began documenting the service of Orange County's Mexican American soldiers.
The couple eventually enlisted Rodriguez's help.
Under the nonprofit Latino Advocates for Education, the group held free community events at Santa Ana College, and later Cal State Fullerton, to honor veterans. Those events included parachuting demonstrations and military vehicle displays. Gray Davis, who eventually became governor, and other politicians of the day attended the events. Eventually that grew into publishing books, a documentary and a website, which is managed by the Orange County Department of Education.
The website features about 30 interviews with WWII veterans, including former prisoners of war and survivors of the European and the Pacific theaters.
The research hasn't been easy.
"There is no category in World War II records to show the service of Mexican Americans," Aguirre said. "There were for African Americans, Chinese Americans and Japanese Americans, but Mexicans were considered white, even though they were treated like second-class citizens."
Using surnames and other identifiers, the group waded through the national archives to find Chicano veterans from Orange County.
"We aren't saying military is the panacea and we think military intervention is the right way to go with everything," Aguirre said. "But during the times of defending our country, Mexican Americans have answered the call and served this country very honorably. "
Aguirre said his research shows that of the 487 Orange County servicemen who died in WWII, 74 were Mexican Americans.
"Which is 15%, a staggering number as Mexican Americans accounted for only 5% of Orange County's population during World War II," Aguirre said. "That is a true testament to the patriotism of our Americans of Mexican heritage."
According to the Aguirres and Rodriguez's research, the Mexican American soldiers from Orange County who died during World War II include:
Pvt. Joseph Agabo, Westminster
Staff Sgt. Julian R. Alvarado, Costa Mesa
Pvt. Manuel L. Alvarez, Costa Mesa
Pvt. Daniel L. Arbiso, Santa Ana
Pvt. Luciano F. Arzate, Santa Ana
Pvt. Aciano Avila, San Juan Capistrano
Tech. 5th Grade Henry Barajas, Santa Ana
Pfc. Mariano L. Barela, Santa Ana
Pfc. Delfino Casado, Los Alamitos
Sgt. 1st Class Guadalupe Castaneda, Santa Ana
Pvt. David L. Castro, Santa Ana
Sgt. William R. Contreras, Costa Mesa
Pfc. Nick L. Cordova, El Modena
Pfc. Paul Cortez, Jr., El Modena
Staff Sgt. Martin De La Cruz, Westminster
Pfc. Frank De La Rosa, Santa Ana
Pvt. Porfirio de los Reyes, Fullerton
Tech. 5th Grade Frank Diaz, Santa Ana
Pfc. Saul Diaz, Anaheim
Pvt. Rudolph C. Falcon, La Habra
Cpl. Henry Felix, Orange
Pfc. Alfred Gaitan, Anaheim
Pfc. John P. Garcia, Costa Mesa
Pvt. Florentino Gonzalez, Garden Grove
Pvt. Joe I. Gonzalez, Brea
Pvt. Raymond Grajeda, Santa Ana
Staff Sgt Jack V. Granados, Santa Ana
Pvt. Benjamin Guzman, Santa Ana
Sgt. Maurice A. Juarez, Fullerton
Tech. 5th Grade Raymond O. Marmolejo, Fullerton
Pfc. Jesse C. Martinez, Anaheim
Staff Sgt. Alfonso E. Martinez, Anaheim
Pfc. Ramon D. Mejia, La Habra
Pvt. Fred F. Mercado, Santa Ana
Pvt. Robert Nava, Atwood
Sgt. Guadalupe D. Orosco, Stanton
Pvt. Crispin Orozco, El Modena
Pfc. Herbert Peralta, Yorba Linda
Pvt. Guadalupe C. Perez, Westminster
1st Lt. Melburn A. Quintana, Santa Ana
Pfc. John W. Reyes, Placentia
Lt. Alfred Rivas, Santa Ana
Sgt. Fred Rivas, Santa Ana
Pfc. Moses H. Sandoval, Buena Park
Sgt. 1st Class James Selaya, Anaheim
Tech. Sgt. Jose T. Sepulveda, Orange
Pvt. Joe Soto, Anaheim
Pfc. Joe M. Torres, Santa Ana
Sgt. 2nd Class Donald Eugene Ynigues, Tustin
Pvt. Florencio R. Valenzuela, Fullerton
Pfc. Joe Vasquez, Westminster
Pvt. Manuel Vasquez, Santa Ana
Pfc. Margarito Vasquez, Santa Ana
Pfc. Daniel T. Attencio, Santa Ana
Pvt. Daniel Becerra, Santa Ana
Pfc. Nicholas R. Castro, La Habra
Pvt. Diego S. Figueroa, Santa Ana
Pvt. Arnold F. Garcia, Santa Ana
Pvt. Domingo R. Garcia, Atwood
Pfc. Augustine A. Herrera, Placentia
Tech. Sgt. Rubin M. Lechuga, Santa Ana
Pfc. Jack A. Lopez, Orange
Pvt. Louis S. Lopez, La Habra
Pfc. Ramon J. Medina, Westminster
Sgt. Eduardo C. Molina, Orange
Pvt. Louis M. Moreno, Jr., Garden Grove
Pvt. Pete D. Morones, Santa Ana
Tech. 5th Grade George L. Ortiz, Santa Ana
2nd Lt. Gilbert W. Planchon, Santa Ana
Pfc. Adalberto Rodriguez, Santa Ana
Pfc. Clemente R. Rodriguez, Placentia
Pfc. Victor G. Saragosa, Costa Mesa
Pvt. Ramon G. Savala, Anaheim
Pvt. Nicasio C. Sifuentes, Westminster
---