Survivor testifies against accused 'boy next door killer' Michael Gargiulo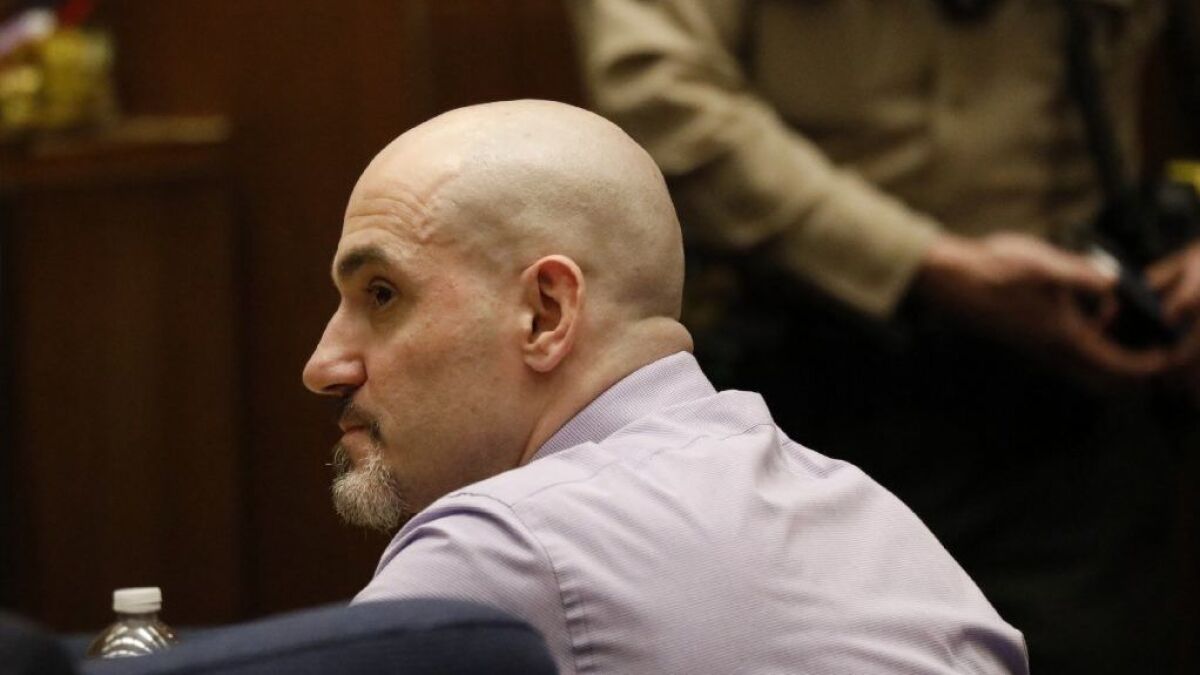 The prosecutor projected the gruesome crime scene photos onto a screen for jurors in a downtown Los Angeles courtroom. One showed a bloody hand print on the carpet where the woman fell to the floor, afraid she was going to pass out, after she had been stabbed about a half-dozen times. Another showed her bathroom, where she left behind splatters of red as she examined her wounds. A third captured the bloodied cellphone she used to call police.
"Is that all from your attack?" the prosecutor asked the woman on the stand.
"Yes," she replied.
Michelle Murphy was the first witness prosecutors called in the capital murder trial of alleged serial killer Michael Gargiulo, who is accused in four brutal knife attacks, to which he has pleaded not guilty. Murphy, his last alleged victim, is the only one who lived.
In front of jurors on Monday, she described the harrowing ambush she survived more than a decade ago.
It was a Monday in April of 2008. After work, Murphy washed her bed sheets, jumped rope in the alley behind her Santa Monica apartment complex and watched TV before crawling into bed. She had been asleep for about an hour, she testified, when she woke up to a man straddling her, stabbing her arm and chest with a serrated knife.
She screamed and asked why he was attacking her. The man didn't say a word, she said.
In a struggle to save herself, Murphy said she wrapped her hands around the knife's blade and kicked the man off the bed. As he ran out the door, Murphy recalled, he spoke for the first time.
"I'm sorry," the attacker said.
Murphy testified that she locked the door, closed the living room window the man had climbed through to get in and made two phone calls. She first called the man she'd been dating for two months, who is now her husband, and then the police. An ambulance took her to a hospital, where doctors operated on her hand and stitched her wounds.
She never returned to that Santa Monica apartment. Instead, her family and friends packed up her belongings. Since her attack, she said she's more vigilant about making sure "everything's locked."
"I'm much more aware of anyone around me," she testified.
During opening statements last week, Deputy Dist. Atty. Dan Akemon told jurors that Murphy's attacker left a trail of blood out her door and past his apartment just across an alley. Investigators matched the DNA from the blood to that of Gargiulo.
As the prosecutor spoke, Gargiulo, dressed in a purple shirt and tie, frequently leaned over and whispered to his attorney. As Akemon displayed grisly photographs for jurors, Gargiulo leaned forward and watched the screen attentively, often with his eyebrows raised. Sometimes, he took notes on yellow legal pad paper.
Jail records show Gargiulo has been in custody since his arrest in 2008. The delays in his trial are primarily because he has switched attorneys several times and, for a period of about three years, represented himself.
Akemon told jurors that Gargiulo grew up in a suburb near Chicago, where he played on his high school football team. He went on to become a husband and a father, working as an air conditioner repairman and a plumber.
"What no one knew for many years is that Michael Gargiulo was leading a double life," Akemon said, calling Gargiulo the "boy next door killer" because he targeted women who lived nearby.
Akemon said Gargiulo trained in boxing and martial arts. He considered himself an expert in forensic science and had a penchant for a book that analyzed which body parts to target in a stabbing to be most effective.
After learning the routines and habits of his victims, Akemon said, Gargiulo would "watch, shadow, stalk and hunt down" the women relentlessly as part of his plan to kill.
It began in 1993 in a suburb outside of Chicago. Years later, Akemon said, he would brag to his friends about killing 18-year-old Tricia Pacaccio.
"I stabbed up the girl," he told one, Akemon said.
He allegedly told another that he left a victim "on the step for dead."
After his trial, Gargiulo is expected to be extradited to Illinois, where he is charged with Pacaccio's slaying.
In Los Angeles, he faces two counts of murder and one count of attempted murder for attacks between 2001 and 2008. He's accused of fatally stabbing Ashley Ellerin in 2001 and Maria Bruno in 2005. During opening statements, Gargiulo's attorney Daniel Nardoni told jurors that Gargiulo denies killing the three women.
alene.tchekmedyian@latimes.com
Twitter: @AleneTchek
The stories shaping California
Get up to speed with our Essential California newsletter, sent six days a week.
You may occasionally receive promotional content from the Los Angeles Times.