Los Angeles' minimum wage on track to go up to $15 by 2020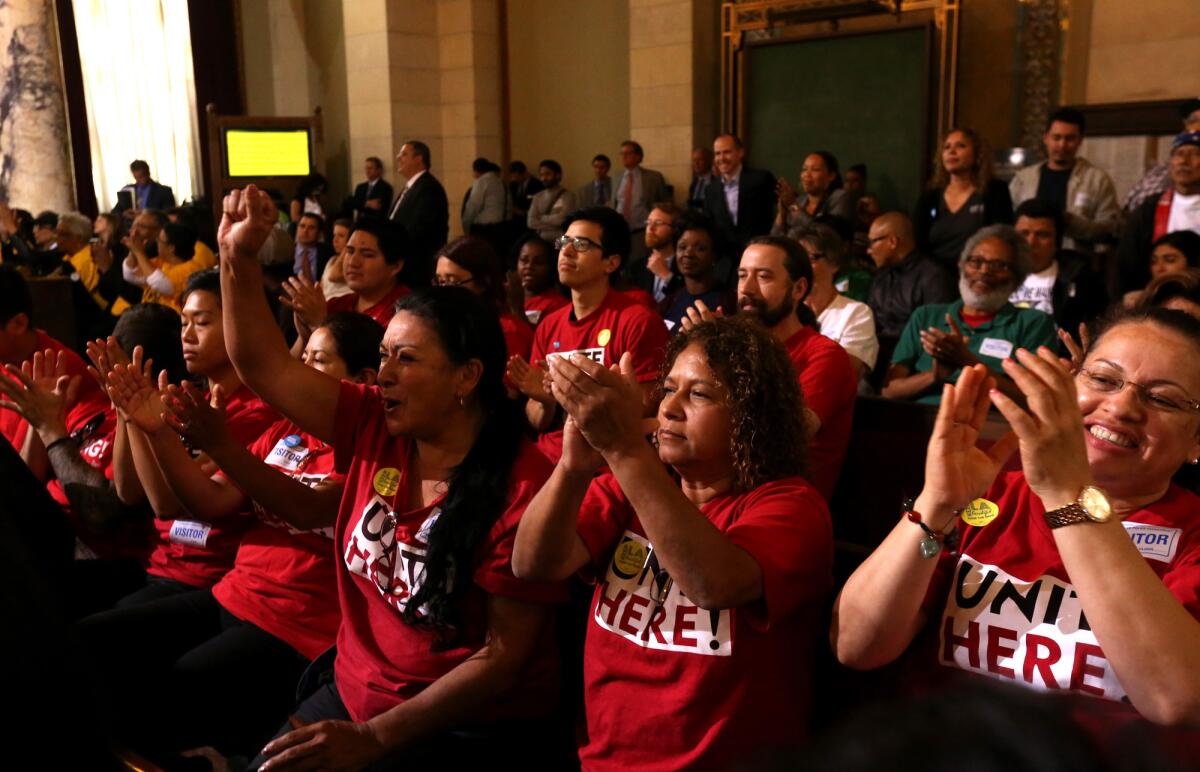 The Los Angeles City Council on Tuesday backed a plan to raise the city's minimum wage to $15 per hour, joining a trend sweeping cities across the country as elected leaders seek to boost stagnating pay for workers on the lowest rungs of the socio-economic ladder.
Lawmakers agreed to draft an ordinance raising the $9-an-hour base wage to $15 by 2020 for as many as 800,000 workers, making L.A. the largest city in the nation to adopt a major minimum-wage hike. Chicago, San Francisco and Seattle already have approved similar increases, and raising the federal minimum wage has moved to the forefront of the Democratic Party's agenda.
"Make no mistake," said Councilman Paul Krekorian, who was instrumental in shaping the city's plan. "Today the city of Los Angeles, the second biggest city in the nation, is leading the nation."
------------
FOR THE RECORD:
Minimum wage: In the May 20 Section A, an article about the Los Angeles City Council backing an increase in the minimum wage included a chart that showed the gradual raises in the hourly wage from the current $9 to $15 by 2020. One increase in 2016 was omitted; the minimum wage would increase to $10 per hour on Jan. 1 and to $10.50 on July 1. —
------------
On a 14 to 1 vote, the council instructed City Atty. Mike Feuer to prepare an ordinance carrying out the wage hikes, setting the stage for a final vote on the measure next month. Mayor Eric Garcetti has already promised to sign the wage increase into law, allowing the first wage boost — to $10.50 per hour — to take effect in July 2016.
The vote was the latest show of organized labor's clout at City Hall. During nearly a year of often emotional debate, labor leaders never gave ground on their central demand that the minimum wage rise to at least $15. The City Council ultimately favored that approach over Garcetti's proposal to raise the minimum wage to $13.25 by 2017.
The council's decision is part of a broader national effort to alleviate poverty, said Maria Elena Durazo, former head of the Los Angeles County Federation of Labor. Raising the wage in L.A., she said, will help spur similar increases in other parts of the country.
"Without a doubt, it was a very big victory," said Durazo, now with Unite Here, the hotel and restaurant workers' union.
Some labor leaders have expressed dissatisfaction with the gradual timeline elected leaders set for raising base wages. But on Tuesday the harshest criticism of the law came from business groups, which warned lawmakers that the mandate would force employers to lay off workers or leave the city altogether.
"The very people [council members'] rhetoric claims to help with this action, it's going to hurt," said Ruben Gonzalez, the Los Angeles Area Chamber of Commerce's senior vice president for public policy and political affairs.
He predicted that many businesses would absorb their new labor costs by laying off employees, reducing work hours or moving out of the city entirely.
"It's simple math," Gonzalez said. "There is simply not enough room, enough margin in these businesses to absorb a 50-plus percent increase in labor costs over a short period of time."
Councilman Mitchell Englander, the council's only Republican, cast the lone opposing vote. In a statement, he said the council action could "make it impossible for entire industries to do business" in Los Angeles.
"The very last thing that we should be doing as a city is creating a competitive disadvantage for our businesses with those in neighboring cities," said Englander, who represents the northwest San Fernando Valley.
The council's vote followed months of public debate and back-room lobbying on an issue that has animated City Hall like few others over the last year. Unlike some of the neighborhood-specific political dust-ups that occupy city officials, the pay increase would directly affect workers and businesses throughout the city.
"That's a monumental change in wages," said Jerry Newman, a professor at the State University of New York at Buffalo School of Management. "It's going to have both an economic impact and a social impact."
The stakes for some low-wage Angelenos were reflected Tuesday in testimony from workers such as Juan Moran, a line cook in Little Tokyo. Moran told the council the current statewide minimum wage of $9 per hour isn't enough to live on.
"Sometimes I have to walk half an hour from work to get to my apartment because money's not enough to pay a ride on the bus," the Boyle Heights resident said. "Or I work 12 hours straight without stop … just to pay rent."
Backed by well-organized labor activists at the national level, the campaign to raise the minimum wage has become a focus of Democrats seeking to revive their party's focus on income inequality. Once Los Angeles' wage hike is finalized, the city will join other West Coast cities that have enacted higher minimum wages in the last two years.
New York City and Washington, D.C., are also weighing $15-an-hour minimum wage proposals.
Jaime Regalado, emeritus professor of political science at Cal State L.A., said L.A.'s move on the minimum wage fits in with California's experimentation with left-leaning policies such as regulating greenhouse-gas emissions.
The state "has been out front on a variety of things that are not as rapidly moving nationally," Regalado said.
L.A.'s proposed wage increase, he said, is "consistent with what we've seen as California has grown increasingly blue, especially urban centers like Los Angeles."
In L.A., the move toward a higher citywide minimum wage gathered steam last year as council members pursued a plan to raise the base pay for workers at the city's large hotels to $15.37 per hour. That measure passed last fall.
Newly elected council members representing diverse areas of the city — Mike Bonin from an affluent coastal district, Curren Price from South Los Angeles and Nury Martinez from the San Fernando Valley — led the push for the hotel pay increase, which proponents saw as a precursor to a citywide minimum wage hike.
Last summer, minimum-wage advocates found a key ally in Garcetti, who put forward his own proposal to raise base pay to $13.25 an hour.
In a telephone interview from New York City, where he was speaking at Columbia University, the mayor praised the measure passed by the council.
"I've been smiling from ear to ear all day long," Garcetti said. "This is a big day for L.A. I think it's an important day for this country."
The council plan approved Tuesday would raise wages higher than the mayor's proposal, albeit more gradually. Businesses and nonprofit groups with 25 or fewer employees would have until 2021 — an extra year — to comply. Some nonprofits that train and rehabilitate disadvantaged workers, such as the homeless or former gang members, could also take advantage of the extension.
After that, yearly wage increases would be pegged to the consumer price index — a key provision of the law that backers say addresses past failures to adjust the minimum wage for inflation. Opponents said automatic pay increases based on inflation would be a further hit to businesses.
Haggling over the proposal's fine print continued until virtually the last minute. Over the last week, a controversial provision that could have forced employers to grant workers up to a dozen days of paid time off each year was separated from the wage increase for further study.
As city lawmakers congratulated themselves on raising the minimum wage, some council members were circumspect, saying the effects of their plan aren't easy to predict.
"This is an experiment," Councilman Paul Koretz said. "If anyone tells you they know exactly how this is going to go … they're not being honest with you."
Bonin, one of the pay increase's early champions, acknowledged that uncertainty but said the council made the right choice.
"Those concerns about potential unintended consequences are also balanced against the very real and known consequences we have and we see in Los Angeles every day of people getting a poverty wage for working full time," he said.
Follow @petejamison and @DavidZahniser for what's happening at Los Angeles City Hall
ALSO
DWP takes first step toward possilble rate increase
Steve Lopez: Meet the Van Nuys couple with a $50,000 DWP horror story
Strong support in Koreatown propels David Ryu to City Council victory
Sign up for Essential California for news, features and recommendations from the L.A. Times and beyond in your inbox six days a week.
You may occasionally receive promotional content from the Los Angeles Times.