Boy, 5, still missing after search of South Pasadena park where his father was found passed out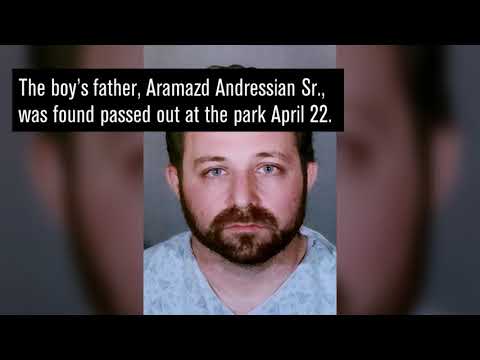 Police said Aramazd Andressian Sr. was arrested on suspicion of child endangerment and child abduction. (April 24, 2017) (Sign up for our free video newsletter here http://bit.ly/2n6VKPR)
A 5-year-old boy was still missing Sunday afternoon after an extensive search of the South Pasadena park where his father, who was later taken into custody, was found passed out Saturday.
Police first learned that the child, Aramazd Andressian Jr., had disappeared around 8:30 a.m. Saturday, when a woman called San Marino police saying the father of her child had never shown up to drop off their son.
The couple are separated but share custody of their child, authorities said. The woman had handed off the boy to his father in Baldwin Park on Saturday, April 15, and told detectives she had last seen the boy during a Skype video conversation on Tuesday.
UPDATE: Search continues Monday for missing 5-year-old »
Earlier Saturday morning, Aramazd Andressian Sr., 35, had been found outside a car in Arroyo Park. South Pasadena police said Andressian was arrested late Saturday and booked on suspicion of child endangerment and child abduction.
At a Sunday news conference, South Pasadena Police Chief Art Miller said Andressian's bail had been set at $10 million, far higher than the $100,000 originally planned, because of the seriousness of the case.
"His story was all over the place," Miller told reporters.
The boy's mother gave police the license plate of her estranged husband's vehicle, which investigators matched to a vehicle authorities had impounded from the park earlier in the day, San Marino Police Chief John Incontro said at a news conference Saturday afternoon.
Although the boy's mother was concerned and upset, Incontro said, "she didn't express directly to us that she felt the father was going to do the child any harm."
Investigators said Sunday that the car he was driving, a 2004 gray BMW, had previously been seen early Friday morning in Orange County. They urged anyone with any information about the car, the father or the child to contact police.
"Any information, no matter how slight, may be the key to solving this mystery…. Every little detail has its place," Miller said.
Dozens of officers from the South Pasadena, San Marino and Los Angeles police departments, along with the L.A. County Sheriff's Department, searched the park and surrounding area for Aramazd, who was last seen wearing a turquoise shirt and plaid shorts. The search, which began around noon Saturday, concluded early Sunday, authorities said.
Police said Aramazd is 3 feet, 5 inches and weighs about 55 pounds. He has brown hair and brown eyes, as well as a small mole on his right shoulder, authorities said.
Miller told reporters that investigators don't know why the boy's father was unconscious, but he said there's no evidence suggesting the man was attacked.
Earlier Saturday, Miller had said that the father hadn't been able to give police any tips about where his son might be or what happened to him.
"We [don't] know if he crawled out of the car himself, if he walked away, if he was abducted — we have no idea," Miller said.
Los Angeles County Sheriff's Department Capt. Chris Bergner said Sunday that Andressian had given "convoluted and not consistent" statements.
The boy's mother told KABC-TV that she and Andressian had joint custody of the boy and that she became suspicious after her son missed a planned Thursday chat on Skype.
They were in the process of being divorced, she said.
Times staff writer Hailey Branson-Potts contributed to this story.
MORE LOCAL NEWS
'We need to be out here': Thousands march in downtown L.A. to support science in the Trump era
Two inmates found dead in separate cells at Salinas Valley State Prison
Los Angeles State Historic Park bridges past and present at grand opening celebration
---
UPDATES:
6:40 p.m.: Updated with new information from police.
11:30 a.m.: Updated with search ending.
7:10 a.m.: Updated with comments from boy's mother.
7 a.m.: Updated with search continuing.
12:05 a.m. April 23: Updated with reports of the father's arrest.
This article was first published at 8:25 p.m. April 22.
Sign up for Essential California for news, features and recommendations from the L.A. Times and beyond in your inbox six days a week.
You may occasionally receive promotional content from the Los Angeles Times.