Two inmates found dead in separate cells at Salinas Valley State Prison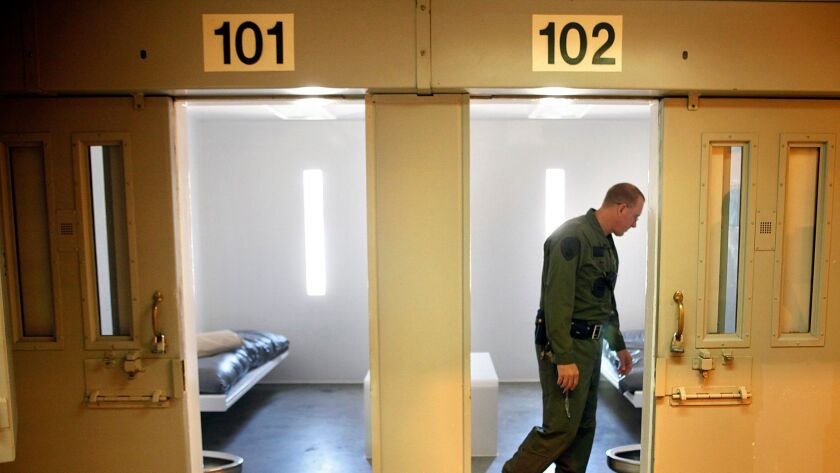 Two inmates were found dead inside separate cells at a state prison in Monterey County early Saturday, officials said.
Authorities at Salinas Valley State Prison are investigating the death of Cedric J. Saunders as a homicide, saying the 22-year-old inmate serving a five-year sentence for robbery was found unresponsive inside his cell Saturday morning.
Corrections spokesman Luis Patino said he couldn't yet comment on how many other men shared the cell with Saunders or how the inmate died.
"It's all under investigation," Patino said, stressing that the deaths were unrelated and happened in separate buildings on the 300-acre prison compound.
At 9:53 a.m. — less than an hour after Saunders was pronounced dead — prison officials declared a second man dead. The 61-year-old inmate, whose identity hasn't yet been released, died inside his single-occupancy cell.
Patino said he couldn't comment on whether the second death is being investigated as a suicide.
The men's prison in Soledad, which houses about 3,500 minimum- and maximum-security inmates, is one of several California facilities with a history of violent outbreaks. Seven inmates were injured during riots there in 2015.
For more news from the Los Angeles County courts, follow me on Twitter: @marisagerber
ALSO
Los Angeles State Historic Park bridges past and present at grand opening celebration
'We need to be out here': Thousands march in downtown L.A. to support science in the Trump era
Authorities search for 5-year-old boy missing after his father was found unconscious at South Pasadena park
---
The stories shaping California
Get up to speed with our Essential California newsletter, sent six days a week.
You may occasionally receive promotional content from the Los Angeles Times.