'Speed may have been a factor': Families grieve as 3 bodies are pulled from wrecked truck
Authorities have recovered three bodies from a mangled pickup truck discovered at the bottom of a deep ravine in the Angeles National Forest and confirmed Tuesday that the vehicle belonged to one of three missing Fontana teens.
Fontana police have been searching since the weekend for Daniel Gamboa, 19; Kasey Vance, 19; and Samantha Ornelas, 17. The trio had set off on a hiking excursion in Gamboa's 2008 white Toyota Tundra pickup truck but failed to return.
Although officials at the Los Angeles County coroner's office said they must still officially identify the bodies, they have determined that the crashed truck belonged to Gamboa.
The wreck was deemed "unreachable" and will probably remain at the bottom of the ravine, according to California Highway Patrol Officer Ryan Bejar. The position of the vehicle and the steepness of the mountainside made it impossible for heavy equipment to remove the wreckage, he said.
"I think we are not going to get it up," Bejar said.
Investigators and search-and-rescue personnel used ropes and an L.A. County sheriff's helicopter to lower themselves to the crash site some 900 feet below Angeles Crest Highway. The terrain was "exceedingly difficult" to navigate, said Brian Elias, department chief for the L.A. County medical examiner-coroner.
Once investigators reached the bodies, they documented the scene and then slowly began removing the remains from the crash site. The bodies were taken to the county morgue for examination and identification, Elias said.
See the most-read stories this hour »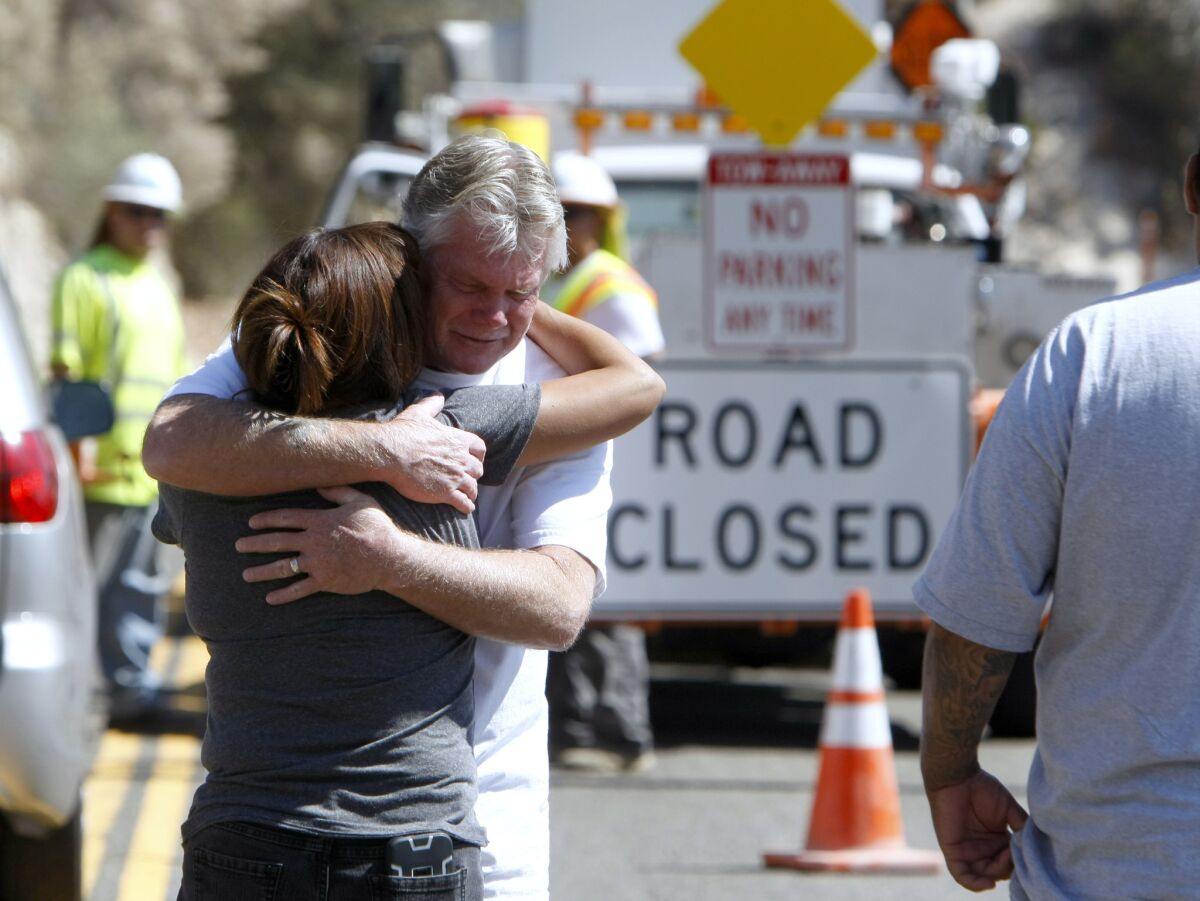 The truck was discovered shortly after 5:20 p.m. Monday, when authorities received a report of fresh skid marks on the road. A sheriff's helicopter was sent to search the area and spotted the truck in an area known as the Trees of Color. A search-and-rescue team was lowered to the wreckage and confirmed that there were three bodies, according to the Sheriff's Department.
The three teens, who attended Summit High School in Fontana, had told family and friends on Saturday that they were going hiking in the Angeles National Forest, possibly heading to Mt. Wilson.
When they failed to return home Monday, relatives alerted the police.
Speed may have been a factor in the crash.

— Ryan Bejar, California Highway Patrol officer
Ornelas' cellphone had at some point pinged a cell tower near Mt. Wilson on Sunday, investigators said. Shortly after midnight on Sunday, Gamboa's credit card was used in Rancho Cucamonga, detectives said.
On Tuesday, California Department of Transportation workers closed a section of the Angeles Crest Highway near mile marker 40, an area that bears many looping skid marks, including those that led searchers to the white truck.
"Sometimes you do get people up here who do go too fast around these curves," Bejar said.
The truck was discovered at the bottom of one of the steepest drops along the entire highway, Bejar said, adding it was impossible to see a car there from the road's edge.
The fresh tire marks appear to show that the vehicle was eastbound on the highway and rounding a curve when the driver hit the brakes hard and went over the edge, according to the CHP.
NEWSLETTER: Get essential California headlines delivered daily »
"Speed may have been a factor in the crash," Bejar said.
There was no evidence that another vehicle was involved in the wreck and no record of a 911 call reporting an accident in the area, he said.
The road was reopened early Tuesday afternoon after the bodies were recovered. A crew of Caltrans workers who were making repairs said it appeared the truck had clipped a guard-rail end-cap before dropping into the ravine. If the truck hit the rail just a little further down, it might not have left the roadway, they speculated.
Family members had rushed to the crash site Monday night and were back Tuesday morning after learning of the truck's discovery.
In a tribute on Facebook, Isabel Ornelas asked friends to celebrate her sister's life.
"My heart will never be the same... My little sissy bear has left this earth," she wrote.
Isabel Ornelas set up a GoFundMe account to help pay for funeral expenses.
"Our loss came so tragic and quickly," she said.
In social media posts, Gamboa wrote avidly about paintball battles and playing guitar. He was also interested in the military and was a fan of "Star Wars," according to his Facebook account. In his profile picture, Gamboa donned a "Star Wars" stormtrooper helmet in a selfie.
A 2014 photo posted of Vance and Gamboa shows the two friends grinning as they zip through the sky on a roller coaster ride. Another picture shows the pair posing for a camera in their paintball gear.
"Halloween night with two friends and candy galore," Gamboa wrote.
Gamboa's cousin, Nick Gamboa, posted a tribute to him online.
"With all my heart, my cousin will be missed," he wrote in a Facebook post. "[I'm] so sad right now that he was one of the good ones and he was gone to soon. Daniel I will miss you so much man. I cry just thinking about what I witnessed today. It was so unreal and so untrue til it hit me sitting at home remember all the good times we had what I would have to done to trade places with you man or to have made plans with you that week to avoid this."
Staff writer Richard Winton contributed to this report.
ALSO
'I tried to do CPR and nothing was working': 3 die after attending Hard Summer rave near Fontana
Man suffering from Alzheimer's is released from L.A. County jail and found dead two days later
Culver City police admit they got the wrong guy with red-light camera ticket and apologize to actor
---
UPDATES:
2:40 p.m.: This article was updated with details on the crashed truck.
1:40 p.m.: This article was updated with details of the bodies' recovery.
11:22 a.m.: This article was updated with crash details from the CHP.
Aug. 2, 10:20 a.m.: This article was updated with comments from the coroner's office and details about the missing teens.
11:05 p.m.: This article was updated with additional details about the recovery of the three bodies.
This article was originally published at 8:30 p.m.
---
Life is stressful. Our weekly mental wellness newsletter can help.
You may occasionally receive promotional content from the Los Angeles Times.