Mitchell Schwartz might be an ally of Eric Garcetti if he weren't running against him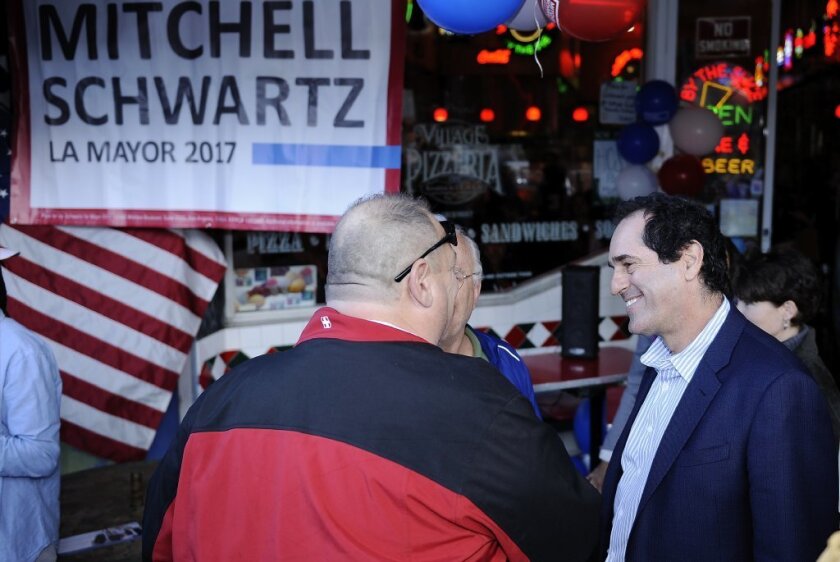 Public affairs consultant Mitchell Schwartz's decision to jump into the Los Angeles mayor's race last year brought surprise and intrigue.
After all, Schwartz might be working alongside Eric Garcetti at City Hall if he weren't fundraising to replace him.
Both men are progressive Democrats who favor humanitarian and environmental causes, and they worked on various political campaigns to get Barack Obama into the White House.
As residents of Windsor Square, their social and professional lives also intersect. Former mayoral candidate Wendy Greuel, now one of Garcetti's commissioners, attended Schwartz's engagement party and he considers her a close friend.
Schwartz, a Queens native who hasn't lost his New York bluntness, isn't concerned about political or other similarities with Garcetti.
His central campaign message is that the mayor has failed to reform the Los Angeles Department of Water and Power or address rising housing costs and other urgent issues.
"I think we talk the same talk," Schwartz said, "but I just don't see him walking the walk."
Garcetti spokesman Yusef Robb accused Schwartz's campaign of "lacking any real ideas" for Los Angeles and said the mayor has a proven track record on the issues, including the DWP.
A political strategist who's worked for Walter Mondale, Michael Dukakis and Bill Clinton, Schwartz has emerged as the top fundraiser of the 10 candidates challenging Garcetti in the March 7 election.
With city matching funds, he hopes to have $350,000 to spend in the final weeks of the race, more than his rivals but far less than the mayor's war chest of more than $2.4 million.
Frustrated that he's been labeled a long shot by the news media, Schwartz cites Vermont Sen. Bernie Sanders as another political underdog who upended a race with a theme of economic inequality.
Over a plate of baked ziti at a Larchmont restaurant, Schwartz asserted that L.A., like San Francisco and New York, was losing its middle class and families because of rising housing prices.
"Los Angeles is becoming more and more for the rich and poor, and the young and the old," Schwartz said. "For a city to be truly great, you need all kinds of people."
The 56-year-old cites a favorite Hebrew phrase — "tikkun olam"— or "repair of the world," which he says translates into "if things are good for you, you have to give back."
Schwartz counts himself in that group. His three children go to private school, and he can afford to take a year off from his public affairs work to run for mayor.
With no endorsements and lacking exposure, the question is whether Schwartz's low-profile campaign can affect Garcetti, who unrolled his own campaign TV spots last week.
"It's not even an uphill race, it's a mountainous race for Schwartz," said Jaime Regalado, professor emeritus of political science at Cal State Los Angeles.
The last time an L.A. mayor faced a challenge at the polls, Antonio Villaraigosa received 56% of the vote in the 2009 election in a field of 10 candidates. Independent Walter Moore garnered 26% of the vote. It was hardly a groundswell of support for Villaraigosa.
Los Angeles is becoming more and more for the rich and poor, and the young and the old.
Mitchell Schwartz, candidate for mayor
Schwartz said his interest in running was sparked after a few friends, including public affairs consultant Matt Littman and Renewable Resources executive Cole Frates, urged him to challenge Garcetti.
With a small campaign staff, Schwartz is swinging by farmers markets, neighborhood council meetings and Metro stops. He hosted a Facebook Live event from his living room earlier this month to talk about the city's Animal Services Department.
Schwartz, who has never held public office, is usually behind the scenes of campaigns. (He can be seen in "The War Room," a documentary about the 1992 Clinton campaign, where he discusses strategy.)
Valley Glen resident Kristi Kane knew nothing about Schwartz when she heard him talk about gentrification at a Windsor Square event last summer, but now plans to vote for him.
"It's getting like New York," Kane said of L.A. "It just feels like we're in an endless mode of saying 'yes' to development."
Charles D'Atri, who lives several blocks away from Schwartz, ticked off a list of complaints that included potholes on Beverly Boulevard and unkempt fields at Pan Pacific Park to explain his support for his friend.
"Mitchell didn't have to run for mayor," D'Atri said. "He could have kept working for the Obamas of the world. But he understands the dysfunction with the city."
Robb, Garcetti's spokesman, pointed to the mayor's push for a tax credit to help the film and television industry and said the city's higher minimum wage — another Garcetti initiative — will trickle up to the middle class.
More housing will ease home prices, Robb said, noting that Garcetti is halfway to his goal of adding 100,000 housing units.
Schwartz's housing plan includes broad goals such as leveraging pension investments to pay for housing and reviewing the city's commercial and industrial-zoned areas.
He's not taking a position on Measure S, a ballot measure that would halt some development, calling it a "distraction" that doesn't address affordable housing.
Standing outside DWP's downtown headquarters last month, Schwartz called for an elected board of commissioners and a citizens oversight committee to increase transparency and accountability.
His criticism comes after he worked extensively with the DWP to develop a wind farm in Kern County and on a four-year green energy initiative.
"I've always felt that the DWP could do more," Schwartz said, explaining his recent attacks on the department. "I thought I was part of the process to help them become a greener utility. We've had some successes, but not enough."
With voter turnout expected to be low, broadening his support beyond those disaffected with City Hall and Garcetti remains a challenge for Schwartz.
Appearing on stage at an Echo Park club for a fundraiser last month, the candidate sounded apologetic as he addressed the crowd waiting to see headliner Spencer Ludwig.
"I want to say to the young people, I know it may be nerdy or whatever," Schwartz said, "but politics is a participatory sport, so please vote in every election."
ALSO
Why this gay, disabled Texan went to the Women's March to tell Trump: 'Mock me to my face'
Santa Monica tentatively approves nation's most extensive earthquake retrofit plan
In the Central Valley, drought fears ease, but farmers contend with a new threat: Trump
---
The stories shaping California
Get up to speed with our Essential California newsletter, sent six days a week.
You may occasionally receive promotional content from the Los Angeles Times.