Biker in Mongols gang is arrested in fatal shooting of rival Hell Angels member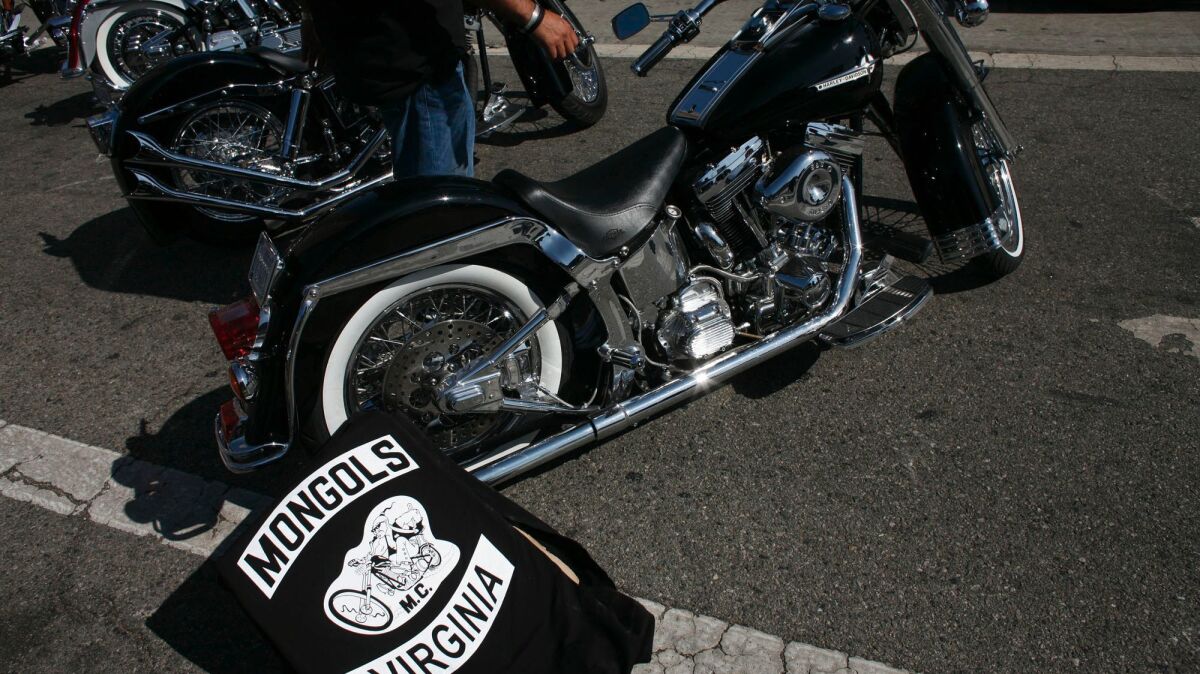 A Mongols motorcycle gang member is accused of fatally shooting a member of the Hells Angels biker gang last month in Riverside as part of an ongoing rivalry, authorities said.
Joshua Ryan Herbert, a 27-year-old Corona resident, was arrested Wednesday on suspicion of murder and attempted murder, according to the Riverside County district attorney's office. Prosecutors allege the offenses were committed for the benefit of the Mongols gang.
Authorities say Herbert opened fire on five Hells Angels members on May 21, including 21-year-old James Duty, who died at the scene.
The group had stopped just before 10:30 p.m. to fuel up at a Shell gas station in the 3500 block of Adams Street, Riverside police Lt. Charles Payne said at a news conference this week. Clad in Hells Angels attire, the group stood in the parking lot and chatted.
As the group was talking, he said, someone exited a vehicle and began spraying gunfire.
When officers arrived, they found the bikers next to a set of fuel pumps.
Duty had been shot multiple times. Gunfire also struck the helmet of a second Hells Angels member, but he was not injured.
"This shooting was the result of an ongoing rival feud between the Hells Angels and Mongols outlaw motorcycle gangs," Deputy Chief Larry Gonzalez said at a news conference.
Detectives, with the assistance of the FBI and other law enforcement agencies, launched an investigation into the gangs' activities.
Detectives gathered surveillance camera footage and talked to witnesses who helped identify Herbert as the shooter, Payne said.
Authorities searched seven locations throughout Orange and Riverside counties associated with the Mongols gang. Investigators also seized illegal weapons as well as Mongols gang paraphernalia at Herbert's home, authorities said.
The motorcycle gangs have a "long history of animosity toward one another, which includes committing crimes against each other, including murder," Payne said.
Members are looking to expand their territory and increase their gang's presence, he added.
The Mongols gang formed in Southern California in the 1970s. Hells Angels was established in 1948 in Fontana.
For decades, federal and local authorities have arrested and charged dozens of members from both gangs on racketeering, murder, drug sales and other charges.
The ongoing turf battle between the rival motorcycle gangs hit a boiling point in 2002, when a shootout erupted at Harrah's Casino & Hotel in Nevada during the Laughlin River Run, the annual biker rally.
During the melee, three people were killed and at least 16 people were injured.
In the last six to eight months, the rivalry between the Mongols and the Hells Angels has intensified in Orange and Los Angeles counties, resulting in attempted murders and shootings, Det. Jim Simons said.
"We believe it's retaliation," he said.
Authorities hope Herbert's arrest doesn't lead to more bloodshed.
"We hope that this will be the end of it but we always fear ongoing retaliation and feuds between both of these gangs," Simons said.
Twitter: VeronicaRochaLA
The stories shaping California
Get up to speed with our Essential California newsletter, sent six days a week.
You may occasionally receive promotional content from the Los Angeles Times.