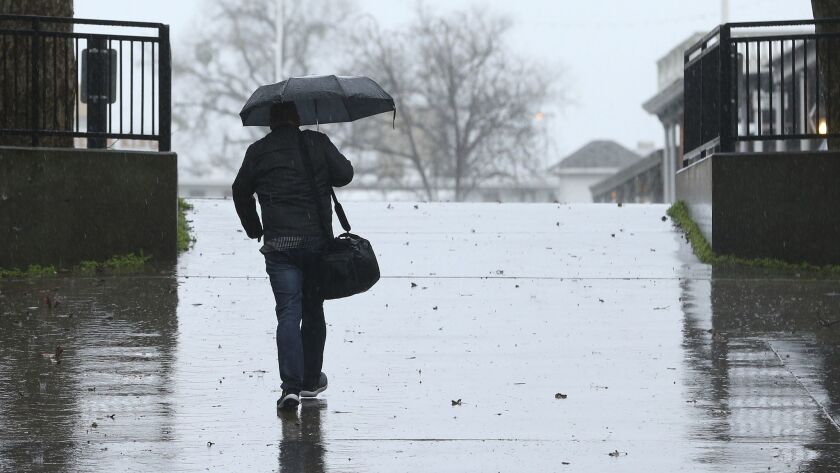 A storm that forecasters say is the strongest this winter descended on Southern California this week after already packing a powerful punch up north.
The moisture-rich storm known as an atmospheric river dampened much of Los Angeles County by Wednesday morning but had yet to unleash the chaos that hit Northern California. Forecasters predicted the Southland would see the brunt of the storm late Wednesday through Thursday afternoon.
"It's going to give us the biggest storm we've seen so far this season," said Jimmy Taeger, a meteorologist with the National Weather Service in San Diego.
Before moving south, the storm downed trees and triggered flooding so severe that it submerged cars and closed Great Highway along San Francisco's western edge.
Heavy rain also prompted warnings in the Sierra Nevada of "roofalanches," in which snow that has accumulated on homes suddenly slides down. With several feet of snow that has built up, the collapses can "seriously injure or even kill someone," the weather service warned.
As atmospheric rivers pound California, here comes the season's 'biggest storm' »
Weather experts said the atmospheric river — swollen with subtropical moisture — will combine with a front that will help wring moisture out of the system, causing heavy rain across much of the Southland and unleashing gusty winds. Those are expected to reach speeds of 25 to 40 mph, with gusts as high as 60 mph.
The wind will likely weaken Thursday, but the rain will linger through the weekend, said Lisa Phillips, a weather service meteorologist in Oxnard.
"We'll still have some moisture … but we're not looking at quite the amount we're getting with this current system," she said.
Wind advisories are also in effect in Ventura and Santa Barbara counties until Thursday at 3 p.m., according to the weather service. In the Ventura County mountains, winds will reach speeds of 25 to 40 mph, with gusts of up to 60 mph. Santa Barbara County cities are getting winds of 20 to 30 mph, with gusts up to 50 mph.
Atmospheric rivers are long, narrow bands of water vapor pushed by gusty winds over the Pacific Ocean that, when strong enough, can account for a disproportionate amount of the annual precipitation — between 30% and 40% — on the West Coast. In 2016, a series of intense atmospheric rivers helped ease California's epic drought by producing record rain and snow in Northern California.
The Center for Western Weather and Water Extremes, which recently introduced a new system for categorizing atmospheric river storms on a scale from 1 to 5, ranked this one as a Category 4, or "extreme," based on its duration and intensity. Category 4 storms are considered hazardous but can be beneficial to the state's water supply, according to the center.
The amount of precipitation from this storm will vary depending on the region, forecasters said. San Diego, Orange and Riverside counties are likely to be pounded with up to 3 inches of rain along the coast and up to 10 inches at higher elevations. This could create a dangerous situation for residents in recent burn areas.
Forecasters predict the Holy fire burn scar will see 2.5 to 6 inches of rain and the area affected by the Cranston fire last year will likely experience 3 to 8 inches of precipitation through Thursday. That has the potential to trigger debris flows and flooding, according to the weather service.
On Wednesday afternoon, authorities issued mandatory evacuation notices for some residents in the Holy fire burn area in Riverside County. A care and reception center is open at Temescal Canyon High School in Lake Elsinore.
"People in these zones must go now," said Rob Roseen, a Cal Fire/Riverside County Fire spokesman. "These evacuation orders are not issued lightly."
In San Diego County, a flood warning was in effect for the Santa Margarita River at Ysidora and for the San Diego River in Mission Valley at Fashion Valley Mall.
Forecasters don't expect L.A. County to be hit as hard during this storm, but they are warning of potential flooding and rockslides on canyon roads similar to those seen in recent storms. Heavier rain is expected about 6 a.m., just in time for the morning commute.
"It's going to bring a lot of driving delays and dangerous driving conditions," said Kristen Stewart, a meteorologist with the weather service.
Between three-quarters of an inch to an inch is expected to fall along Los Angeles County's coast and valleys, while the foothills and mountains could see up to 3 inches, forecasters said. The county and the San Gabriel Mountains will be under a flood watch on Thursday because of expected moderate to heavy rain. Gusty winds are expected in the foothills and mountains.
The areas within and next to the Woolsey fire burn area face an increased risk of flooding and mud and debris flow, even with only small amounts of rain. Authorities said they would be patrolling the burn area through Friday morning.
"All residents who live in or near the Woolsey fire burn areas are urged to remain vigilant," the L.A. County Sheriff's Department said in a statement.
The subtropical moisture in this week's storm will bring warmer air to Southern California — meaning snowfall will be confined to higher elevations, likely above 7,000 feet, which is a change from other recent storms. Two low-pressure systems from the Arctic that slammed the Sierra Nevada last weekend brought snow to elevations as low as 1,000 feet. The high freezing levels combined with the recent heavy snowfall have heightened concerns about runoff and flooding in the Central Valley and the Sierra foothills.
This latest system has already brought its fair share of fresh powder to the Sierra, triggering tire-chain requirements and causing whiteout conditions along Highway 89.
By Wednesday morning, 10 inches of snow had fallen near Susanville in Lassen County, and 6 inches had fallen on June Mountain in a 24-hour period. So much snow has fallen at Mammoth Mountain — which has recorded 128 inches in February alone — that the ski resort announced it will stay open through July 4.
Twitter: @Hannahnfry
---