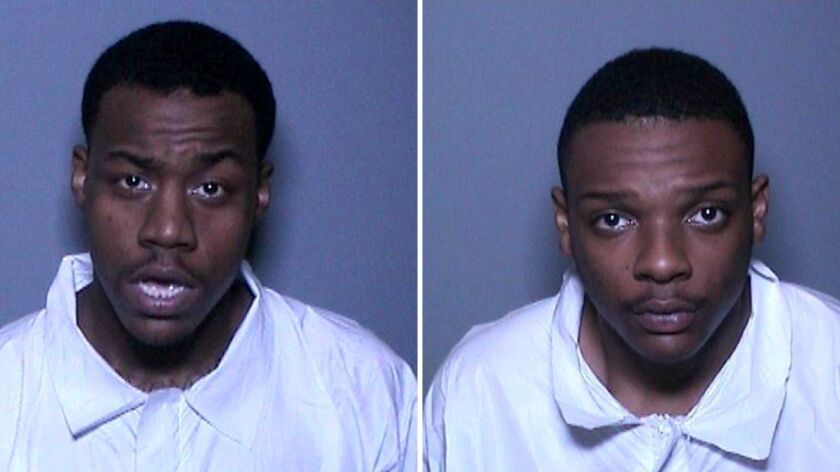 Two men were charged with robbery and murder Friday in the death of a 32-year-old Orange County woman who was run over in a Garden Grove parking lot and then dragged alongside her assailant's vehicle as they tried to flee, authorities said.
Giovanni Solomon Guy, 20, and Gregory Walker, 19, both of Los Angeles, were charged with the murder of Nga Ngoc Nguyen, according to the Orange County district attorney's office. The charge came with a special circumstance allegation because the crime occurred during the commission of a robbery.
The special allegation makes Walker and Guy eligible for the death penalty.
Prosecutors said Guy and Walker confronted Nguyen about 9:45 a.m. Wednesday at the Garden Grove Plaza, authorities said. They said Walker grabbed Nguyen from behind, threw her to the ground and grabbed her purse.
The purse's strap was wrapped around Nguyen's wrist and Walker dragged her back to their SUV while Guy got in the driver's seat, prosecutors said. The robbery was captured on surveillance video.
As Guy accelerated, Nguyen was dragged alongside the vehicle and run over, police and prosecutors said. Nguyen was taken to a trauma center, where she was pronounced dead.
Garden Grove police said undercover detectives with the Los Angeles County Sheriff's Department's Burglary Robbery Task Force had been surveilling the men in the vehicle.
The detectives followed the men as they fled west on the 22 Freeway into Los Angeles County. Walker, Guy and a third man who drove to the shopping mall in the SUV were arrested shortly after they abandoned the vehicle near the 110 Freeway and Century Boulevard, police said.
Prosecutors identified the third man as Brad Maurice Brown Jr., 19, of Hawthorne. He was charged with one felony count of robbery and faces a minimum sentence of two years if convicted of robbery, prosecutors said.
At the time of the slaying, Walker was out on bail on two felony counts of robbery, one felony count of receiving stolen property and one felony count of burglary. Guy was out on bail on one felony count of robbery and one count of carrying a concealed firearm, prosecutors said.
"The Orange County District Attorney is taken aback by the brutal and callous acts of the defendants which resulted in the death of Nga Nguyen," Orange County Dist. Atty. Todd Spitzer said in a statement. "The Orange County District Attorney's Office would like to extend its sincerest condolences to the loved ones of Nga Nguyen."
The investigation is ongoing, and anyone with information about this crime is asked to contact the Garden Grove Police Department Crimes Against Persons unit at (714) 741-5839.
---