2014 Napa earthquake may be linked to groundwater changes, study says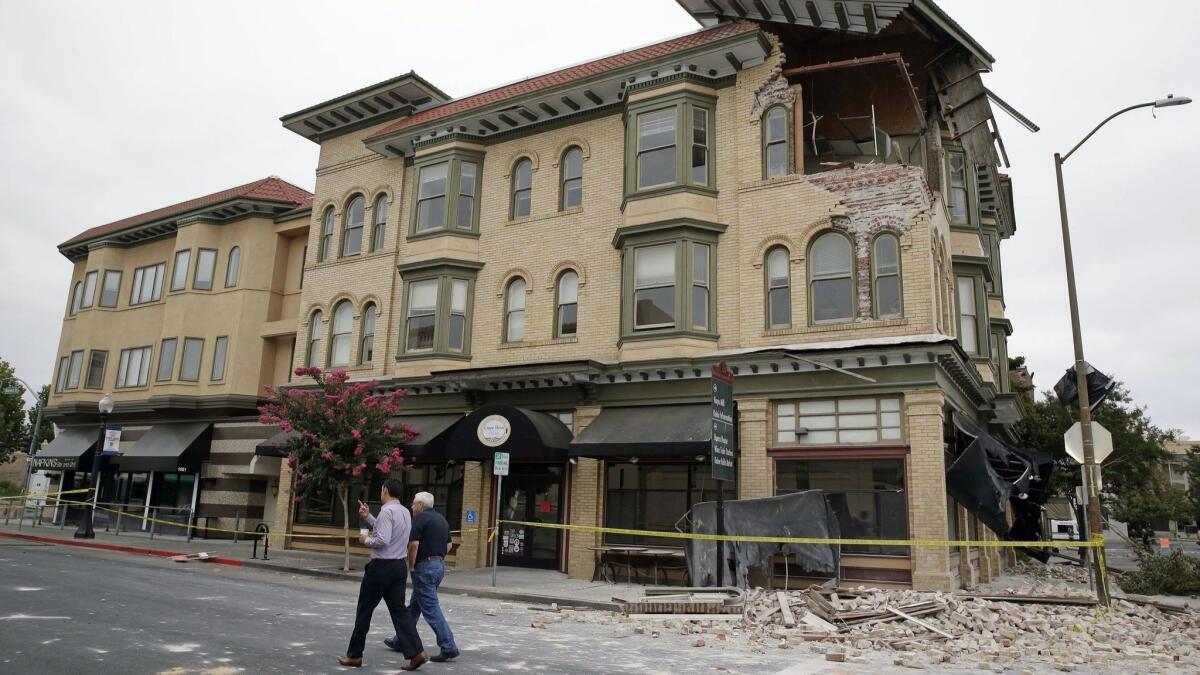 Reporting from Napa, Calif. —
Research suggests the magnitude 6.0 earthquake that rocked California wine country in 2014 may have been caused by an expansion of Earth's crust because of seasonally receding groundwater under the Napa and Sonoma valleys.
The vineyard-filled valleys flank the West Napa Fault, which produced the quake that killed one person, injured several hundred and caused more than $500 million in losses.
The study recently published in the American Geophysical Union's "Journal of Geophysical Research: Solid Earth" suggests land between the valleys is stretched each summer as groundwater levels fall beneath the valleys and the ground in the valleys sinks and contracts.
The amount of the horizontal stretching measured is tiny — about 0.12 inch — but enough to stress faults, according to the researchers.
"We think it's more of a localized effect, something related to the groundwater system. We don't know if it is groundwater pumping specifically, or something related to how the natural aquifer system works, or a combination," said lead author Meredith Kraner, formerly of the Department of Geosciences at Stony Brook University in New York and now with the University of Nevada, Reno.
Co-authors were William E. Holt of Stony Brook University and Adrian A. Borsa of the Scripps Institution of Oceanography at UC San Diego.
The early morning Napa quake on Aug. 24 was the largest to hit the Bay Area since the magnitude 6.9 Loma Prieta earthquake on Oct. 17, 1989.
The Napa quake left 8 miles of surface rupture and damaged many historical masonry buildings and older residences, according to the U.S. Geological Survey.
Sign up for Essential California for news, features and recommendations from the L.A. Times and beyond in your inbox six days a week.
You may occasionally receive promotional content from the Los Angeles Times.