LAX breaks ground on a $1.6-billion midfield terminal that will add 12 gates for aircraft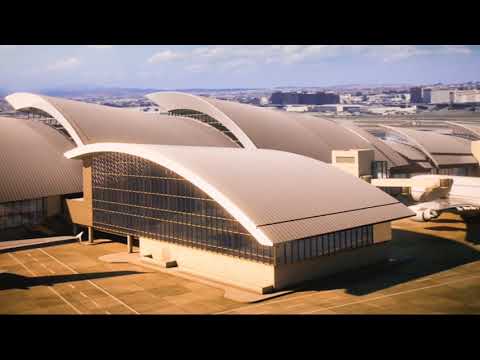 Construction begins on a new $1.6-billion terminal at Los Angeles International Airport. (Mark Boster / Los Angeles Times)
Marking another milestone in the massive renovation of Los Angeles International Airport, city officials broke ground Monday on a $1.6-billion midfield passenger terminal that will have a dozen gates for aircraft.
The project, which is scheduled to be finished in late 2019, will help accommodate growth at LAX and reduce the use of the airport's outdoor gates, where passengers exit planes onto the tarmac and take buses to the Tom Bradley International Terminal.
"This is a transformative project," Los Angeles Mayor Eric Garcetti told scores of city officials, local dignitaries and airport contractors who attended the groundbreaking. "It's a win for Los Angeles, a win for tourism and a win for everyone."
Phase 1 of the so-called Midfield Satellite Concourse will be built immediately west of the Bradley terminal, which underwent a $2.1-billion remodel and expansion that was completed in 2015.
In addition to the new gates, the five-story concourse includes a 750,000-square-foot terminal filled with lounges, retail and dining concessions as well as a state-of-the-art baggage system.
The building will be connected to the Bradley terminal by a 1,000-foot passenger tunnel equipped with moving walkways. Shuttle buses will be available to take passengers to other terminals.
Airport officials say the 12 new gates will help reduce a shortage of aircraft gates and provide space for planes while other terminal upgrades are underway. Two gates will accommodate the largest commercial aircraft, such as the Boeing 747-8 and Airbus A380.
A second phase of construction planned for the future could add up to seven more gates if needed.
It's a win for Los Angeles, a win for tourism and a win for everyone.
— Eric Garcetti, mayor of Los Angeles
Plans for the current project also call for new taxiways and a ramp tower to better direct the movement of aircraft on the ground, particularly behind Bradley, where visibility is limited.
The concourse is one of the so-called "green-lighted" projects that can proceed under a 2006 court settlement that ended a lawsuit brought by neighborhood groups opposed to the ambitious airport development plans of former Mayor James Hahn.
"This project symbolizes the partnership between the airport and the community," said Los Angeles City Councilman Mike Bonin, whose district includes the airport. "It's the beginning of a whole new LAX."
Airport officials say the new terminal will help accommodate future growth at LAX, which is now the premier West Coast gateway to the United States and the second busiest airport in the nation behind Hartsfield-Jackson Atlanta.
Last year, LAX handled a record 80.9 million air travelers. Regional planners predict the volume could reach 98.6 million by 2040.
The midfield concourse is part of an ongoing $14-billion modernization of LAX, which has received low ratings for years in public opinion surveys.
The work includes airfield improvements, upgrades for all passenger terminals, a consolidated car rental facility, an elevated people mover and a transportation hub to link light rail service to the airport.
Officials estimate that construction of the concourse will provide about 6,000 jobs and $300 million in wages. At least 15 percent of the work will be done by small businesses, they say, and more than half the 250 plus contractors are based in Los Angeles County.
Several hundred permanent jobs are likely to be created to staff new concessions and service new airline flights once the work is completed.
Follow me on Twitter @LADeadline16
Sign up for Essential California for news, features and recommendations from the L.A. Times and beyond in your inbox six days a week.
You may occasionally receive promotional content from the Los Angeles Times.