How to get around L.A. on New Year's Eve – without the surge prices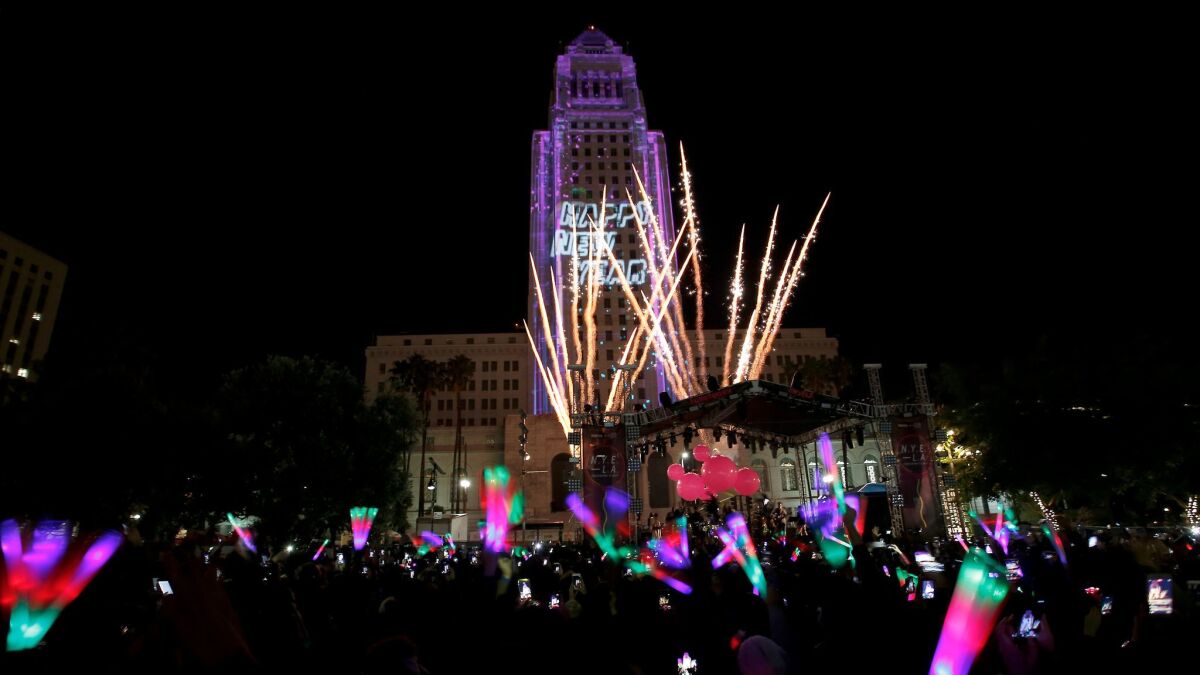 2017 is almost over. This calls for a celebration.
New Year's Eve is traditionally a busy time for ride-hailing services like Uber and Lyft. In recent years, every New Year's Day is greeted with a fresh story about an unfortunate soul who's just discovered surge pricing.
Services like Uber and Lyft charge more during busy times as a way to incentivize more drivers to get on the road. Holidays, bad weather and big events will often prompt an algorithmically determined multiplier on the regular fare called surge pricing or dynamic pricing.
But if you'd like to avoid getting charged $1,100 to get home after ringing in the new year, you've got options.
Take public transit
L.A.'s Metro system is running free trains and buses from 9 p.m. to 2 a.m. on New Year's Eve. Fare gates will be unlatched at subway stations and validators will not deduct fares from your card.
If you're heading to West Hollywood, the Pickup trolley will be running from 2 p.m. to 3 a.m. on New Year's Eve along the regular route. The Pickup is free. See the route here.
Hail a cab
Download the Curb app (formerly known as Taxi Magic) and use it to hail a cab. Cabs don't use surge pricing. Some cabs will allow you to pay for the ride through the app and others have a card reader inside, though it doesn't hurt to have cash on hand just in case.
Get a tow
AAA is offering its "Tipsy Tow" program for free again this year in Southern California. You can call 1-800-AAA-HELP (1-800-222-4357) and ask for a "Tipsy Tow" to get your car towed up to seven miles home. You don't have to be a member to use it. It will run from 6 p.m. on New Year's Eve to 6 a.m. the next morning.
Time your exit
If you still want to use Uber or Lyft, you can try to avoid the surge pricing by leaving earlier or later. Demand peaks between 8 p.m. and 11 p.m. on New Year's Eve, then picks up again between midnight and 3 a.m.
Stay home
OK, this isn't exactly a way to get around. But it is an underrated lifehack for New Year's. Buy some champagne and hors d'oeuvres and toast the new year from the comfort of your couch. If you never leave the house, you never need to get back to it.
Tell me your New Year's plans on Twitter @jessica_roy.
ALSO
What's happening around L.A. this New Year's Eve? Here's a little list...
New Year's weekend: Travel the world and hang out with critters
You'll avoid a New Year's hangover with these spirits
A gifting expert shows you how to stage a New Year's Eve to remember
---
UPDATES:
Dec. 29, 5:20 p.m.: This story was updated to include more details about AAA's Tipsy Tow program.
This article was originally published Dec. 28 at 1:30 p.m.
---
The stories shaping California
Get up to speed with our Essential California newsletter, sent six days a week.
You may occasionally receive promotional content from the Los Angeles Times.