2 arrested in holdup as TV news crews become a target for Oakland robbers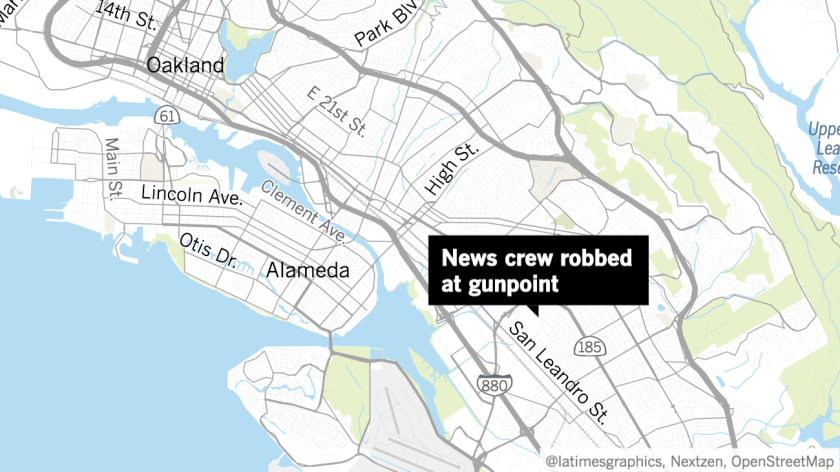 Oakland police on Monday announced that two people had been arrested in connection with the armed robbery of a Bay Area television news crew the previous night.
Two men held up a news team covering the Oakland teachers' strike on Sunday evening and shot the crew's security guard before fleeing, according to the Oakland Police Department. The guard was treated at a hospital and released, police said. The crew's camera was recovered.
Reporter Joe Vazquez and photographer John Anglin with San Francisco CBS affiliate KPIX-5 were gathering interviews about 5 p.m. on 81st Avenue in east Oakland when at least two men approached and demanded they hand over their camera and other equipment, according to the department.
The crew's security guard, who KPIX reported was a retired Berkeley police officer, was shot during the robbery and returned fire, police said. The suspects fled in a car, which crashed at 55th and Bancroft avenues, police said.
A young man with gunshot wounds walked into Highland Hospital shortly after the robbery, police said. That man and at least three other people, including the driver of the crashed car, have been detained in connection with the incident, Oakland Police Officer Johnna Watson said.
SAG-AFTRA, the union that represents Vazquez, released a statement calling the attack disturbing.
"With journalists increasingly becoming the targets of violence and harassment, SAG-AFTRA has made safety its top priority," the union said. "The union has been working with journalists, management and police departments in Oakland, the Bay Area and at other affected areas nationwide to provide additional protections for news crews, including adding enforceable contract provisions concerning safety."
News crews in Oakland and their cameras are sometimes the target of criminals, said Sgt. Ray Kelly, a spokesman for the Alameda County Sheriff's Office.
"A lot of news crews when they go into certain neighborhoods — predominantly in Oakland — bring armed guards," he said. "Most are retried law enforcement. It has been going on for the last several years.
"Their equipment may be worth quite a bit of money overseas and in other markets," he said.
In an armed robbery in 2015, a KNTV camera operator was pistol-whipped while reporting from San Francisco's Pier 14. The incident was captured as local station KTVU was broadcasting live, the San Francisco Chronicle reported.
In 2012, a KPIX cameraman was punched in the mouth and had his camera stolen while reporting in Oakland.
---
The stories shaping California
Get up to speed with our Essential California newsletter, sent six days a week.
You may occasionally receive promotional content from the Los Angeles Times.