Amid tears for Nipsey Hussle, a rallying cry: 'The marathon has to continue'
To the world, he was Nipsey Hussle, the rapper, activist and entrepreneur whose "Victory Lap" album earned a Grammy nomination.
'But for the hundreds of people who gathered Sunday at the Medhani-Alem Eritrean Orthodox Tewahdo Church in South Los Angeles to remember him, he was known first as Ermias.
It was the name that punctuated the sonorous prayers in Ge'ez and Tigrinya, that hung in the air fragrant with incense, that was murmured between songs in the thrumming pews. It was the name that Father Thomas Uwal used when he recounted their lunch break talks in Inglewood, when he eulogized Ermias as a father, a son and a brother.
"The world sees him as an entertainer," said Sarra Abraham, 25, one of the hundreds of people who attended the Sunday event organized by the United Eritrean Assn. to remember the man they knew as Ermias Asghedom. "We see him as Ermias. One of our brothers."
Hussle's abrupt and violent death in a shooting outside his South L.A. clothing store on March 31 has shaken those who knew him and those who knew of him. For the Eritrean American community, it was uniquely devastating to lose a public figure who had embraced his family roots in Eritrea, a tiny country in East Africa that hugs the Red Sea coast.
His father, Dawit Asghedom, had come to Los Angeles in the 1970s, among the first to arrive in the city from the Eritrean diaspora; his mother, Angelique Smith, is African American. Hussle had traveled to Eritrea and publicly celebrated it as a part of his identity, once correcting a Twitter follower who wrongly assumed he was Ethiopian.
People "have no idea where Eritrea is, so when he continuously let people know where he came from, the youth had stopped feeling invisible and had started to feel recognized and closer to the community," said Semhar Kahsay, 18, during Sunday's event. "And because of this, he had the power of making us feel like we are seen in this invisible world."
Inside the church, so packed that folding chairs had to be set up along the pews, Uwal recited Psalm 23 — "The Lord is my shepherd. I shall not want" — before musing on the particular pain of losing a young visionary "full of hope, full of life, full of dreams." Before the crowd stood an image of Hussle, looking sharp in a black tuxedo.
In his speech, the priest lamented that the 33-year-old Hussle "did not complete his destiny." But when the churchgoers spilled out into the April sunshine for a vigil, the Eritrean American teenagers who took the microphone emphatically pledged that they would carry on his mission.
They pointed to the co-working space he founded to encourage South L.A. residents to pursue careers in math and science; his efforts to help renovate a Mid-City roller rink; his involvement in the art installations of Destination Crenshaw. Again and again, they referred to the "marathon" — the term that Hussle often used for his long-running strategy.
"The marathon has to continue," said Leeya Berhane, who was on the cusp of her 15th birthday.
As the teens spoke, some attendees sobbed quietly in the crowd, leaning on friends in anguish. Others soon stepped up to share poems and memories of Hussle. Elders held forth in Tigrinya, captured on video by twentysomethings with smartphones.
Ruth Legesse recounted meeting Hussle a decade and a half ago and becoming fast friends, then watching in amazement from Berkeley as he realized his dreams as a rapper and activist. She had once cautioned him in Eritrea, "Don't forget about us little people, Eritrean people."
And he hadn't, Legesse said. "He has represented us all throughout his years. He's helped the L.A. community.… He's made his impact on everyone. Americans. Eritreans. Everyone," Legesse said.
Before the vigil concluded, the crowd observed a moment of silence, then shouted in unison, "We love you, Nipsey!" as a bevy of white and blue balloons was released into the sky. Churchgoers lined up to greet and comfort Dawit Asghedom to the sounds of the music that made his son famous.
Abel Habtegeorgis said that when he learned that Hussle had died, he had fallen to his knees. Habtegeorgis is Ethiopian American, but he identified with Hussle as a "habesha" person — a term that can refer to both Ethiopians and Eritreans. Even in death, Habtegeorgis said, Hussle was bringing people together.
He stepped up to see the bereaved father and told him quietly, clasping his hands, "My whole family is with you."
A public memorial service for Hussle is tentatively set for Thursday at Staples Center in downtown L.A., a source familiar with the plans said Saturday. No other details were immediately available.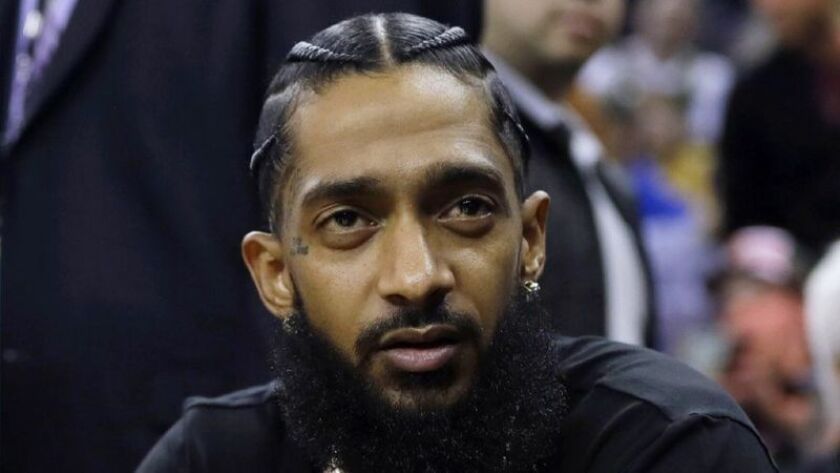 Twitter: @AlpertReyes
---
The stories shaping California
Get up to speed with our Essential California newsletter, sent six days a week.
You may occasionally receive promotional content from the Los Angeles Times.