Two feet of snow expected across northern Sierra Nevada this week
A series of storms passing over Northern California are expected to drench residents in rain and dump up to 2 feet of snow on the northern Sierra Nevada, a precious water resource the state relies on in the spring, the National Weather Service said.
The storms are expected to bypass Southern California, according to the weather service.
Starting Tuesday night, the first of the storms is expected to reach from San Mateo to Sonoma before moving farther inland toward the Sierra Nevada. The region's forests between the coast and the mountains could see up to eight inches of rain by Monday while the mountains could get 2 feet of snow, said Karl Swanberg, a forecaster with the National Weather Service's Sacramento office.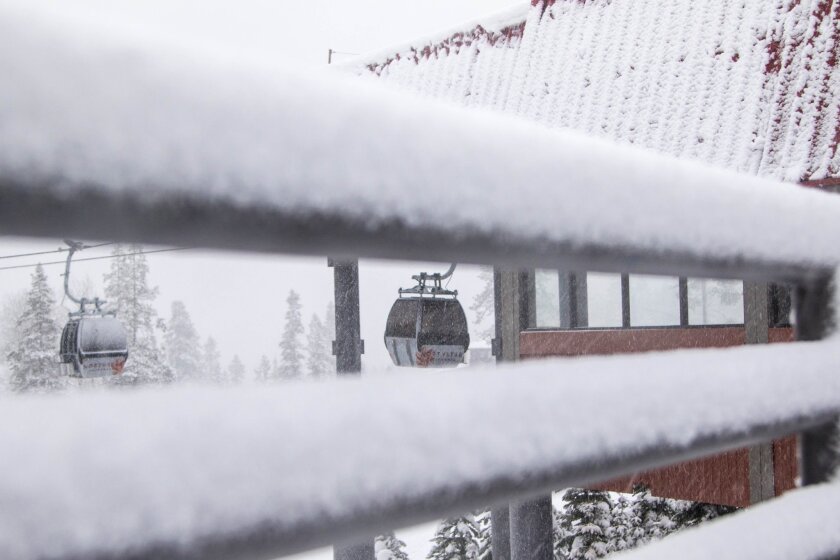 Though the storms aren't directly related to El Niño, they could be pulling in extra moisture from the ocean warming phenomenon, Swanberg said.
San Francisco is expected to get about half an inch of rain Tuesday. The heaviest snow is expected Wednesday night and could shut down mountain roads like the Donner Pass, the Weather Service said.
The storms will hopefully continue to fill the state's reservoirs and build up the Sierra Nevada snowpack, which Californians rely on for water, Swanberg said.
Join the conversation on Facebook >>
"All the precipitation is helping; we're not going to get out of [the drought] quickly," Swanberg said. "These are typical winter-type storms for Northern California. And that's what it's going to take to get out of the drought."
After a series of snowstorms slammed the region last month, state officials announced that the Sierra Nevada snowpack was at depths not seen for quite some time.
Statewide, the snowpack is 111% of average for the date. In the northern Sierra, it is 116% of the norm; in the central Sierra, 121% of average; and in the southern Sierra, 85% of the norm, according to the state Department of Water Resources.
By the end of December, the statewide snowpack was little more than half the average, setting the tone for a dismal winter of bare Sierra slopes.
NEWSLETTER: Get the day's top headlines from Times Editor Davan Maharaj >>
When it comes to snowpack, the crucial date is still months away. April 1 is when snowpack reaches its peak, and in a typical year that snow provides Californians with roughly a third of their water supply.
For breaking California news, follow @JosephSerna.
ALSO
Powerball jackpot still rising, reaches $1.5 billion
Ready for El Niño? Here's what many homeowners don't know about flood insurance
LAPD chief asks commission to delay review of fatal shooting during D.A. evaluation
---
The stories shaping California
Get up to speed with our Essential California newsletter, sent six days a week.
You may occasionally receive promotional content from the Los Angeles Times.