Can Oakland police save trafficking victims in the wake of its own sex scandal?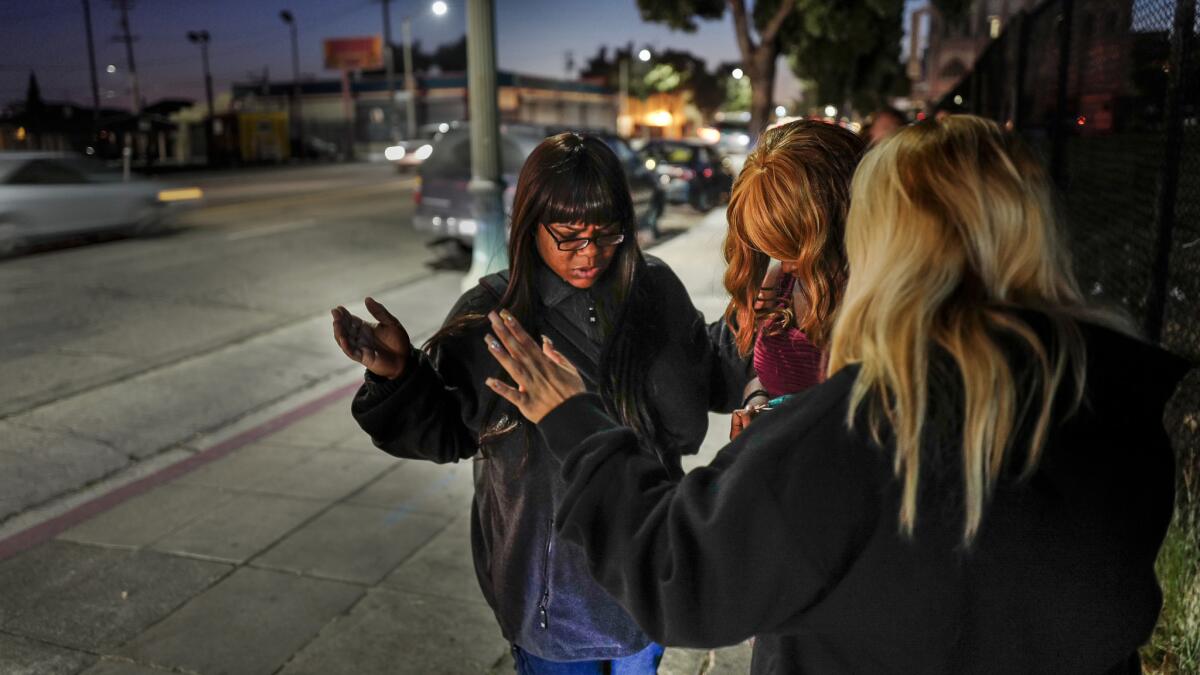 Reporting from Oakland —
As midnight approached, Sylvia Vigil pulled her van over along International Boulevard, her eyes locked onto the teenager leaning against a storefront.
Wearing beige shorts and sandals, her dirty blonde hair teased back into a ponytail, the young woman could easily have been mistaken for a college freshman. But Vigil knew why she was there. She knew why the man circling the block in a beat-up car was there too.

For the record:
4:59 p.m. July 7, 2016This article previously stated that an investigator with the Alameda County district attorney's office had been accused of having sex with the woman at the center of the Oakland Police Department scandal. The investigator had only been accused of having inappropriate conversations with the girl.
A longtime advocate for sex trafficking victims in Oakland's troubled Fruitvale neighborhood, Vigil crossed the street and told the teenager there was a way out. She recommended a ministry a few blocks away where there would be a shower, a hot meal, help.
The young woman listened politely, but didn't look at Vigil. The man in the car drove past again, met the advocate's hard stare, and kept going.
Vigil walked back to her van, hopeful the teenager would call in a day or two. Within seconds, the man in the dilapidated Cutlass came back, and she slid into the passenger seat.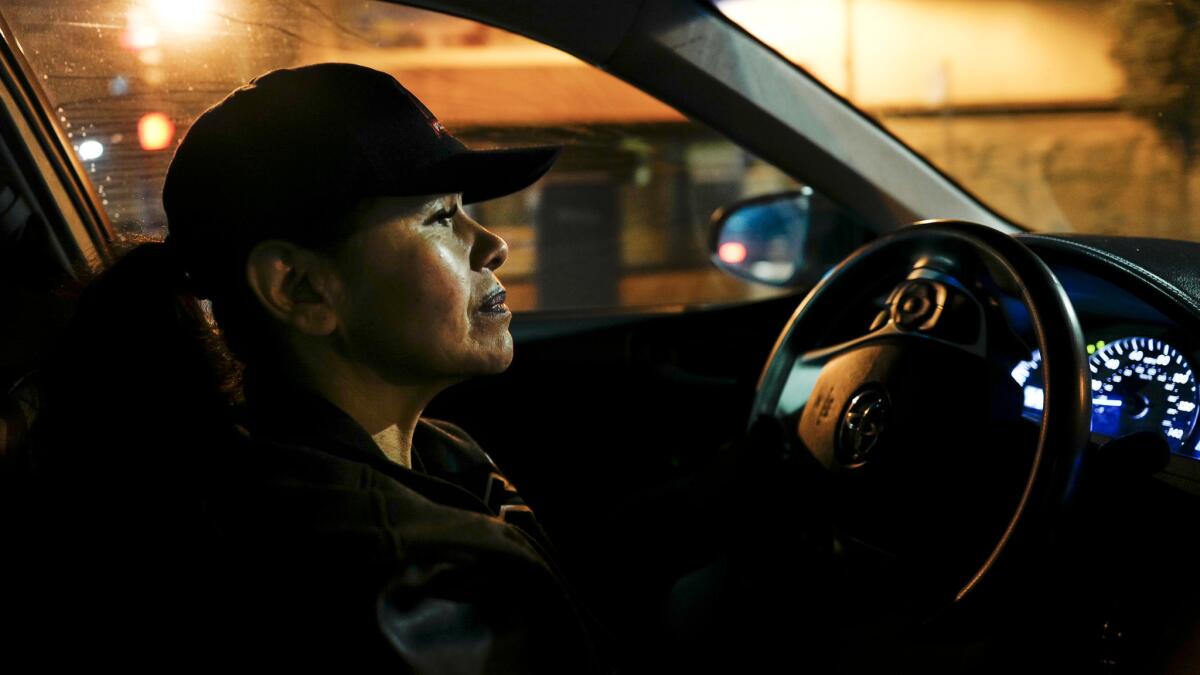 The International Boulevard stroll, a strip lined with sex trafficking victims as young as 12, is emblematic of Oakland's decades-long struggle to curb a thriving prostitution trade — one that has played a key role in a sex scandal that has rocked the city's police department.
It was along the thoroughfare that another teenage trafficking victim alleges she met an Oakland officer, the first of more than a dozen city cops she says she had sex with, some of whom tipped her off about planned prostitution raids in the area. The teen also has said she slept with officers and deputies from at least four other East Bay law enforcement agencies. Some of the encounters, she said, happened while she was underage.
The allegations have resulted in the departure of Oakland's police chief, the first of three department executives to be removed in the city in the span of nine days last month, and raised concerns that law enforcement efforts to help victims of human trafficking in the city could be compromised.
"They were participating in the human trafficking of this girl. Passing her around from area to area, giving her breaks … they became the pimp," said John Burris, a civil rights attorney who negotiated a federal monitoring agreement that the Oakland Police Department has been under since 2003. "Does OPD have any credibility on this issue? That's a legitimate question."
Law enforcement agencies in Alameda County have made trafficking enforcement a top priority in recent years, creating a task force spearheaded by Dist. Atty. Nancy E. O'Malley. From January to May, Oakland police made 282 arrests connected to trafficking, department records show. About 70% of those arrested were women, rather than "johns."
A police spokesman said the arrests enabled police to get sex-trade victims off the streets. Once the young people are in custody, police give them information about social services.
The trafficking problem in Oakland has been evident for decades, according to investigators who say the victims are usually minors or young women exploited by gangs or pimps.
City Councilman Noel Gallo, a former school board member who represents the Fruitvale neighborhood, said he could recall horror stories about the trafficking trade ensnaring young girls, even in areas that were supposedly safe.
"I remember the girls would leave school … to go prostitute on International during lunch hour," he said. "The students knew it, the teachers knew it, the principal knew it, I knew it … and we allowed that to happen."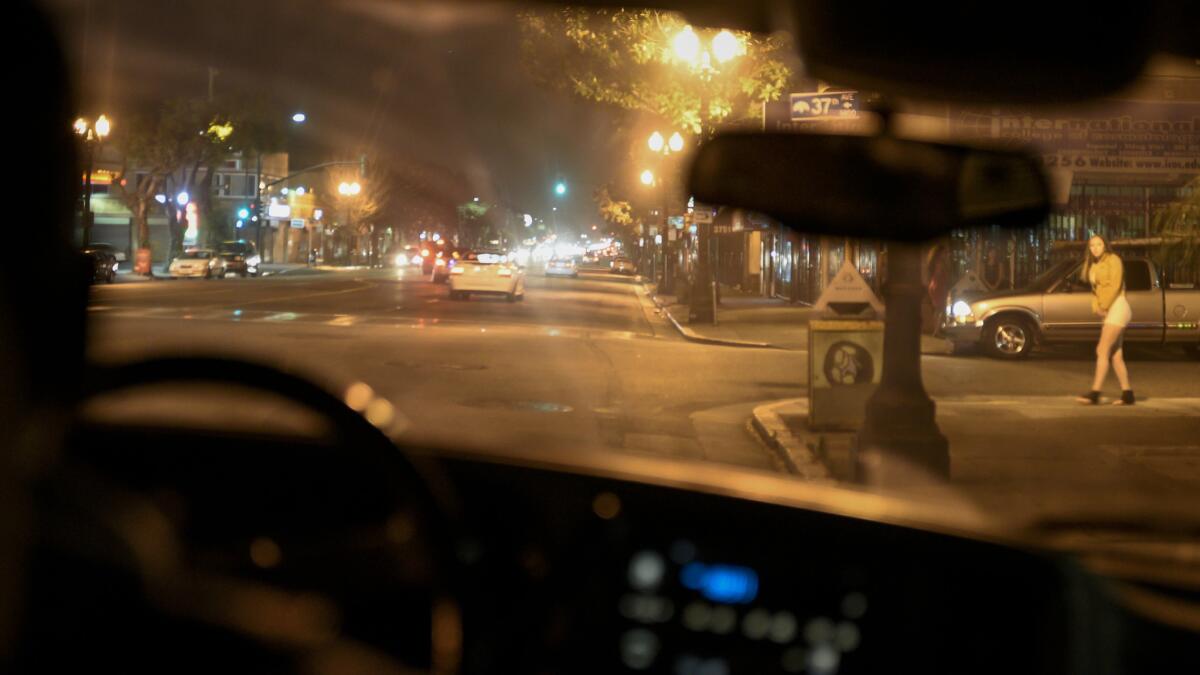 Gallo said he feared that the police sex scandal might make it more difficult for officers to interact with trafficking victims or gain their trust, a task that was hard enough before the controversy becoming national news.
"I'm sure there will be plenty of those on the street — from a prostitute to a john to a pimp — accusing the police officers of negative behavior" in order to try to get out of an arrest, he said.
Vigil said she's noticed a decline in the number of officers patrolling International Boulevard recently.
"I think Oakland police doesn't really want to deal with it because of the scandal," she said. "They probably don't want to be around them because of the accusation."
Deputies from the Contra Costa and Alameda county sheriff's departments and several officers with the Richmond Police Department have been accused of having sex with the young woman at the center of the investigation. Several Oakland officers and a Contra Costa County sheriff's deputy also have been accused of having sex with her when she was underage.
Alameda County Sheriff's Department Sgt. Ray Kelly, a former sex crimes investigator who serves as the agency's spokesman, said several members of his department were investigated but a review showed none had done anything illegal or against policy. Kelly would not say if the deputies had sex with the woman, but he confirmed that they did not pay for sex or have sex with her while she was underage.
Kelly said he believed the allegations did not reflect the larger police community's attitudes toward trafficking victims in the East Bay, and hoped it would not affect future attempts to rescue young women.
"This case is unique, and it's not a good example of the relationships between sex crimes victims and police officers," he said.
The Oakland Police Department did not respond to questions about how the scandal might affect its ability to interact with trafficking victims.
See the most-read stories this hour >>
Burris, the civil rights attorney, said any officers who had sex with the teen should be punished. Failing to do so, he said, would only further weaken law enforcement's relationship with the community and other trafficking victims.
He said the allegations fly in the face of the department's efforts to shame people arrested for solicitation by releasing their photos to the media after trafficking stings.
"It undercuts the whole effort of trying to embarrass the johns, that what they're doing is illegal, when you have the cops doing it," Burris said.
The scandal has motivated Gallo to push lawmakers to revive a proposal that would allow police to seize the vehicles of convicted johns for 30 days. The anti-trafficking measure failed to get out of the Assembly's Public Safety Committee in April, according to legislative records. Gallo believes the bill would cause johns to think twice about searching for young girls at night.
"I'd have a lot of explaining to do with my wife, going home without my car … otherwise you pull me over, you give me a $30 ticket and send me on home," he said. "And the beat goes on."
The attention the police scandal has brought to the trafficking issue is welcome news to Vigil, a self-described onetime party girl and drug dealer who has been preaching to the girls she lovingly refers to as "twilight treasures" since 1982. That was when she founded the Oakland branch of Victory Outreach, an international urban ministry.
Vigil and her husband, Larry, a senior pastor at the group's modest facility across the street from a scrapyard, said they've had an easier time connecting with the victims because they see their past selves in each troubled girl. Larry Vigil said he joined a street gang at age 10 in San Jose, and struggled with drugs and alcohol for over a decade. Some of the women who aid in the Vigils' ministry are former trafficking victims.
Sylvia Vigil, 52, has noticed the effect of the police scandal along International Boulevard.
The number of girls and young women stationed on the street corners between 14th Avenue and High Street has dwindled since the claims surfaced earlier this year, she said. That could mean fewer girls are being victimized, Vigil said, but it also means some girls probably have moved to other cities— where they face the same dangers.
The transitory nature of trafficking makes outreach more difficult. While some of those along the boulevard are Oakland residents struggling to make ends meet, living in cars along side streets in the impoverished neighborhood, others have been trafficked in by pimps or gangs who might move them as far away as Los Angeles or Las Vegas, officials said.
That's why every contact with a young woman is so important to Vigil. It might be the only chance she gets.
On her recent visit to International Boulevard, Vigil shook her head as she watched the young woman enter the dilapidated car, said a prayer, then brought her van's engine to life and hit the gas.
"Cops ain't gonna do it, we're gonna do it," she said.
As the man in the Cutlass attempted to drive away, Vigil pulled her van in front of his car, blocking him in. A colleague from the ministry who sat in Vigil's van held up a Victory Outreach business card and shouted "not tonight" at the man.
A few tense seconds passed. Pimps and johns have threatened them before. On more than one occasion, a gun was drawn.
But the man simply put his head down, mumbled something to the teenage girl, and let her out of the car.
It's the small victories that count, Vigil said. Asked if she was afraid, Vigil said she accepted the possible consequences of her mission years ago.
"You shoot me, I'll go to heaven," she said. "You don't shoot me, then get out of the way."
Follow @JamesQueallyLAT for crime and police news in California.
ALSO
4-year-old boy killed, man injured in drive-by shooting in Altadena
Police are searching for 'violent sexual predator' after two attacks in West L.A.
Bay Area man charged with attacking Google campus, destroying self-driving car
---
UPDATES:
2:41 p.m.: This article was updated with some minor rewriting.
This article was originally published at 12:21 p.m.
Sign up for Essential California for news, features and recommendations from the L.A. Times and beyond in your inbox six days a week.
You may occasionally receive promotional content from the Los Angeles Times.