Bay Area man charged with attacking Google campus, destroying self-driving car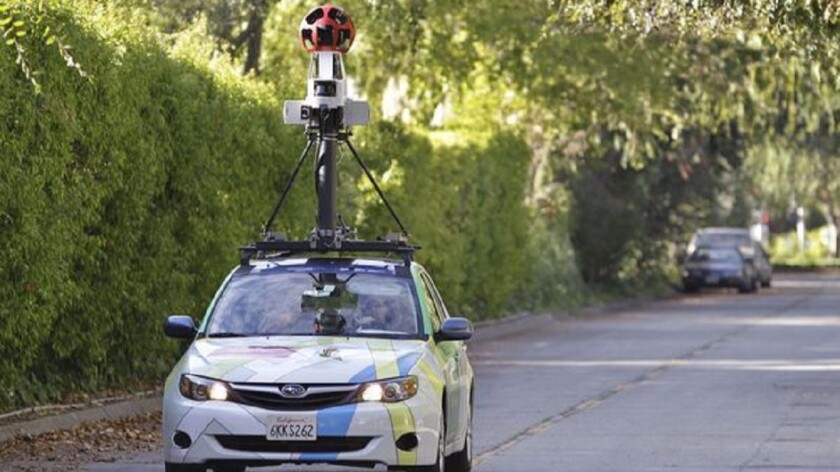 A man who complained that Google was "watching" him is expected to appear in federal court this week on charges that he destroyed one of the company's self-driving cars and terrorized its Silicon Valley campus with gunfire and arson attacks.
Raul Murillo Diaz, 30, of Oakland was taken into custody on July 1 in connection with a firebombing at Google headquarters in Mountain View, Calif., according to the U.S. District court affidavit. Diaz is set to appear in court Friday for a detention hearing.
Diaz admitted to setting two fires and a discharging a firearm at the Google campus, according to the affidavit. He told investigators he planned to commit a second shooting on June 30, but was pulled over by Google security.
He told officers "that his motivation behind that attack was that he felt Google was watching him and that made him upset," Michael Nuttall, an agent with the Bureau of Alcohol, Tobacco, Firearms and Explosives, wrote in the affidavit.
Neither the Mountain View Police Department, nor the Federal Bureau of Alcohol, Tobacco, Firearms and Explosives would comment on Diaz's arrest.
The attacks occurred 11:52 p.m. on May 19 at one of several Google buildings in the 1500 block of Salado Drive.
Surveillance videos showed a man – standing about 15 feet away – light two devices, then throw the Molotov cocktails at a Google Street View vehicle parked in front of a building, according to the affidavit. The devices bounced off the vehicle. One landed on the ground directly behind it, bursting into flames. The other landed next to the driver's side of vehicle, but did not break.
The man then ran to the device, picked it up and threw on the ground. This time, the Molotov cocktail burst into flames.
Officers found a lighter and broken beer bottles – one with a wick still inside – at the scene.
He fled in a dark-colored SUV.
A few weeks later, the Google campus again was the scene of another criminal investigation.
Interested in the stories shaping California? Sign up for the free Essential California newsletter »
In that incident, a shooting was reported on June 4 at another Google building at 27000 Garcia Ave., which is about a half-mile from the scene of the arson. A witness told investigators he looked the gunman in the eye before hearing several "popping" sounds in the area.
Police later found broken glass and holes in some of the building's windows. White powder was found around the holes, according to the affidavit. The powdery substance is still being tested at a Santa Clara County crime lab.
The gunman was driving the same vehicle used in the arson, investigators said.
Six days later, the Google campus was attacked a third time.
This time the attack happened at a third Google building at 1098 Alta Ave., about a half-mile from the first firebombing. Officers found a small Google self-driving car on fire.
However on Wednesday night, Google spokesman Johnny Luu said a self-driving vehicle was not destroyed.
Surveillance video shows a man wearing a dark hooded sweatshirt and holding a squirt gun perpendicular to the ground. Investigators believe the squirt gun contained a liquid that could be used as an accelerant. Again, the gray vehicle used in the attack was the same one seen at the other incidents.
An ATF agent was able to determine the vehicle was a 2004 or 2005 Volkswagen Touareg. According to the affidavit, Diaz owns a gray 2004 Volkswagen Touareg.
On June 30, Google security officers spotted a gray 2004 Volkswagen Touareg driving erratically on the campus, so they stopped it and called Mountain View police. A police sergeant recognized Diaz from surveillance videos taken of the Google attacks.
Inside his car and in plain sight lay a firearms case containing a device with wire coming out of it, according to the affidavit. Bomb investigators said the device could have been made into a functional bomb.
Diaz later told investigators he had planned to shoot at another building that day, the affidavit said.
For breaking news in California, follow VeronicaRochaLA on Twitter.
MORE LOCAL NEWS
UCLA, UC Berkeley boost admissions of Californians, including blacks and Latinos
Oakland police scandal raises fears about the city's fight against sex trafficking
---
The perils of parenting through a pandemic
What's going on with school? What do kids need? Get 8 to 3, a newsletter dedicated to the questions that keep California families up at night.
You may occasionally receive promotional content from the Los Angeles Times.