Street officially renamed Obama Boulevard in Baldwin Hills/Crenshaw ceremony
The renaming of Rodeo Road in the name of the 44th President of the United States is cause for a giant party.
Thandiwe Abdullah helped raise money for Barack Obama's first presidential campaign by organizing bake sales and selling lemonade at street stands because she felt even at her young age that he embodied hope.
On Saturday afternoon, Abdullah, a cofounder of the Black Lives Matter Youth Vanguard, took the main stage at a street festival in the Baldwin Hills/Crenshaw neighborhood celebrating the official renaming of Rodeo Road to Obama Boulevard.
"A lot of people will say it's just another street, but for me, being 15 years old, a black child looking up and seeing the name of the first black president in my own 'hood — that gives me hope," Abdullah said. "That gives me inspiration to step into my fullest purpose, and I know it does for so many others who look like me."
The official dedication ceremony attracted thousands of people to the street's intersection with Martin Luther King Jr. Boulevard in one of Los Angeles' historic black neighborhoods. The festival celebrated the life and legacy of the 44th president at the spot where he held a campaign rally in 2007, days after announcing his run for the White House.
Just after 5 p.m., Los Angeles City Council President Herb Wesson took the stage to welcome leaders who partnered with Wesson's office to host the event, including Mayor Eric Garcetti, L.A. County Supervisor Mark Ridley-Thomas and state Sen. Maria Elena Durazo.
"As we drive through this city and we see past presidents on Adams, on Washington, on Jefferson and now we'll have one that was in our lifetime, who was a president for everybody: Barack Hussein Obama," Garcetti said.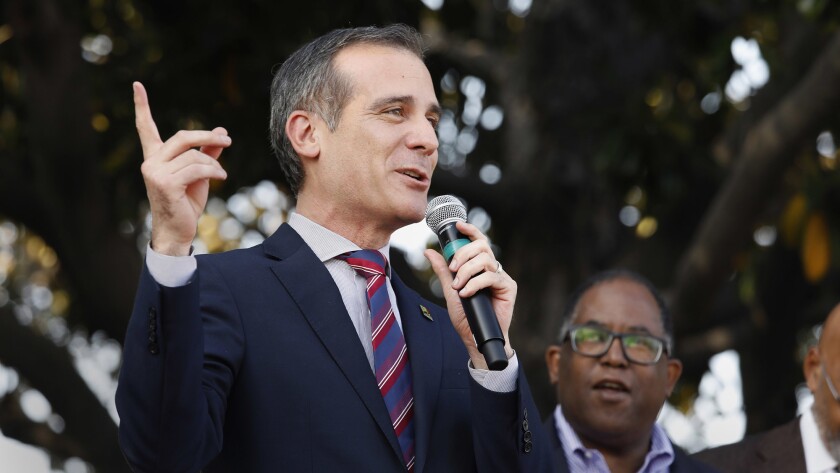 After the invocation and blessing of the 3.5-mile street, a video montage of photos and clips from Obama's presidency filled the screen on the main stage. As he approached the sign, covered with a black cloth for the unveiling, Wesson said the Rancho Cienega Sports Complex would be renamed the Michelle and Barack Obama Sports Complex after a multimillion-dollar expansion of the recreational area is complete.
A series of speeches by local dignitaries highlighted Obama's career and the importance of voting. Afterward, Michael Lawson, president and chief executive of the L.A. Urban League, read a letter from Obama.
"To everyone gathered on King Boulevard, 12 years ago we met in this park," read Lawson, who was named a U.S. ambassador to the U.N.'s International Civil Aviation Organization in Obama's administration. "While Michelle, Malia, Sasha and I are so humbled by this day, we're still mindful that this is not about us. This is about this neighborhood's next generation and all we want for them. We hope they look at the new street signs and find inspiration in all that a group of committed citizens can achieve together."
Lest anyone is confused, the former Rodeo Road (pronounced RO-dee-oh) bears no resemblance to the vaunted Rodeo (Ro-DAY-oh) Drive of Beverly Hills. The roadway is more extensive, urban and down-home, whereas the other is known for its designer boutiques, glitz and glamour.
The crowd proceeded to do a countdown together and the new street sign was revealed.
"This is history. This is our neighborhood — a predominately African American neighborhood," said Brenda Abdualeem, 68, who has lived in Baldwin Hills for 33 years and attended Obama's 2007 rally at Rancho Cienega Park. "It's incredibly significant that we get to name this street after our president in our neighborhood."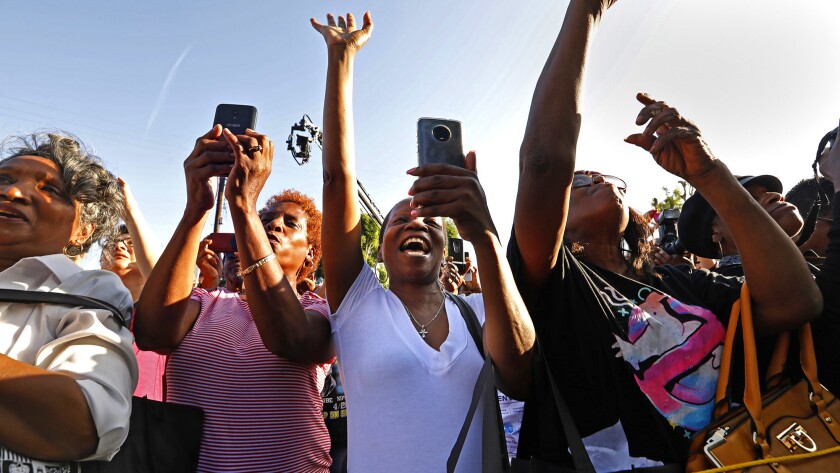 Vanessa Howard, 63, has lived in the area for more than 30 years and was encouraged that the dedication ceremony brought the community together for a historic moment.
"I was here when Santa Barbara Avenue became Martin Luther King Jr. Boulevard," Howard said. "Being here is an honor."
Several artists used part of their stage time to memorialize Nipsey Hussle, the Grammy-nominated rapper from South L.A. who was killed outside his Hyde Park storefront in March. Other performers included Sheila E. and Doug E. Fresh.
The name change further established a "presidential row" that includes Washington, Adams and Jefferson boulevards. The renamed street joins several public spaces in California that recognize Obama, including a portion of the 134 Freeway, several schools and a road in the Monterey Bay town of Seaside.
---
For reporting and exclusive analysis from bureau chief John Myers, get our California Politics newsletter.
You may occasionally receive promotional content from the Los Angeles Times.