$200-million Orange County tollway project stalls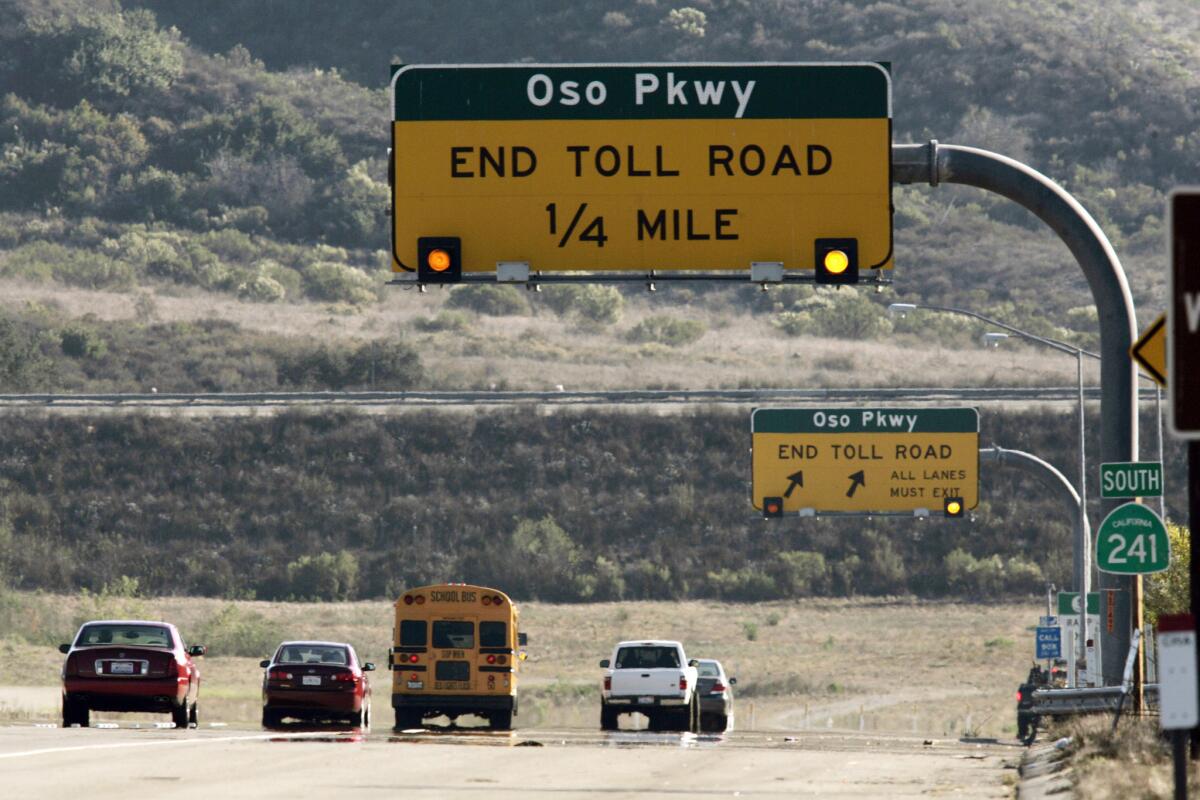 A $200-million tollway project in Orange County suffered another defeat this week as water quality regulators refused to issue a waste discharge permit that was needed before construction can begin on the controversial project.
In a unanimous vote, the San Diego Regional Water Quality Control Board on Monday declined to issue the permit to the Transportation Corridor Agencies, the operator of 51 miles of toll roads in Orange County.
It is the second time since June 2013 that the water board has rejected a discharge permit for the planned Tesoro Extension that would add 5.5 miles to the Foothill tollway by extending it from Oso Parkway in Rancho Santa Margarita to Cow Camp Road east of San Juan Capistrano.
The Tesoro project became controversial in the aftermath of federal and state decisions several years ago that halted plans to build the Foothill extension through popular San Onofre State Beach Park in northern San Diego County.
Environmentalists and other tollway opponents feared the Tesoro proposal was the first step in a plan by the TCA to resurrect the Foothill project--something toll road officials deny.
In Monday's decision, board members were concerned about potential effects on water quality and an inaccurate, incomplete description of the Tesoro project by the tollway agency.
Citing substantial evidence, the board asserted that the Tesoro was actually part of a broader TCA plan to extend the Foothill tollway 16 miles to the 5 Freeway around San Clemente -- a project condemned by environmentalists and others.
As a result, the board concluded that potential effects on water quality of the proposed extension were not adequately addressed and unmitigated effects could occur if the Foothill tollway is eventually built.
TCA officials have argued that the Tesoro Extension is a stand-alone project and that its water quality management plan submitted to the board was designed specifically for it.
"This is a major setback for them because they are unable to build the project as a whole and they cannot build it in phases," said Dan Silver, executive director of the Endangered Habitats League.
Monday's ruling was similar to the board's 2013 decision, which was appealed by the TCA to the state Water Resources Control Board.
In September, the water resources board required San Diego officials to prepare a detailed explanation of their earlier decision and reconsider the TCA's permit application.
Tollway officials said Monday they disagreed with the board's decision and will review their options, including the possibility of another appeal.
They said the ruling is frustrating for motorists and residents of South Orange County who must cope with traffic congestion on the 5 Freeway.
Follow @LADeadline16 on Twitter.

Sign up for Essential California for news, features and recommendations from the L.A. Times and beyond in your inbox six days a week.
You may occasionally receive promotional content from the Los Angeles Times.