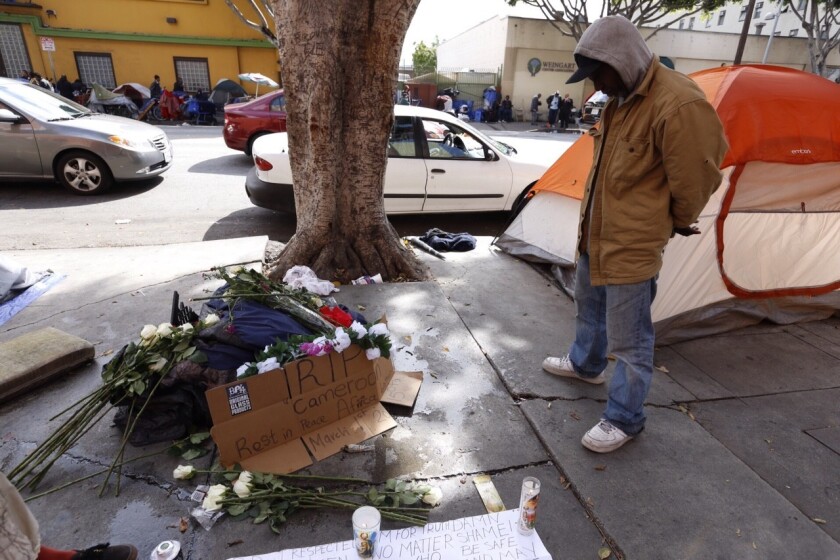 Los Angeles police officials say a homeless man was shot dead on skid row Sunday during a struggle for an officer's gun.
But on the streets of the city's largest community for the homeless, many of the people who knew the man who went by the nickname "Africa" were mourning his death – and expressing anger over it.
James Attaway teared up as he stared at a memorial for his friend.
"He's gone, man," Attaway, 48, said, his voice cracking with emotion. "It really hit me today."
Attaway said he got to know Africa over the year they lived next to each other in the tent community of skid row. They bickered like brothers and he sometimes saw glimpse's of his friend's temper, Attaway said. But they always reconciled. At night, they spent hours talking about religion. It was during those talks that Africa told him that his name was Sean.
"He was finding God," Attaway said. "I knew he was on that conquest."
On Monday morning, a lone orange tent stood near a tree where two bouquets and two candles formed a makeshift memorial. A broken bat lay behind the candles.
"RIP 'Cameroon' rest in peace Africa brother" a cardboard sign reads. People who knew the homeless man said he told them he was from the African nation – explaining both of his monikers.
As a police car pulled up to the vigil site, one homeless person shouted, "Murderers!"
Mecca Harper owns a snack shop near the scene of the shooting. She said she operates a ministry, reading books to the homeless. She said she got to know Africa.
"He was very quiet," Harper said. "He was compassionate, gentle and sincere. He was someone I could depend on."
Wiping tears away with her black sweater, Harper said she considered the man her neighbor. He would often come by her shop to make sure no one had hassled her, she said.
In turn, she said she would sometimes step away from her shop to shoo away anyone who would bother him or cause problems near his tent.
"He was always saying he wanted to be left alone," Harper said.
The morning Africa was shot, he had already been bothered by three different people, she said. "Trouble was coming," Harper said.
Although she didn't know much about Africa's past, she said she knew he was mentally ill. He told Harper that he was in a mental institution for nearly a decade.
"Just because they live in a tent, it doesn't mean they don't have a heart," she said.
As Harper spoke, a woman in a wheelchair asked Harper if she could buy a candle to place at Africa's memorial. Harper handed her a white taper depicting Jesus at no charge.
An enhanced version of a video recording of LAPD officers fatally shooting the homeless man appears to show the man's hand reaching in the direction of one officer's waistband.
A Times' review of the video shows the officer quickly pulling away at that moment. Then, three of his colleagues open fire on the man.
It was difficult to determine whether the man's hand actually touched the officer's weapon.
The incident that led to the shooting began when police responded to a robbery call in the 500 block of San Pedro Street around noon Sunday. At one point during the confrontation a Taser was deployed, but a police official said it was "ineffective."
The video also shows two officers in the foreground grappling with and handcuffing a woman who had picked up a dropped police nightstick.
An angry crowd gathered immediately after the gunfire, as police cordoned off the scene and ordered onlookers to back away.
One witness can be heard complaining that there had been at least six officers to handle the situation, and that the mortally wounded man had been unarmed.
Lloyd Skannal, a Union Rescue Mission cook was walking to work Sunday just before noon when he saw four officers talking to Africa, who was sitting on the ground inside his tent with the flap open. He wouldn't come out so two officers broke the tent poles on either side and pulled back the tent, Skannal said.
Africa stood up and started swinging his arms in a half circle "like a helicopter," clutching his phone in one hand, the mission employee said. His phone flew out of his hand into the street.
One of the officers knocked Africa down to the sidewalk, kneeling on his chest, and punched him in the face, Skannal said. Two officers on either side punched him in the sides, he said.
Skannal said he couldn't see the homeless man punching back. At one point an officer came up on Africa's left and deployed a Taser, he said. The he heard officers yelling; at least one said, "gun, gun," Skannal said.
Within moments, Skannal said the officers opened fire.
"He just was laying there breathing," he said of the homeless man. "Then he's gone."
Skannal said he didn't see Africa reaching for the gun.
Andy Bales, president of the Union Rescue Mission, said Africa was involved in an altercation about half an hour before the shooting, leading to a call to police.
Africa lived near the mission and helped employees "clean up every day," Bales said. But on occasion he lashed out, he added.
"One day, he came flying out of his tent and knocked some stuff out of the hands of passersby," Bales said. He said that police did not arrest him at the time.
"The people on the street are in an untenable position and that puts the officers in an untenable position when comes to policing," Bales said.
Tony Jones, a custodial worker for the mission, said that about three months ago he started seeing Africa pitch his tent and sleep on the sidewalk right outside the building. Africa helped move both his own and others' tents so Jones could clean the sidewalk and mission wall, which Jones said he pressure washes weekly on Mondays.
Jones said Africa appeared to be in his late 30s or early 40s, and spoke with a thick accent.
"He's always been pretty cordial to me and my staff. A lot of other guys give us problems but he's one of the guys that helps us move all the tents," Jones said on Monday. "When I would be rolling up the hoses he always would say, 'Thank you for cleaning up.'"
One homeless man who identified himself by the nickname "Juju" said he and Africa chatted about politics the last time he saw him, no more than 30 minutes before the shooting.
He said his friend's problems with police were nothing new, with arguments centering on officers' orders for him to take down his tent.
"He would say, 'Ticket me. Give me my day in court,'" Juju said Monday morning.
Jacob James Adegoke rushed to San Pedro Street when he heard that the homeless man who was shot Sunday was an African immigrant.
A Nigerian immigrant, the mission volunteer keeps a close eye on skid row's African immigrants when he feeds the homeless or guides tours for churches that want to help those in need.
Adegoke says he's "seen both sides" of how the LAPD deals with the area's homeless population. On one hand, he said, they do their best to help teenagers they think are runaways. On the other, he's seen officers approach homeless people for what he said were no good reasons, stop them and pat them down.
He knows the police have a tough job, Adegoke said, particularly in this neighborhood.
"They deal with people who are broken," he said, standing a few feet away from the scene of Sunday's shooting. "At the end of it all, no one should be shot."
Twitter: @geholland, @parviniparlance and @AngelJennings

ALSO:
Hail coats beach as storm brings lightning, flood warnings
Students find teacher hanged in classroom
'Suge' Knight says in court he can't comprehend what is happening
---